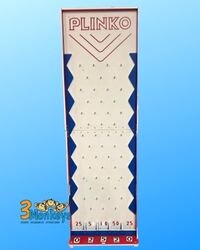 Actual Size: 23 in x 70.5 in x 10 in
Monitors: 1
Outlets: NONE
Description
Plinko Carnival Game Rental
The Best Carival Game Rentals in Central PA and Northern MD
About the Plinko Game Rental
The Plinko Carnival Game Rental will probably remind most people of one of the most famous television game shows; the Price is Right. This Plinko playing board measures 23"W x 70.5"L x 10"H and does not require any power. When you rent Plinko you are required to have a 6' or 8' table for us to place the game on. If you don't have a table, no worries! You can simply add a table rental to your party rental.
How to Play Plinko
In case you have never played Plinko or have never seen it played, here are some basic playing instructions. When playing the Plinko Carnival Game Rental, the player will step up to the board and pick up one of the round discs. He or she will then lay the disc flat against the board at the top of the Plinko playing board and release the disc so that it can begin its descent down the board towards the point slots at the bottom.. There are pegs on the board that will cause the chip to bounce different ways. In addition to the pegs, the sides of the Plinko board are designed in a zig zag shape in order to bounce the disc even more as it is making its way down the board. Where will the disc fall? The disc will land in a slot at the bottom of the board. Each slot is designated for a certain number of points. For higher scoring games there are slots for 25, 50, and 100 points. If you wish to play for lower scoring the slots can be 0, 2, or 5 points. Plinko can be played and enjoyed by both kids and adults. Add this Plinko Carnival Game Rental and other carnival games for rent to your party rental.
Other Items to Rent with Plinko
Having an entire Carnival Game section at your event really excites people and will get them interacting with one another and having fun. Choose carnival games from our great game selection. Other tabletop games like Alien PinBall, Monster Blast, Ring Toss, Snake Pit, and Whip-N-Skip pair well with Plinko. In addition to our table top games we have our popular inflatable games like Skeeball, QB Blitz, Basketball Toss, Soccer Shootout, Ice Hockey Shootout, Single and Double Lane Axe Throwing, and Hoverball Archery. Check out some of our more unique carnival games like Wacky Wire, Strike A Light, and the 4 in 1 Inflatable Carnival Games.
Delivery Cities
3 Monkeys delivers carnival game rentals to cities in and around Central PA and Northern MD like Felton, Brogue, Red Lion, York, New Freedom, Glen Rock, Wrightsville, Columbia, Lancaster, Millersville, Manheim, Lititz, Reading, Harrisburg, Carlisle, Mechanicsburg, Hershey, Bel Air, Freeland, Whitehall, Cockeysville, Timonium, Baltimore, and many more! Delivery is not included in the pricing you see above. There is a delivery fee and an order minimum based upon each city of delivery. If you don't see your city listed please contact us for more information regarding the delivery requirements for your city and zip code.