Rattlesnake Roundup Carnival Game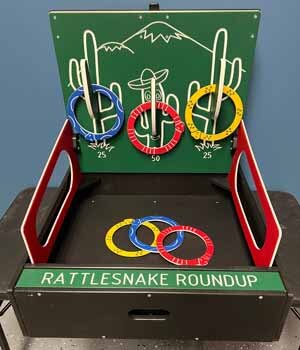 Description
Rattlesnake Roundup Carnival Game Rental
Rattlesnake Roundup Ring Toss Carnival Game Rentals in Central PA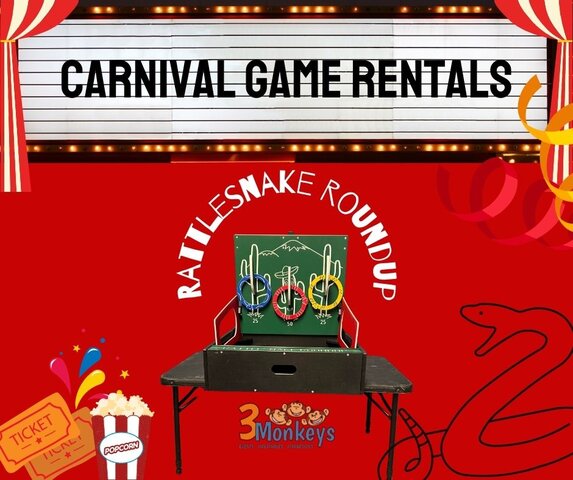 This Rattlesnake Roundup Carnival Game Rental is similar to a traditional ring toss game with a snake-themed twist. The rings tossed by the player are rattlesnakes and the object of the game is to ring the rattesnakes onto one of the cacti printed on the back board. Each cactus has assigned points and you add up the points as you ring the cacti.
What is needed for this ring toss rental?
Lucky for you, no power is required for rattlesnake roundup which make this a super simple setup! All you need is a table for the game to be placed on top of. You may you use your own, or you can add a 6 foot or 8 foot folding table rental to your party order. The nice thing about these bin games is that two of them will fit on top of one 8 foot table. Rattlesnake round up carnival game rental comes with the game and accessories required to successfully play this carnival game for rent.
Add-Ons that Pair Well with Rattlesnake Roundup Ring Toss Game
If you want to rent other carnival games with the rattlesnake roundup, we can help! We would suggest choosing other bin games such as Bottles Up, Troll Dentist, Bullseye, Fish Bowl Frenzy, or Tic Tac Toe to name a few. We also have other tabletop games like Alien Pin Ball, Whip-N-Skip, Streetskee, Roller Bowler, Snake Pit, and Monster Blast to mention some of what we have. And don't forget about our inflatable game rentals too!
Rattlesnake Roundup Ring Toss Game Delivery Area
Our delivery area consitsts of many cities in Central Pennsvylania and Northern Maryland including cities like York, Lancaster, Harrisburg, Carlisle, Mechanicsburg, Spring Grove, Columbia, Millersville, Manheim, Lititz, Baltimore, Bel Air, Owings Mills, Freeland, White Hall, and other surrounding cities. We do have a delivery fee as well as order minimum requirements depending upon your location. If you would like a complete quote please contact one of our booking specialists by calling our office at 717.650.7657 or emailing us at info@3monkeysinflatables.com