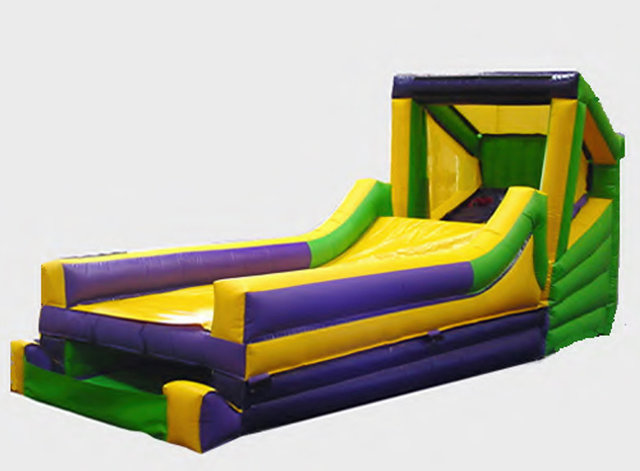 Description
Skeeball Inflatable Carnival Game Rental York PA
3 Monkeys Inflatable

Rentals delivering to York, Harrisburg, Lancaster, Carlisle, Baltimore, Reading, Camp Hill, Wyomissing, Towson, Owings Mills, and more Pennsylvania & Maryland Cities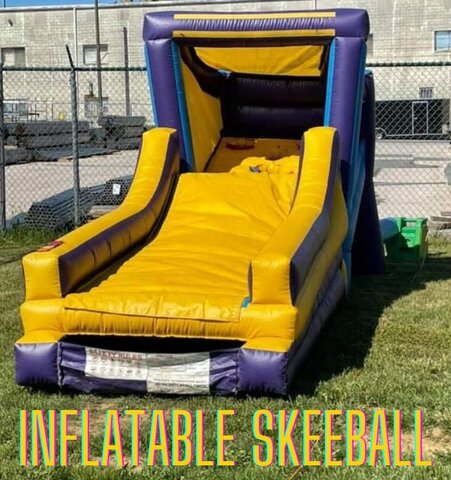 Skeeball Inflatale Carnival Game Rental York PA is similar to a traditional skeeball. It is inflatable so it's able to be portable for your location! Choose one skeeball or double the fun by adding 2 skeeball options!
3 Monkeys Inflatable Skeeball Rental in York, PA
Let's get nostalgic! Do you remember going to the arcade as a child and running to the skeeball machines? At a young age you learned that you had to roll it hard enough or it would roll right back to you. And you could not roll it too hard either because it would roll up, bounce off and still come back to you. So, you probably concentrated on rolling it just right, up the lane to score points. You really wanted to get it in one of the 100-point holes to the top left or top right. 3 Monkeys can help bring you back to those days with our Inflatable Skeeball that we bring right to your event.
What is it like playing Inflatable Skeeball?
The concept of Inflatable Skeeball is like that of the games you will find in the arcade. You retrieve a ball from the pocket in front of you and roll it up the inflatable lane while trying to get it in the pockets that are worth points. Once it enters the pocket it will fall underneath to the ball return and roll back down to the pocket that houses the balls. Keep track of points to see who the ultimate Skeeball champion is! We have 2 skeeball lanes to rent so you can make it a head to head competition or just add one as a carnival game favorite to your carnival theme event. Inflatable Games, Carnival Games and Giant Game Rentals are a favorite of most parties and events!
Why choose 3 Monkeys?
3 Monkeys Inflatables is the leading rental company in our industry, and we have been in business for over 12 years. We provide friendly customer service and we care about our renters and the details of their events. We make sure our equipment is innovative, safe, and just what our customers are looking for. Book online or call us today at 717.650.7657, or email us at info@3monkeysinflatables.com
Details about the Game Rental
Dimensions: 12L x 5W x 8H Power: standard 7.5 amp outlet Setup: indoor or outdoor
Attendants: This game requires a volunteer to monitor the game to ensure no one is climbing into the game or using the balls on something other then the intended purpose.
Other Games to Rent with Skeeball
If you want to rent other inflatable games with skeeball be sure to check out basketball toss, hoverball archery, soccer shootout, qb blitz football toss, or ice hockey shootout!