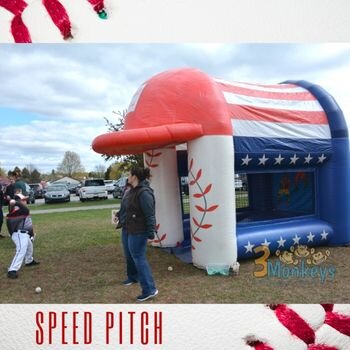 Description
Speed Pitch Inflatable Rental
Speed Pitch Rental in Pennsylvania and Maryland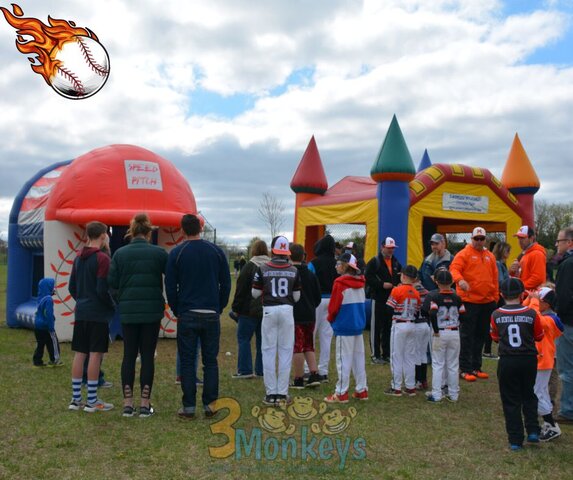 Who's ready to test their speed with the Speed Pitch Inflatable Rental? 3 Monkeys Speed Pitch Rental is the way to entertain! Fun for all ages, this is the perfect addition to any Spring Carnival, Summer Picnic, or Fall Festival.
The specifics of the Speed Pitch
Let your guests test their throwing speed and ability with the 3 Monkeys Speed Pitch Entertainment Game rental! The Speed Pitch is a great add-on item to all kinds of events and appeals to guests of all ages. Baseball fans and sports enthusiasts just love winding up and throwing the ball at the backstop. And let's not forget to mention pitchers, who like to see who can throw the fastest. The Speed Pitch rental includes a sports radar gun with a speed range of 10 to 250 mph, a remote, a 3-digit display board, a 3-, red, 4" high letter LED digital display, tripod mounting systems for the display board, and the radar gun, and it has the power options of a standard 9V battery or electric. This unit measures 10' L x 10' W x 10' H and does require electricity to inflate the basic frame of the game (120 volts, 8 amps).
Speed Pitch Game Instructions
The radar gun can be used alone without other equipment or paired with another item such as its popular matchup the "Inflatable Speed Pitch" unit. If played alone you would hold the trigger to see how fast the ball was thrown or kicked. You can use it for baseball, football, soccer, tennis, golf, racing, and more!

Speed Pitch Tip
It is best if not being used as a handheld that the scanner is behind where you throwing it but not where it will be hit.

Prize level Recommendations:
A) Big Prize for speed over a specific target amount of your choosing.
B) Small Prize for consolation prizes for those who can't throw/kick the ball at the speed you specified for the Big Prize.
Operators Required for Speed Pitch
One operator is required to monitor the use of this game at all times. This game is not permitted to be left unattended and requires an operator to be making sure participants are not "playing" with the radar gun.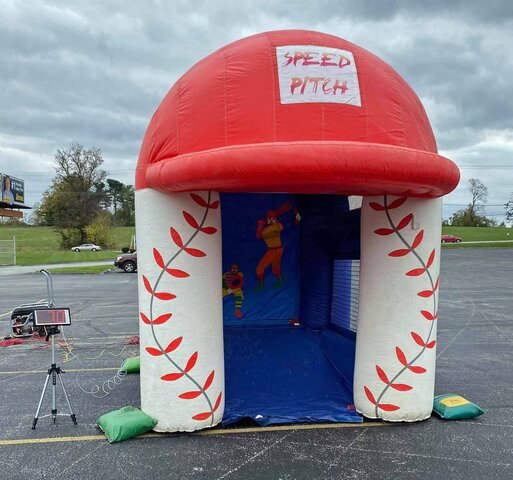 Supplies Included with Game: Please make sure all supplies are returned with the game.
Remote Digital Display Board (display range 10-250mph)
Carrying Case
Radar Gun
Tripod Stand
Power Cords (2)
Extension Cords (if used)
Power Needed: 2 standard outlets (115-volt, 8 amps each)
Water Needed: n/a
Space Required: 10'L x 10'W x 10'H
Precautions: This game needs to be indoors or under a pavilion/tent if there is any chance of rain. It is the customer's responsibility to ensure the radar gun does not get wet.
Other items that pair well with the Speed Pitch.
If you are looking for a variety of entertainment options to offer your guests, in addition to the Speed Pitch you will want to head over to our Carnival Games page to see all that we have to offer in this category. The other inflatable games we have to choose from include Hoverball Archery Target, Hose Hockey, Soccer Shoot Out, Ice Hockey Shootout, Basketball Toss, Basketball Link Four, QB Blitz Football Toss, and Home Run Derby. In addition to the inflatable games, we also have bin games, frame games, and miscellaneous games to choose from too! You can never go wrong by adding inflatable rides like Bounce Houses, Obstacle Courses, or Extreme Interactives. We even have an amazing Take me out the ball game package that pairs great with our speed pitch!
How do I make a reservation and where do you deliver?
For you to reserve items for your event, we do require a minimum of a 25% deposit. You can make your reservation by clicking the 'Add to Cart' button on each item page of the items you wish to rent for your party or event. Once you have added all your items to the cart you can proceed through our user-friendly, online checkout process. If you wish to book over the phone, please call our office number at 717.650.7657 and one of our reservation specialists will help you. 3 Monkey delivers to all cities in Central PA and Northern MD. Please keep in mind though that depending upon your location and how far you are from our shop, there will likely be a delivery fee added. Additionally, there are also required order minimums. Here are just some of the cities you may see our 3 Monkeys trucks delivering to York, Spring Grove, Harrisburg, Hershey, Carlisle, Lancaster, Manheim, Lititz, Ephrata, Reading, Westminster, Baltimore, Bel Air, Towson, Owings Mills, Lutherville Timonium, Hunt Valley, and so many more!
Great for Coaches, Players, and All Sports Enthusiasts
Baseball, Softball, Tennis, Golf, Soccer, Auto Racing, and more ……
Includes: Sports radar gun, remote 3 digit display board, 3 red 4" high LED Digits Display
Speed Range 10-250 mph
Tripod Mountable ( both radar gun and Display Board)