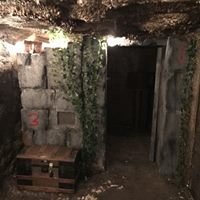 Temple Ruins Escape Room
Temple Ruins Escape Room
This is a 30 minute escape room trailer with a difficulty level of intermediate/advanced. We can also reduce the number of puzzles in this room to make it a 15 minute room.
You and your team have been exploring some ancient ruins and accidentally entered a chamber that has trapped you in…with no way to escape. Judging by the pile of bones in the corner, others have accessed this chamber before, but have failed to escape. You know from old folklore that there is supposed to be a mystical golden lion hidden in the dark ruins and accessing that will allow you to escape the chamber. This escape room is extremely authentic and gives you the sensation that you are in a cave as you work through the many puzzles and find keys, solving clues and use your out of the box thinking to work your way out. Hidden doors hide more than you may think. There are 8 puzzles to solve in this room in order to release the golden lion. Will you successfully solve the puzzles and be released from the ancient ruins….or will you become a pile of bones like the last guy?



This is for up to 3 hours and will come with an attendant.