Staff Attendants
Staff Attendants Rentals York, Pennsylvania
3 Monkeys Inflatables located in York, Pennsylvania is your Inflatable, Party, and Attendant Rental Specialist for many Pennsylvania and Maryland cities like Red Lion, York, Harrisburg, Lancaster, Dauphin, Camp Hill, Dallastown, Glen Rock, Mount Wolf, North York, Seven Valleys, Winterstown, York Haven, Carlisle, Windsor, Dauphin, Hershey, Baltimore, Owings Mills, Manchester, Frederick, Towson, Hagerstown, and may more!
Staffing Options 3 Monkeys Inflatables offers Attendant Rentals available for any of your Party and Rental needs. We can add staffing for Inflatables, Concessions, Carnival Games, Catering, and many more rental items we offer. We do provide some staffing with specific equipment due to safety requirements. Some of the items that come with an attendant are our Bumper Cars, Mechanical Bull, Virtual Reality Roller Coaster, Distracted & Drunk Driving Simulators, Rock Wall, and Euro Bungee, Photo Booth, and our Mobile Escape Rooms.
Trained Attendants: Our attendants are trained with our Attendant training guide on how to handle situations in regards to our rules and regulations, and general play but also in the event of rough or dangerous play. We take pride in creating an amazing attendant training program to ensure the safety of our guests and their participants on the equipment. We of course can also train you on-site at drop off if you are not able to add attendants to your order. Whatever your budget and needs rest assured 3 Monkeys have you covered. If you have questions about the need for an attendant or not simply call our office and we would be happy to help guide you in this decision based on your individual event. Call 717-650-7657 or email: info@3monkeysinflatables.com
Attendants are perfect to add for events such as public events, festivals, fairs, corporate events, church events, school events, block parties, and events that are celebrations where you want to focus on having fun and let our staff do the monitoring and enforcement of rules while you kick back and enjoy your event.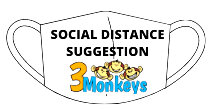 Social Distance Trained Attendants Suggestions: 3 Monkeys Inflatables is sympathetic towards the ability to have great events while still keeping with safety in regards to socially distancing participants at the events. We have trained attendants that can come on-site to attend to your comfort. If you want them to wear a mask they will do so the entire event. We also can have them stand to have a view of participants and offer line control with keeping with a 6-foot social distance to participants with marked 6-foot line control signage.