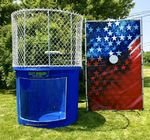 USA Dunk Tank
USA Dunk Tank Rental York Pennsylvania Area
3 Monkeys Inflatables is your USA Dunk Tank Rental Specialist in Harrisburg, Lancaster, Hershey, Reading, Baltimore, Dallastown, Hanover, and Camp Hill area.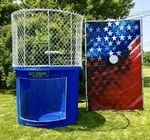 Perfect for any type of Event!
Our dunk tanks are utilized for a variety of events. From church fundraisers, mayday, park days, camps, festivals, charity event fundraising... you can use the dunk tanks for just about anything you can think of! Dunk tanks are also used heavily at carnivals. Sometimes the dunk tank can be your leading money generator.
Specs
500 gallon Polyethylene Tank Vinyl Coated Steel Protective Cage High Density, UV Resistant Seat
250 pound weight capacity
Requirements:
You will need a water hose that reaches to the area to fill up the Dunk Tank. (on average it will typically takes up to 45 min to fill with a moderate flow hose that is about 25ft)
Attendant needs to be over 18 years of age
Participants using the dunk tank needs to be over 18 years of age.
We do not allow non-swimmers
250lb weight capacity
Copyright © . 3 Monkeys Inflatables LLC. All rights reserved. Red Lion PA (717) 650-7657