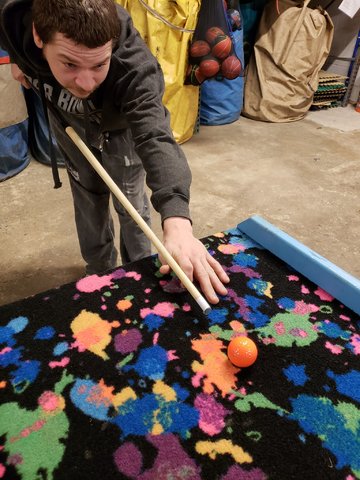 Description
Wacky Golf Game Rental
Wacky Golf Game Rentals in York, Lancaster, Harrisburg, and surrounding areas
What is Wacky Golf?
Have you ever wanted to play miniature golf but wanted to find something a little bit edgier than a typical mini-golf? Our Wacky Golf rental is sure to bring out the crazy, wacky, and uniqueness for your guests which is guaranteed to keep things interesting and fun! If you like a little bit of goofy fun we have the game for you! We have paired putt-putt miniature golf with some wacky items that we found to make for an event full of fun and laughter. The Wacky Golf for rent comes with nine (9) mini-golf holes along with out-of-the-ordinary items we provide for you and your guests to use instead of typical putters. Some of the things you will be using to play Wacky Golf may or may not include a pool cue, a toilet seat, a toilet plunger, signs, and more! We will also supply you with scorecards and pencils for up to 50 players.
Fast & Fun Game
This is an exciting and fast-moving game especially for skilled individuals who are good with both hand-eye coordination and have skills with lining things up. This is going to be one of those games that will have pictures taken, laughter flowing, and good times had by everyone around. Wacky Golf is perfect for middle school, high school proms, post proms, College events, parties, church events, and Corporate Outings. Bring the fun to your next event with our Wacky and fun games for rent. Or be sure to check out our Billiards Golf.
Book the Wacky Golf Rental
Reserve the Wacky Golf for Rent on the 3 Monkeys Inflatables webpage or call our office at (717) 650-7657. You can also get in touch with us via email by emailing info@3monkeysinflatables.com. We are happy to put quotes together for you for the Wacky Golf and any other Party Rental Games, Bouncers, Tents, Tables, or Chairs that you might be interested in renting for your party. We are available to rent in all of Central PA and Northern MD areas. If you are not sure if we will come to you, just give us a call and let us know your delivery area and we will send you a quote.
Other Golf Rental Options
In addition to Wacky Miniature Golf, we have regular mini-golf with putters that can be rented as 1-, 3-, 6-, or 9-holes! It can also be rented as a blacklight mini-golf course because our course has been specially designed with blacklight carpeting! Talk about turning up the notch on the level of fun! New to our inventory is our Inflatable, 9-hole mini-golf course. Picture an octopus with 9 arms - only a giant inflatable golf ball is the head and the tentacles are mini-golf holes to play! This particular rental is very eye-catching which makes it a great centerpiece at any event. Lastly, we also offer the Golf Challenge frame game for golf enthusiasts!
Pennsylvania and Maryland Wacky Golf Rental Specialists!