York Bounce House (#1)
15Lx15Wx13H | 6.9 amps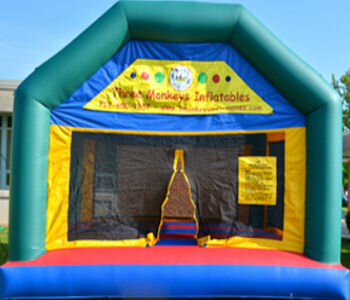 Actual Size: 15 x 15 x 13
Monitors: 👀1 volunteer | 16 years of age +
Outlets: 🔌1 - 6.9 amps
Age Group: 👧👦Kids | Teens | Adults
Description
York Bounce House Rental
Inflatable Bounce House Rental York Near Me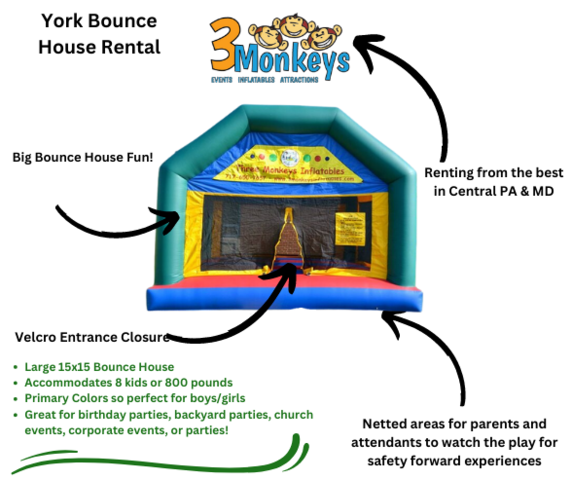 The 🤡 York Bounce House Rental is sure to give the kids (and adults) hours of bouncing inflatable fun. This is a large commercial bouncy inflatable rental near me that will give your guest plenty of space to have fun. The size is so plentiful! The York Bounce House for rent is a primary color and is a 15x15 bounce that would accommodate 8 kids or 800 pounds, whichever you exceed first. The York Bounce House for rent has very open large netted windows that allow you to have unobstructed views of the fun going on inside the unit. This bounce is one of the most popular bounce houses in our inventory. This is a great bounce house for both boys and girls!
York Bounce Occupancy: 8 riders, or 800 pounds, whichever you exceed first.
York Bounce is Perfect for any type of Party Rental
The York Bounce House, because of its size and primary colors, makes it the perfect addition to just about any type of event that you are planning. Backyard parties, Church Events, School Events, Graduation Parties, and Corporate Events are perfect to feature this bounce house. Since all of our units are commercial units you don't have to worry about if you have little children or big kids bouncing as it is perfect for any age group. Give us a call today to book the house or rentals in York PA, Lancaster PA, Harrisburg PA, and surrounding areas! If you are searching for something bigger with a slide feel free to check out our 4-in-1 Castle Combo rental that is a perfect bounce house rental with a slide featured inside!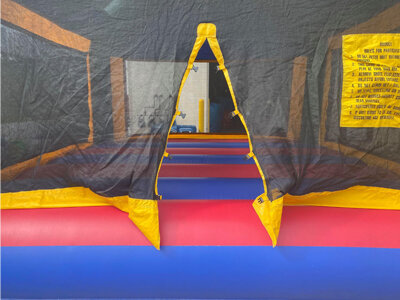 York Bounce House Rentals Safety Features
The York Bounce House rentals feature a huge bouncing area along with some great safety features like our large netted windows all the way around the inflatable bounce house allowing unobstructed views of the kids playing. It also features a vinyl top which helps prevent sun exposure while playing and enjoying the bounce house. The York Bouncer house inflatable jump house is really great to play on for all ages including adults, however, our recommendation would be from 2-12 however all of our inflatables are commercial inflatables so, therefore, they are rated to include adults as well. The recommendation for capacity on this inflatable rental would be 8 kids or 800 pounds, whichever you exceed first. 3 Monkeys Inflatables is the #1 Bounce House Rental company providing our customers with not only rentals but safety features that help them understand the difference between other products they can rent versus our products as we buy only from the best manufacturers that offer the very best in safety features for the inflatables we rent out to our customers.
We are happy to help if you need help finding things that pair well with the York Bounce House or any other party or rental items you choose, below are a few ideas, and our contact information to get in touch as you navigate our website. Our website is a complete 24/7, 365 days a-year booking system with real-time booking capability, but if you need help or just want to talk to a friendly bounce house specialist, give us a call, or drop us an email. We would love to assist you on your party event rental adventure!
York Bounce House Video
If you're looking for a fun and colorful addition to your next event in York, PA, check out the York Bounce House from 3 Monkeys Inflatables. This adorable primary-colored bouncy house is sure to be a hit with kids and adults alike.
The York Bounce House Video gives you a sneak peek inside the bouncy house. You can see the large front opening with the clip-close entrance, which makes it easy for kids to come and go as they, please. The inside of the bouncy house is a large open area, perfect for jumping and playing. The vibrant colors of yellow, blue, green, and red are prominent throughout the inside and outside area, making it a festive addition to any event.
Renting the York Bounce House from 3 Monkeys Inflatables is a great way to add some fun and excitement to your event. It's perfect for birthday parties, church events, school carnivals, backyards, and corporate picnics. Plus, it's suitable for all ages, so everyone can enjoy the bouncing fun. When renting the York Bounce House, 3 Monkeys Inflatables provides all the necessary equipment, including the bouncy house itself, blower, and training on how to monitor the bounce house. They also offer delivery and setup services, ensuring that everything is set up and ready to go before your event begins.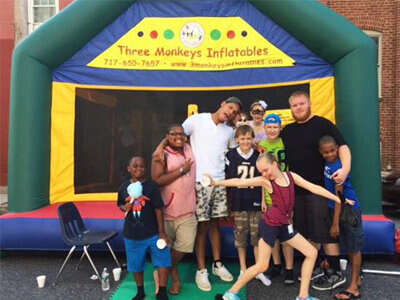 Fun Bounce House Rentals
We have a variety of moon bounce rentals to choose from - Hot Air Balloon Bounce, Unicorn Bounce, Jungle Bounce, Big Stinka Bounce House, Tie Dye Bouncy House, Princess-themed bouncer, and more! And don't forget about all our other amazing equipment to add to your bounce house rental. You can create your party package by checking out all of our other awesome items for rent with some cool features below, but of course, feel free to call us or email us at info@3monkeysinflatables.com if you need help planning your party! That's what we are here for, to make your party/event awesome and make it easy!
Frequently Asked Questions about the York Bounce House Rental
Q.
Why should I trust 3 Monkeys Inflatables for my York Bounce House Rental?
A.
3 Monkeys Inflatables has been in the party rental industry for over 15+ years with a great proven track record. All our inventory including the York Bounce House Rentals is regulated by the Department of Agriculture Ride Safety Division for safety and standards. 3 Monkeys Inflatables currently has 3 state ride inspectors on our staff who are heavily involved in creating and executing our Ride Safety Training with our other staff members. We continually evaluate the safety standards by the state paired with our own safety standards, perform parent testing, & add continuing education for our team. We are also the only ones in the area that are a trusted manufacturer and industry repair company. Our York Bounce Houses and Party Rental Equipment are well maintained, cleaned, and sanitized. We are fully insured and also meet/exceed all safety inspections daily. 3 Monkeys Inflatables is family-owned and operated. The business is part of our family and began in 2007 when our kids were small. In 2020 both of our oldest sons became full-time in the business, with the youngest son joining the business part-time as well.
Q.
How long do I get to keep the York Bounce House rental?
A.
Our rentals are for up to 8 hours. We offer up to 8 hours for one low price. We treat all our customers like family and old friends. Each one is important to our business and we love making sure their events highlight the fun and easy rental with lots of love and laughter and the only focus is the actual celebration! York bouncing house for rent near me is a popular search term to find the very best outdoor adult and kid bounce houses.
Q.
How will you secure the bouncy house to the ground or floor?
A.
If your setup surface is grass we will bring regulated-sized stakes to stake the anchor points of the bouncer house into the ground. If your setup surface is on asphalt, concrete, turf, or indoors, we will bring sandbags to place at the anchor points to secure the bouncey house.
Q.
Do I need to supply power for the York bounce house?
A.
Yes, All of our inflatables do come with the necessary blower(s) to inflate the unit(s) and we ask that you have power available within 50 feet of where the unit is going to be placed. Anything requiring power further than 100ft would need to add a generator onto their order, or supply their own power. If there is no power available, we have plenty of generators available for rent for an additional fee. The generator rental does come filled with gasoline but you are responsible for adding additional gas if needed. Also, please keep in mind our staff cannot wait on power if you didn't check for power ahead of time.
Q.
How do I book the York Bounce House rental near me?
A.
Simply click on the add to cart button below and then select your date and times, and then simply follow the directions to complete your order of the bounce house, inflatable, or entertainment rental, and pay the 25%, non-refundable deposit. As always you can reach out to us via email or give our office a call to help you place the order at 717-650-7657 | 410-581-5867
First Time Renting the York Bounce?
York Bounce House Service Area
York, PA
Harrisburg, PA
Lancaster, PA
Baltimore, MD
All areas in between
If your project site is outside our normal service area, just let us know! We do deliver even farther out, and special accommodations can usually be made to suit your project.
NOTE: Extra fees may vary depending on how far you are outside our service area.
York PA Cleaning and Sanitizing Inflatables
Check out how we clean!
We are masters at our craft - and Bounce House, Inflatables & Entertainment is our passion. That comes through not only with our amazing inventory, and great customer service but also with how well we care for our inflatables - and that includes cleaning and sanitizing. In fact, we have been using the same cleaner since 13 years ago when we started and to find out that it was one that the CDC recommends was just validating to us and our commitment to bring amazing and clean equipment to our customers. We are a trusted company that asks ourselves all the time - Is this the best for my child? If the answer is yes then we are a go for purchasing the equipment if it is not then regardless of popularity we don't purchase it. We hope you enjoy our youtube video posted below where you can see how we go about cleaning our equipment. We can offer Social Distancing Options for your event if you are looking for items you can do with social distancing.