Mechanicsburg Waterslide Rentals
The Best Waterslide Rentals in Mechanicsburg
The best water slide rentals in Mechanicsburg from 3 Monkeys Inflatables. We have the biggest rentable water slides in Mechanicsburg. Choose from a wide variety of waterslides for rent, we carry both single lane and double lane wet slides. Our waterslide rentals are for children and adults. Get your Mechanicsburg summer party started the right way with a blow up waterslide rental. We are the #1 party rental company providing not only water slides for rent near me but bounce house rentals, combo bouncers, obstacle course rentals, rock walls, virtual reality, bumper cars for rent, tents, tables, chairs, and even picnic style catering for your party.

Our most popular inflatable waterslide rentals are the dual lane, slip and slide type slides that allow riders to race to the end! The 27' lava waterslide and the 22' tropical water slide are so popular that customers are sure to reserve these a year in advance sometimes! These giant blow up water slide are loved by children and adults!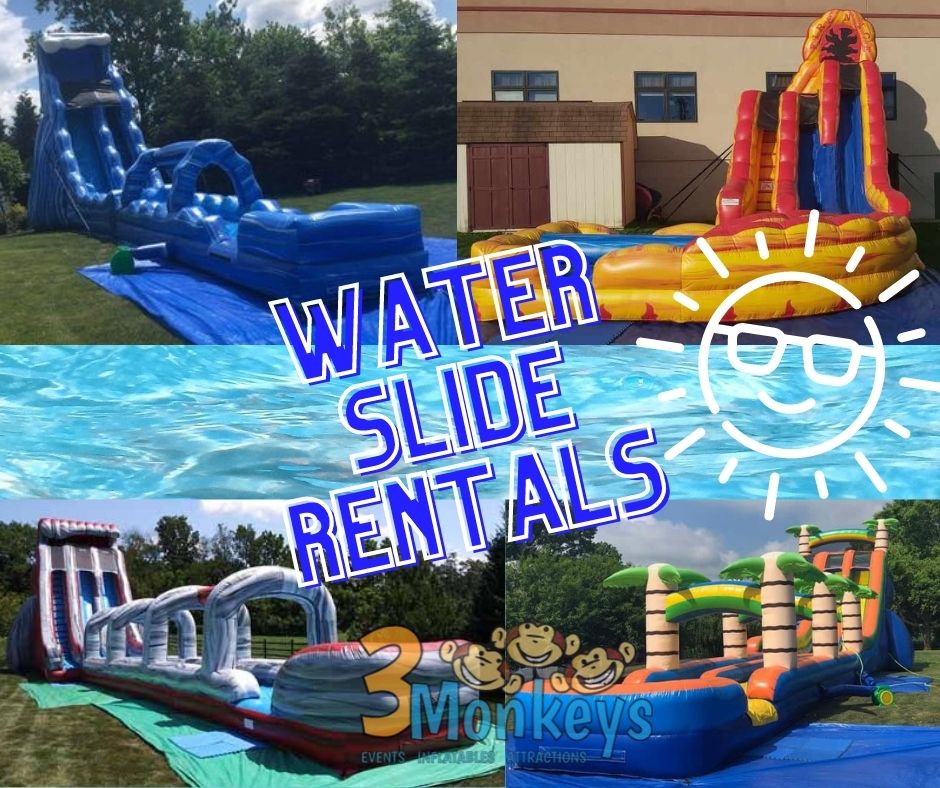 Best Water Slides in Mechanicsburg
It's time to book your water bounce rental Mechanicsburg. Don't wait until the last minute because our water bounces get booked out most weekends of the summer. If you know you are planning a party call your #1 waterslide company Mechanicsburg today to pick your favorite water slide and put a deposit down so it is guaranteed fun for your party guests. If you are even thinking about the lava slide or the tropical waterslide do not wait. They book fast and far in advance.
Giant Waterslides for rent Mechanicsburg
An inflatable waterslide rental is the perfect thing to have at any summer party! Not only will it keep your guests cool but it will keep them entertained. If you aren't quite sure what waterslide for rent to get you can call our office staff to talk about the particulars of your party and we can help you choose the perfect waterslide rental. Customers often ask if we have inflatable water slide adults too? We sure do! Our double lane inflatables water slides are best for adults like the 27' Lava, 22' Tropical, 24' Blue Wave, or the 22' Twin Falls. But, adults can go up on single lane blowup water slide rentals too.
Frequently Asked Questions and Answers about Bounce House Waterslide Rental
Do you have waterslide rentals with a pool at the bottom?
We do not carry any waterslides with pools in our inventory. In the state of Pennsylvania, anything with a "pool" is required to have a licensed lifeguard present during its use. To keep things simple we do not carry these types of units.
Does the water recirculate in the 3 Monkeys blowup waterslide rental?
No, there is no pump or filtration system associated with any of our inflatable water slide rentals. You must have a water source and a hose (or rent one from us) in order to keep a very light, constant flow of water on the water slide rental.
Do you have any adult water slide rentals?
Absolutely, we have water slide rentals for adults too! Most of our water slides are adult friendly. The most popular of course are the dual lane waterslides (22' Tropical, 27' Lava, 22' Twin Falls) and the 24' Blue Wave, Big Kahuna, and Caustic. If you aren't sure which one to rent call our office staff and they can help you choose the perfect bouncy water slide rental for your party!
How long do I get to keep the water slide rental near me?
Our rentals are for up to 8 hours long. If you would like to guarantee your rental through the evening, until the next morning we can book it that way for an additional $40.00 (overnight fee). Just know that we could pick it up as early as 8 a.m. the following morning, especially if it is rented out that day for another customer.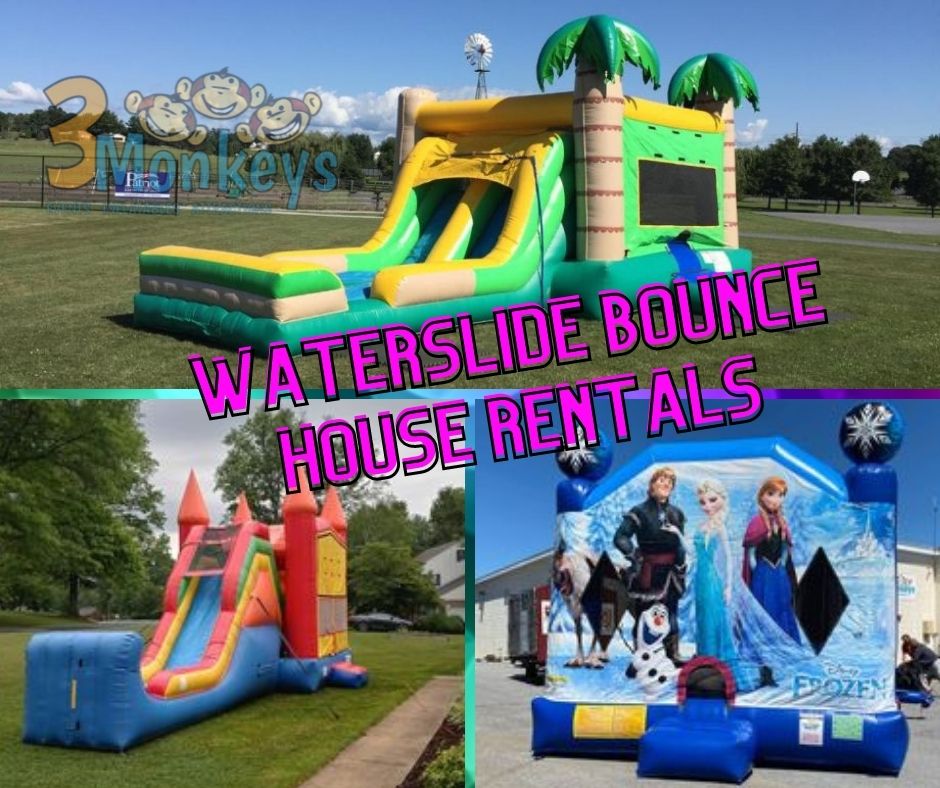 Water Slide Bounce House Rentals
In addition to single and double lane water slides for rent we have water slide bounce house rentals too! If you have younger kiddos who may be a little intimidated by the bigger water slides be sure to check out our wet and dry combo bouncers! Featured in the picture to the left is the Tropical Bounce and Slide Combo with not one, but TWO slides with water! Pictured at the bottom left is our Majestic Bounce and Slide Combo which has the largest slide of all of our water slide bounce houses. Last but not least, seen on the bottom right is our fan favorite Frozen combo. Inside that unit is a bounce area that consists of a basketball net and a slide. But making it even cooler is that the slide inside can be transformed into a waterslide! Bounce House Waterslides are quite popular in the summer months so call early and book your water bounce house today!
Rent a Water Bounce House