Splash into Summer with Harrisburg Blow up Water Slide Rentals near me
Harrisburg Giant Waterslides to rent near me
Rent Harrisburg Blow up Water Slide Rentals near me from 3 Monkeys Inflatables are the best waterslides for rent in Dauphin County. Are you ready to get your summer parties started in Harrisburg, PA with a waterslide rental? 3 Monkeys Inflatables is ready to bring blow-up water slide rentals, wet/dry obstacle course rentals, and wet/dry combo rentals to your backyard, corporate event, church, or camp get-together! 3 Monkeys Inflatables is your premier resource and industry leader for Water Slide Rentals, and Party rentals throughout PA and MD. 3 Monkeys Inflatables is the top-rated Inflatable, Water Slide, & Party Rentals Company in Central PA. If you are looking for high-quality and impressive water slide rentals in the Dauphin County area, 3 Monkeys Inflatables is the event rentals company you have been searching for. If you are searching for Water Slide Rentals near me in Harrisburg, we are your #1 choice offering you a huge selection of water slides from Giant Waterslide Rentals, to Water Inflatable Obstacle Course Rentals, Slip & Slide Rentals, Blow up Water Slide rentals for adults to Combo with Slide rentals that all are perfect for that summertime party where you are looking for water inflatable rentals to help cool off your party! We offer clean and sanitized water slide rentals after each use. We also service neighboring towns of Hershey, Camp Hill, and Mechanicsburg.

If you are looking to rent a water slide rental or more in the Harrisburg area, give us an opportunity to show you why our company can best serve your party rental needs. We do not only rent inflatable water slides, but we rent fun with our huge selection of water obstacle courses, obstacle course rentals for kids and adults, mechanical bulls, trackless trains, rock walls, ziplines, and so much more! 3 Monkeys Inflatables ensures that we make your party and/or event a great success!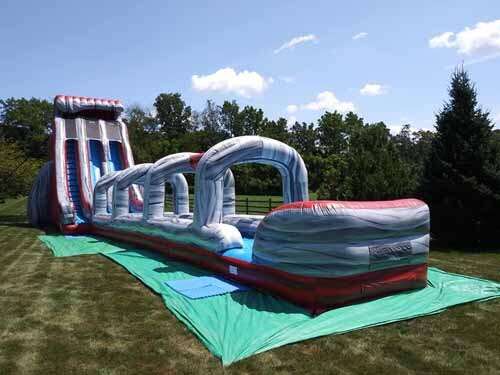 27ft Lava Water Slide Rental
Check out our most popular, largest, dual-lane inflatable waterslide rental in Harrisburg, PA. The lava inflatable waterslide for rent is 27 feet tall, 76 feet long, has 2 lanes to provide racing ability, and is our most popular, slide! You do not want to miss out on the fun this slide provides. This can be used by children and adults.

The 27ft Lava Inflatable Water Slide Rental is very popular and known as a Giant Water Slide, or even sometimes called a Slip n Slide Rentals. If you are searching for Adult Water Slides, or Huge Inflatable Water Slide, Big Blow up Water Slide, then rest assured the Lava Giant Slide Rental is going to check all those boxes for you!

Be warned though once you rent this water slide rental you will have a hard time going back to a smaller backyard water slides for adults rental because this is so massive and so much fun.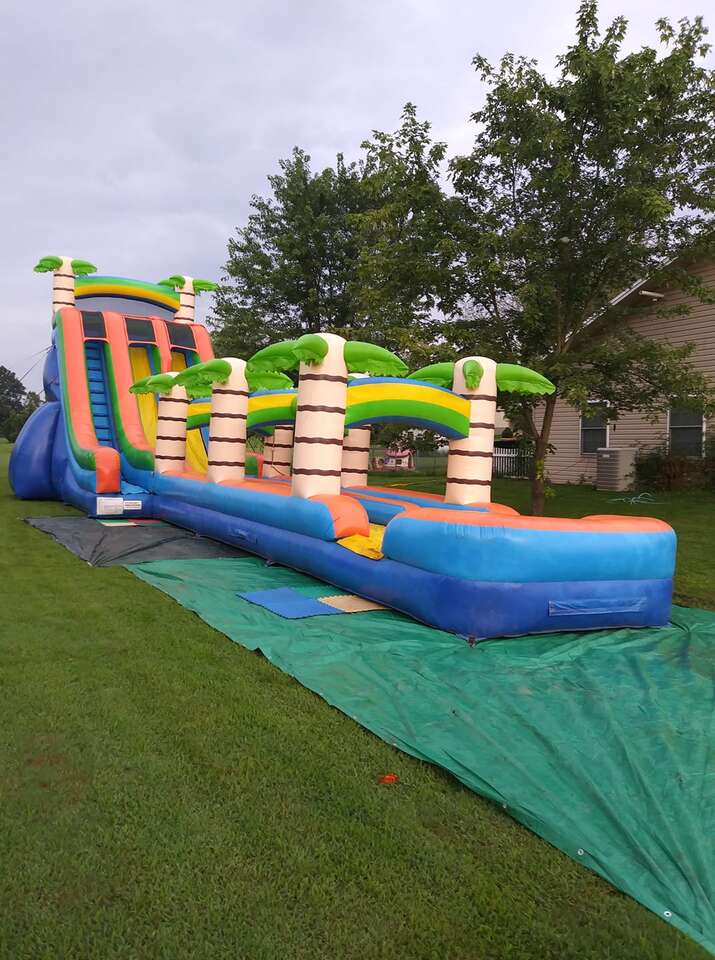 22ft Tropical Water Slide Rental
If you aren't quite ready for the 27' lava waterslide, give our 22' tropical waterslide a try! This is dual-lane also and has racing capabilities just like the lava slide. Harrisburg tropical waterslide rentals are perfect for backyard parties, corporate events, graduation parties, and just for some regular summer fun.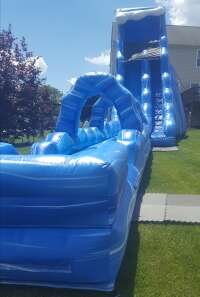 24ft Blue Wave Water Slide Rental
The Blue Wave, 24 foot water slide rental in Harrisburg. This is a great slide for those who are ready for something bigger than our Big Kahuna, Splash Down, or Rockin' Rapids. This is a single-lane slide that has the slip-and-slide extension just like the 27' lava and the 22' tropical water slide rentals

Blue Wave 24ft inflatable slides for rent near me, in the Harrisburg area is perfect for those big party fun items, even though it's a single lane you won't even notice as guests slide down the water slide at home parties without even missing the 2nd lane, as the line moves very quickly! Blow up Water Slide Rentals are a huge party must-have that will excite your kids and adult guests!
Why should you choose to work with 3 Monkeys Inflatables for your summer water rentals in Harrisburg?
1.) 3 Monkeys Inflatables has been around for 14 years, and has become the largest rental company in the area.
2.) We clean, santize, and inspect all of our equipment after each use to ensure that our customers have clean & safe units.
3.) We train each of our employees based on PA Amusement Ride Safety standards which are regarded as the top amusement safety training in the country.
4.) Our water slide rentals offer you up to 8 hours at a one-day price.
5.) We are fully insured, inspected, and regulated through PA's Ride Safety Division.
6.) We have 3 registered/certified by the state of PA inspectors on staff
7.) We have training that our staff needs to take on all operations of our units including cleanliness.
8.) 3 Monkeys Inflatables provides customers with the biggest water slide rentalselection in Harrisburg.
Harrisburg
is a city we have been actively renting to for over 14 years and have established a strong bond with the community, families, and schools within the area. We go to many places while delivering water slide rentals in Harrisburg. Our staff frequents
City Island
for the event and community rentals as well as frequents awesome restaurants like a personal favorite Appalachian Brewing Company. Of course, we also take our Inspection License exam for the
PA Department of Agriculture.
Harrisburg
is a great place to work and play!
Water Slides for Rent near me

We deliver water slide rentals, water obstacle course rentals, wet/dry combo rentals, bounce house with slide rentals as well as all kinds of other great party items, tents, tables, chairs, and some really big and exciting things like our Rock Wall Rentals, Mobile Axe Throwing Rentals, Mobile Escape Room Rentals, and Bumper Car Rentals all through Harrisburg, and surrounding areas like Camp Hill, New Cumberland, Lemoyne, Wormleyburg, Penbrook, Paxtang, Enola, Shirmanstown, Windsor Park, Mechanicsburg, and many more areas through Dauphin, York, and Lancaster County.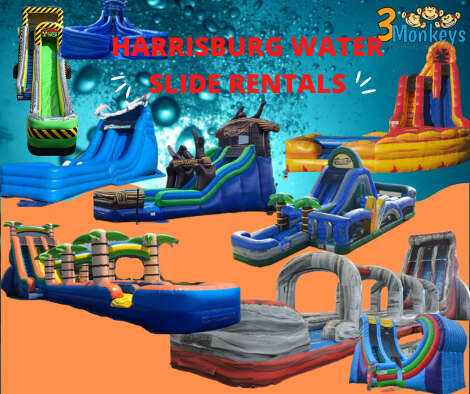 Water Slide rentals Harrisburg PA. It's time to snag your favorite water slide rental with 3 Monkeys Inflatables your Harrisburg PA water slide rental specialist. Choose from tons of inflatable water slide rentals from Giant Slides with slip and slides, Double Lane Water Slide Rentals, Single Lane Water Slide Rentals, Backyard Water Slide Rentals, Combo with water slides rentals, Obstacle Water Slides and so much more. Pick your favorites on the 3 Monkeys Inflatables 24/7 booking website and then sit back and relax and enjoy your summer party while keeping cool with Harrisburg's hottest water slide rentals! We don't just have the small or large slides we have small water slide rentals, to great backyard water slide rentals, or giant party water slide rentals. The sky is the limit with our awesome selection of water slides for rent that include long slides, short slide rentals, obstacle course water units, and more!
Waterslide Rentals in Harrisburg PA
Harrisburg
, PA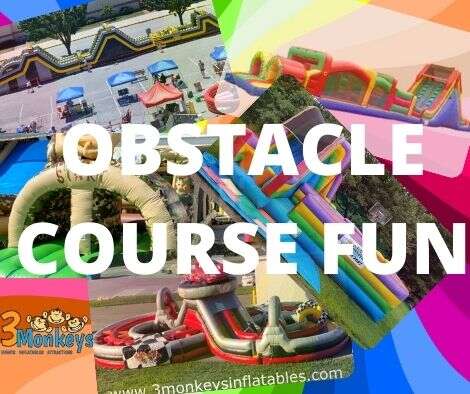 Obstacle Course Rentals Harrisburg
If you are searching for an obstacle course for rent in Harrisburg Pennsylvania then look no further than 3 Monkeys Inflatables. Choose from popular race obstacles to playground-style obstacle course rentals that will absolutely provide a nonstop fun exploration and fun through the blow-up obstacle course rental. Inflatable Obstacles are not only fun for young kids but are trending with teen obstacle course rentals, adult obstacle course rentals, and even over-the-hill obstacle course rental parties! So regardless of what type of party or event you are trying to hold remember to bring the fun with our huge selection of obstacle course rentals!
Harrisburg Obstacle Course Rentals near me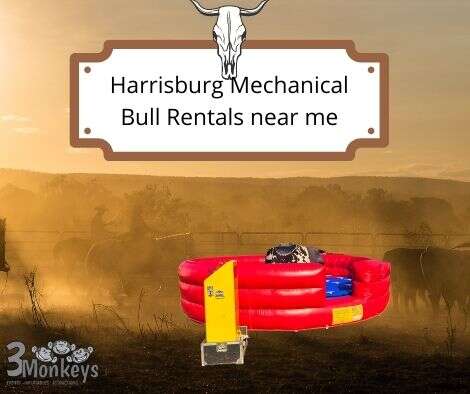 Harrisburg Mechanical Bull Rentals near me
Mechanical Bulls for rent in Harrisburg is a popular and fun attraction for birthday parties, grad parties, bar/bah mitzvahs, cookouts, celebrations, open houses, and just about any type of community or corporate event rental. The Mechanical Bull operator ensures that the bull is operated with the care of who is on the bull rental ensuring the ride is safe and set for the user correctly. With the soft head and completely inflatable base, there is no worry of injury from a fall from the bull to the inflatable bull pad. All rides are from our trained bull operator.
Harrisburg Mechanical Bull Rentals near me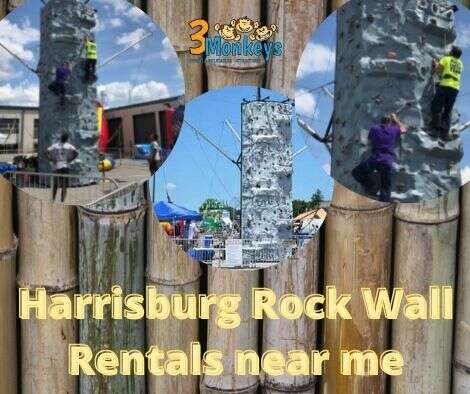 Harrisburg Rock Wall Rentals near me
Climbing Wall Rentals in Harrisburg is becoming a new trend for not only corporate and community celebrations but we are seeing a huge amount of fundraisers climbing their ways to their goals with our rock wall rentals. Have a climb a thon event, or just have our rock wall rentals out to attract a huge crowd. We find that this attraction not only attracts kids and teens but the climbing rock wall for rent is also a huge winner with adults as well!
Harrisburg Rock Wall Rentals near me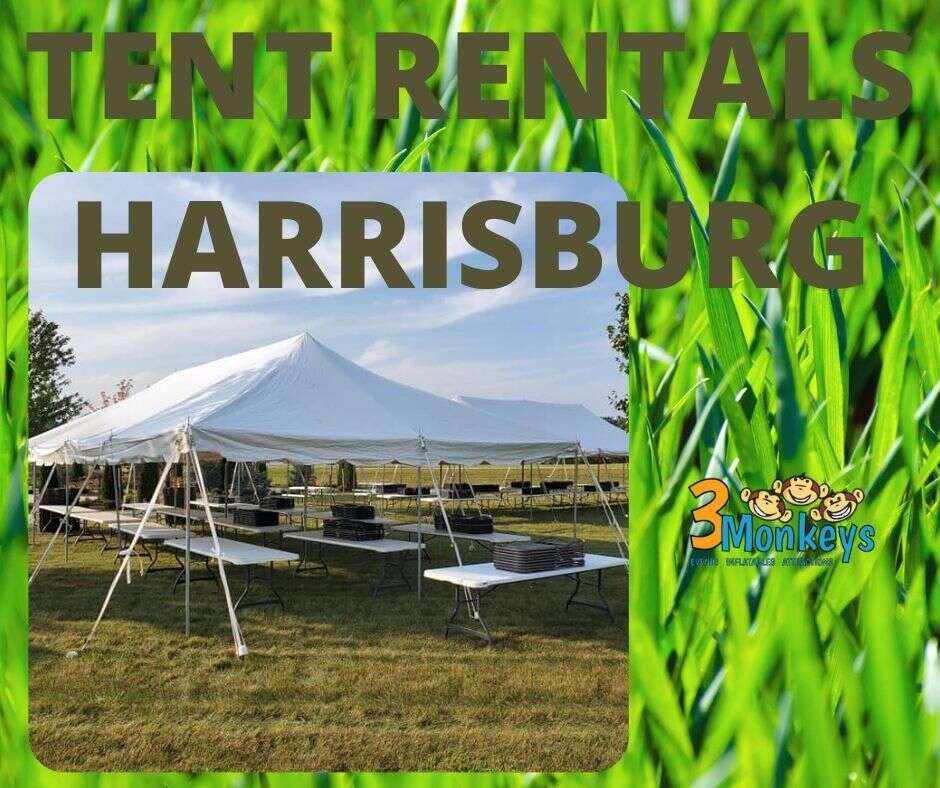 Tent Rentals Harrisburg
3 Monkeys Inflatables is proud to offer Tent Rentals Harrisburg with our Pole Tents coming in 20x20, 20x30, and 20x40 tents for rent. Harrisburg Tent rentals are available to be set up on grass setups and even asphalt setups.
Tent Rentals Harrisburg near me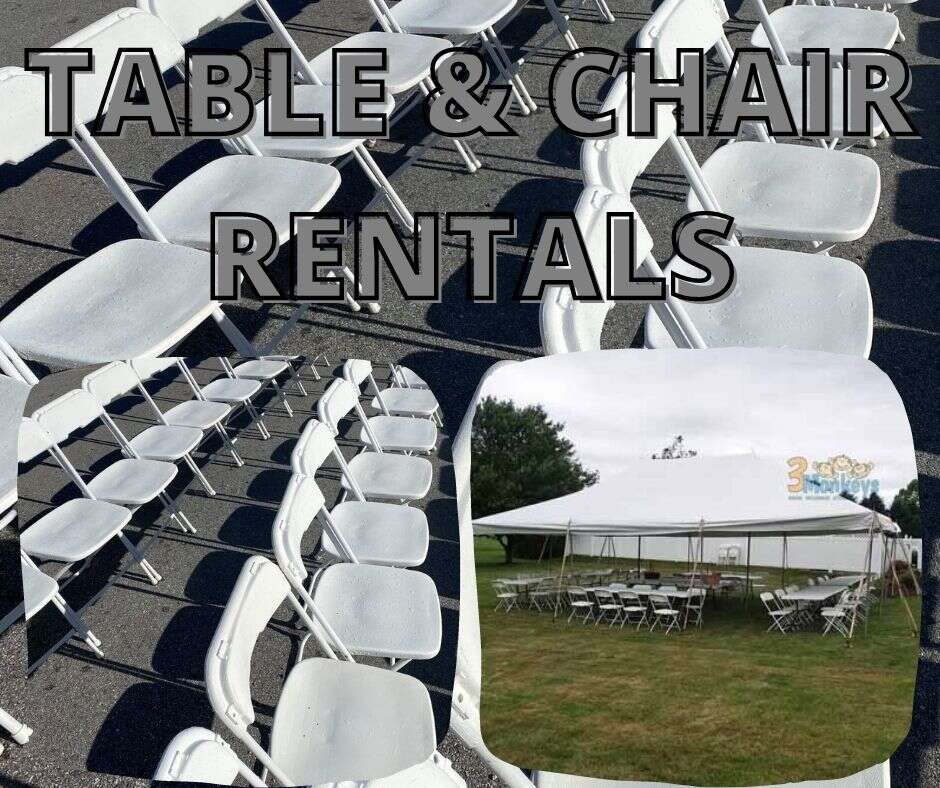 Table & Chair Rentals Harrisburg
Did you know we rented not only table and chair rentals but options within the table & chair rentals that allow you to rent a black folding chair rental or maybe you prefer to rent brown folding chairs, or you're having a wedding and you need white folding chair rentals for your big day in Harrisburg, PA.
Table & Chair Rentals near me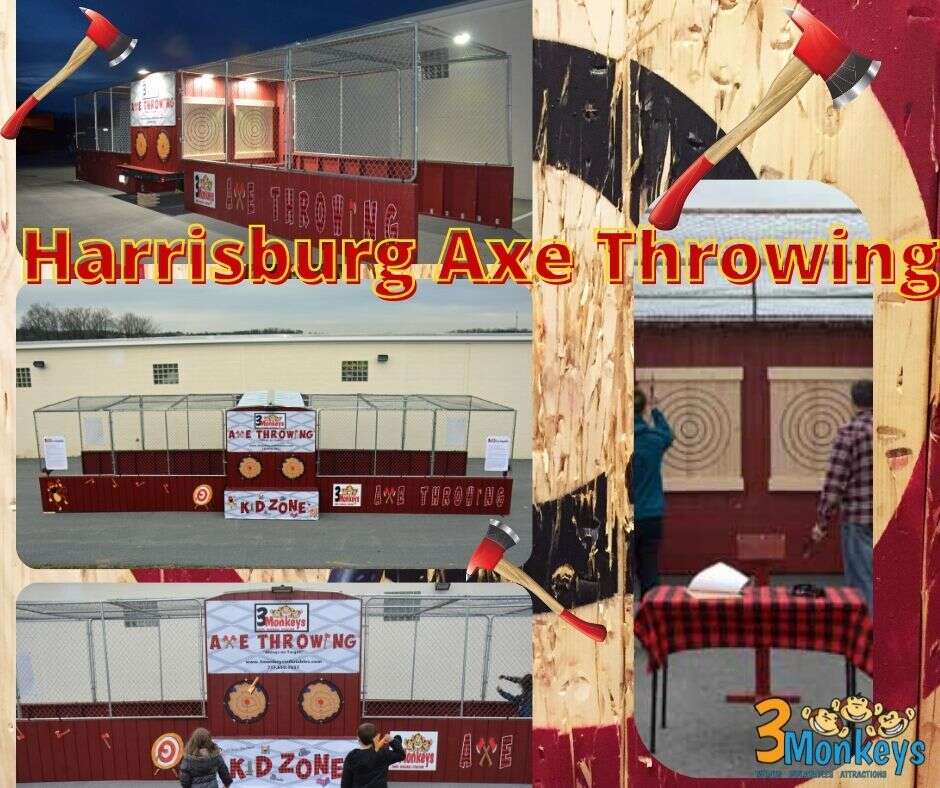 Axe Throwing Rentals Harrisburg
Harrisburg Axe Throwing Rentals are one of the most epic rentals! Think about a huge party, bash, team building, or any other exciting type of rental where you want to celebrate in style! Think bachelor parties, bachelorette parties (Let's go ladies!), showers, graduation parties, grand openings, Team parties, and more! This is exciting and fun and pretty much every guest will not only enjoy learning and playing but watching and cheering on their friends. Our Axepert will of course teach all your guests tips and tricks to be a master axe thrower!
Harrisburg Axe Throwing Rentals
Our Blow up Water Slides Service Area near you
If your project site is outside our normal service area, just let us know! We do deliver even farther out, and special accommodations can usually be made to suit your project.
NOTE: Extra fees may vary depending on how far you are outside our service area.