Xtreme Racing Simulator
3 Monkeys is always striving to bring the arcade experience to our customers in entirely new ways. With Xtreme Racing 2.0, we've done just that! Up to 8 players can race at a time in this sit-down racing simulator featuring the latest technology to make every second as realistic as possible. Our goal is to provide the most realistic racing experience possible in a small form factor. We've taken high-end force-feedback racing wheels, married them to 32" HD monitors, top of the line video game systems, and our custom racing cockpits. Add it all together and drivers feel like they are at the track racing at 200mph!
Competitive Racing
Xtreme Racing is a great way to bring out the competitive juices. Whether a crowd of 1000, a group of 10 or anywhere in between, we'll organize everything and crown the winner of every race!Xtreme Racing can be set up as a 4-seat attraction or an 8-seat attraction. The 4-seat setup requires 10' x 20' of space. The 4-racer setup can accommodate up to 50 racers an hour. The 8-seat version requires 10' x 40' of space and can accommodate up to 100 racers an hour. Xtreme Racing is for racers ages 10 and up and requires one 20-amp circuit per two seats to operate.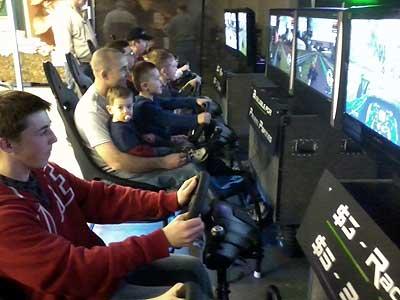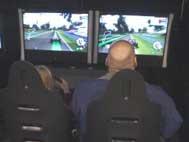 How many participants can I rent for?
Below is our available participants configurations. We can provide racing for 2 guests up to 8 guests that will be in the same race at the same time and they can pick their track to race on. This is like our traditional racing games you play in the arcade where you can play against your opponent and bump and race past them to see who is the best racer!
Available In:
2 Seat Configuration
4 Seat Configuration
6 Seat Configuration
8 Seat Configuration
Call us at (717) 650-7657 for pricing and more information.
Copyright © . 3 Monkeys Inflatables LLC. All rights reserved. Red Lion PA (717) 650-7657