Xtreme Racing Simulator 2.0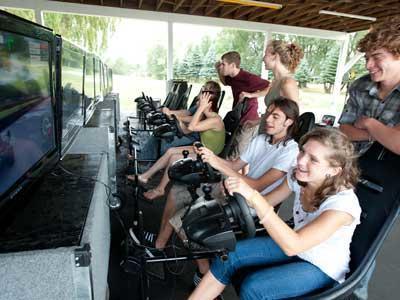 Please call to reserve this item.

Description
Xtreme Racing Simulator 2.0 Rental York Pennsylvania
3 Monkeys Inflatables is your provider for Racing Simulators in Lancaster, Harrisburg, Gettysburg, Hershey, Baltimore, Reading, Millersville, Elizabethtown, and Dallastown Area.
3 Monkeys is always providing amazing arcade racing experiences to our customers in entirely new ways. With Xtreme Racing 2.0, we've done just that! You can play with 2 players, up to 8 players can race at a time in this sit-down racing simulator game featuring the latest technology to make every second as realistic as possible. It's a fun racing simulator for rent like having an arcade racing game in your own backyard, corporate event, party, or community event.
Real Racing Seats!
3 Monkey's goal is to provide the most realistic racing experience possible in a small form factor. We've taken high-end force-feedback racing wheels, married them to 32" HD monitors, top-of-the-line video game systems, and our custom racing cockpits. Add it all together and drivers feel like they are at the track racing at 200mph! These seats bring that arcade type of experience right into your lap!
Competitive Racing Simulator Rentals
Extreme Racing is a great way to bring out the competitive juices. Whether a crowd of 1000, a group of 10, or anywhere in between, we'll organize everything and crown the winner of every race! These are great for team building, or community events, school events, and parties!
How many Racing Games can I rent?
Xtreme Racing by 3 Monkeys can be set up as a 4-seat attraction or an 8-seat attraction. The 4-seat setup requires 10' x 20' of space. The 4-racer setup can accommodate up to 50 racers an hour.
As a rule of thumb: The 8-seat version requires 10' x 40' of space and can accommodate up to 100 racers an hour. Xtreme Racing is roughly for racers ages 10 and up and requires one 20-amp circuit per two seats to operate.
Racing Game Rentals for Parties
Xtreme Racing Simulators is a competitive fun experience that is great for any type of graduation, birthday, over-the-hill, adult parties, scout events, expo events, racing parties, racing events, 16th birthday parties, teen parties, grad parties, college parties, community events, park events, grand openings, and so much more. Give us a call at 717-650-7657 or email us at info@3monkeysinflatables.com to book your next event.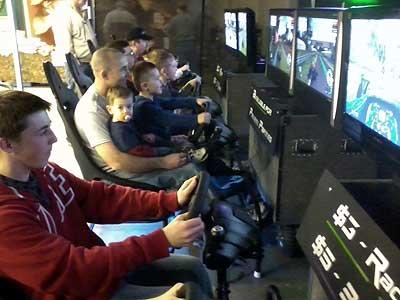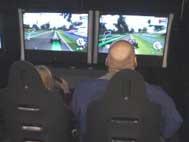 Available In:
2 Seat Configuration
4 Seat Configuration
6 Seat Configuration
8 Seat Configuration
Call us at (717) 650-7657 for pricing and more information.
Party Rental One-Stop-Shop
We are your party and event rental one-stop shop. We have everything to choose from with bounce house rentals, combo inflatable rentals, obstacle course rentals, concessions, tents, tables & chairs, as well as big adventurous items like rock wall rentals, euro bungee's, bumper cars, virtual reality rentals, mobile gem mining, mini-golf, mechanical bull, carnival games, giant games, gem mining, wax hands, and so much more. Give our office a call, order online with our real-time booking system so you can order any time of day or night, or email us at info@3monkeysinflatables.com.