Bounce House Rental Lancaster and Water Slide Rental
Rent a Bounce House in Lancaster, Pennsylvania
Bounce houses to rent, rental bouncy castle, Inflatable rentals, and bounce house rentals Lancaster from 3 Monkeys Inflatable are number one Lancaster bounce house rental and Water Slide Rental company. Water slide rentals Lancaster are also one of our specialties. We offer a complete line of party rentals in Pennsylvania.
We have been in business for over 13 years and value our customers who are renting a bounce house in Lancaster near me. We offer so much more than just inflatable bouncy house rentals. Our business offers entertainment options such as obstacle course rentals, rentals of inflatable games, carnival game rentals, Mobile Axe Throwing Trailer, Mobile Escape Rooms, VR, Bumper Cars, Rock Walls, Euro Bungees, Wax Hands,
Mobile Gem Mining
, Air Brush Tattoo Art, Giant Games, and more! 3 Monkeys specializes in college events, corporate picnics, school fairs, community events, church functions, and backyard parties. Not only does
3 Monkeys
bring the fun with our inflatable rentals like
Bounce Houses
, obstacle courses,
Extreme Interactives,
Waterslides, Dry Slides, and Combos, but we can also provide you with tents, tables, chairs, and even catering! Every party needs table and chair rentals! Don't forget to add tables and chairs to your party rentals.
Bounce House Rentals Lancaster PA
Bounce House Rental Lancaster PA near me has over 25 unique bounce houses to choose from for your next party or event. Choose from the huge selection of bounce houses for rent in Lancaster County PA. We have generic bounce house rentals, girl bounce house rentals, boy-themed bounce house rentals, and everything in between!

Whatever you call them from bounce house rental, to bounce castles, jump houses, castle bounce house, jumpy house, jump house, house bounce rental, bouce house rentals, and all the other names they have been referred to know that you are renting quality jump house rentals when you rent from our Lancaster Bounce House premiere company 3 Monkeys Inflatables. We have over a decade and a half of experience in inflatables in fact our sister company, Inflatable Doctor provides industry repairs throughout our local competitors and with our inflatable manufactures. We are the area leader for Lancaster County and surrounding cities for Bounce House, Party Rentals, Water Slide Rentals, Obstacle Course Rentals, and the unique and Giant size attractions our customers have grown to expect.
If you are planning a bouncy party in Lancaster, PA, 3 Monkeys Inflatables is the place to call by dialing (717) 650-7657. We are a one-stop-shop offering all of your party rental needs in Lancaster. We offer professional service from the time you place your order online through our user-friendly
online booking
service or if you do it over the phone or email with one of our booking specialists through the setup and tear down. Our Lancaster party rental options are huge and the possibilities will seem endless. Need to rent a bounce house for rent Lancaster, but feeling a bit overwhelmed with all we have to offer your party? Please don't hesitate to contact us to help you decide what will best fit your event rental needs.
We deliver to Elizabethtown and surrounding cities like
York
and
Harrisburg
A bounce house rental is the perfect way to entertain kids of all ages for your outdoor party plans this summer, winter, fall, or spring!
Visiting Lancaster, Pennsylvania
Located in Central Pennsylvania, also referred to as the Dutch Country, is beautiful Lancaster County. There is so much to do and see that out-of-town visitors often spend an entire weekend or more visiting the area. A very popular shopping area is on Route 30 where the outlets are. Shop in COACH, Asics, Calvin Klein, the GAP, Famous Footwear, Nike, the Pottery Barn, and so much more. Grab a bit to eat at one of the many restaurants located along 30 such as Texas Roadhouse, Panera Bread, Golden Corral, or grab one of the famous local strombolis at Your Place Restaurant and Sports Pub! Lancaster is also home to many Amish and you can visit the Amish Farm and House to learn about their culture and daily living. If you are hosting a party or event in Lancaster one of the popular locations is Long's Park conveniently located right off of Route 30. There are pavilions for rent, a picturesque pond, a petting zoo, playgrounds, and more on location for plenty of things to do. If you are interested in renting a pavilion you are encouraged to call the city of Lancaster's Bureau of Parks at (717) 291-4835. Another fantastic place to take children is the Hands-on House museum where their imaginations can run wild. From a very realistic, yet pretend grocery store to a robotic and STEM lab there is so much for them to do, learn and explore. Lancaster is also home to the very well-known Dutch Wonderland amusement park including Duke's Lagoon water park! Make it an overnight trip and stay at the brand new Cartoon Network Hotel which will just awe you and your children. Lancaster, PA is one of our favorite places to visit and to deliver bounce houses for rent and inflatable rentals too!<
Book all of our Bouncy Castles Here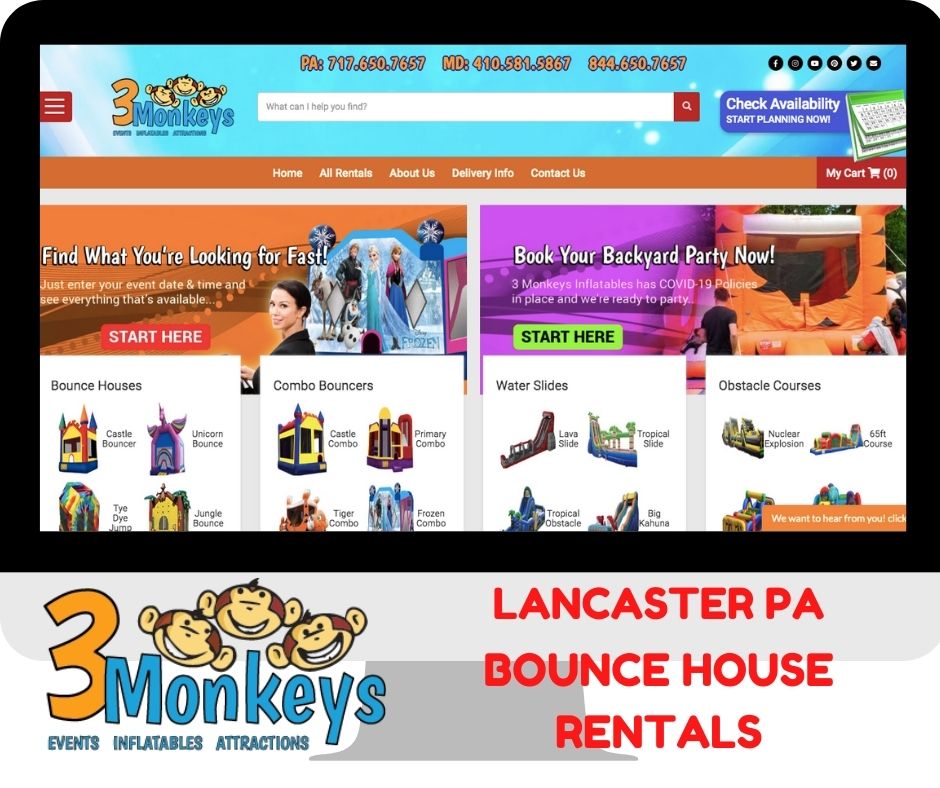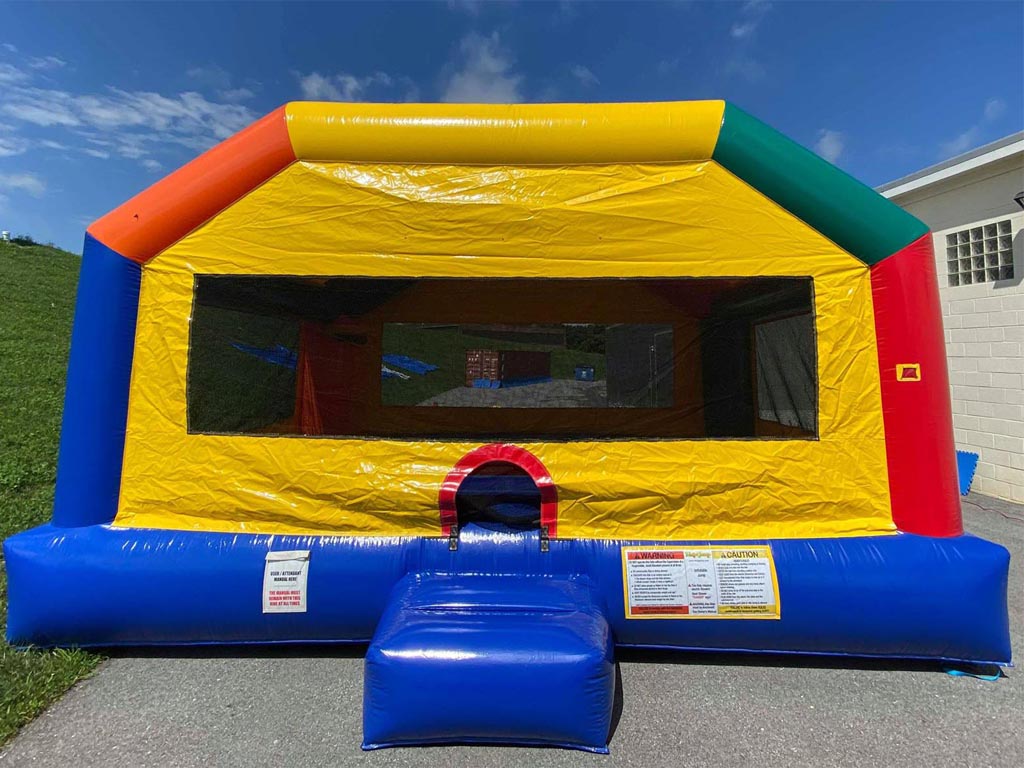 Bounce House Rental Lancaster, PA
Bounce House Rental Lancaster is a great entertainment piece for any kind of event whether it be a wedding reception, backyard birthday party, post-prom event, church fellowship or youth group event, school carnivals, community gatherings, or just because you want to have some extra fun! Our traditional bounce houses are 15 x 15 and allow up to 8 jumpers at a time. Bouncing is a great cardio activity and will warm up muscles that are not used every day! It's a great physical activity that will get kids moving but will tire them out. Kids spend countless hours jumping with friends, family, and by themselves when their parents rent a bounce house in Lancaster for them. The laughter and excitement of the jumpers end up being quite contagious to the spectators too. Jump house rentals are the center piece at any party. We have primary colored bounce houses that go with any party theme or we have themed ones such as Disney Princess, Pirates of the Caribbean, Batman, Superman, Unicorn, Dinosaurs, USA, and more. Rent a bounce house rental in Lancaster from 3 Monkeys Inflatables for your next bouncy house rentals party or event!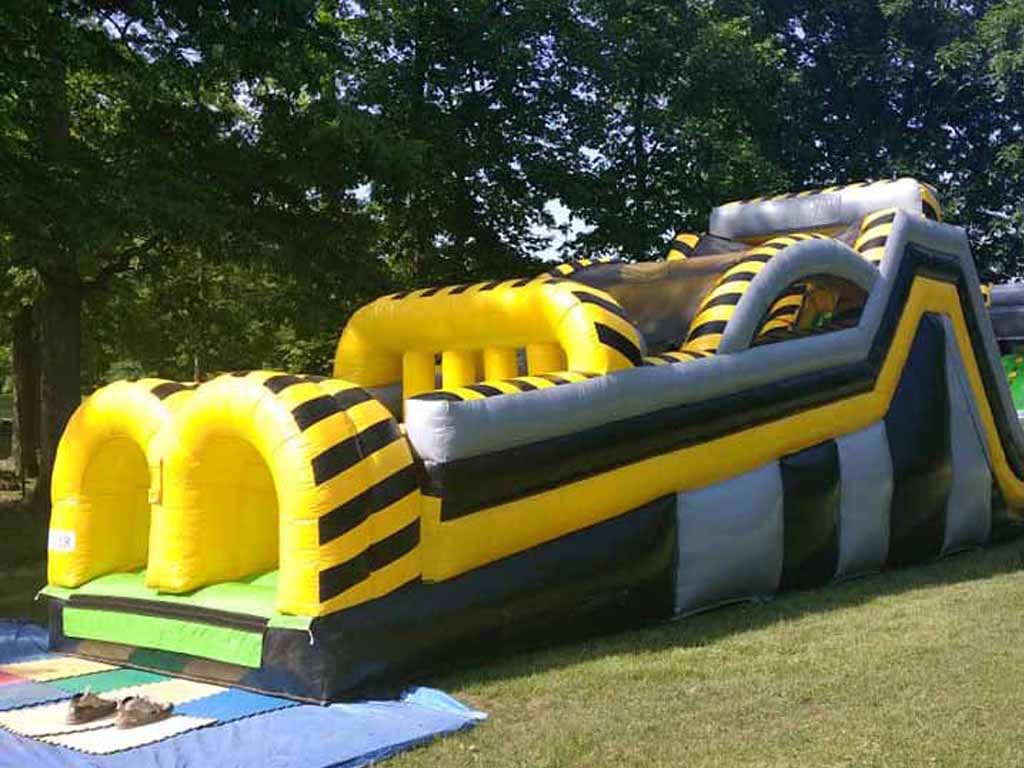 Lancaster, PA Obstacle Course Rentals
Lancaster obstacle course rentals from 3 Monkeys Inflatables gives your party so many options. 3 Monkeys offers two different types of Lancaster Obstacle Course Rentals. The first type is the race obstacle course rental which is for two participants at a time. There are many different types of obstacle features found within these obstacles that will challenge the racers. From crawl throughs to log obstacles and from pop-up obstacles to pop-down obstacles, racers just never know what they will be faced with. There is often a rock climb-wall challenge in the obstacles as well. These obstacles can be used in a "ready-set-go" fashion, or participants may go through at their leisure. When used as racing obstacles it is not uncommon to have the crowd get involved with chanting and cheering. Who does not love a little friendly competition? The second type of obstacle is our playground obstacle like our Wacky World and Wacky Fun Center. These obstacle course rentals in Lancaster allow for multiple riders at one time and they make their way through at their own pace. These types of obstacles make great centerpieces for school carnivals, may days, community events, and corporate picnics.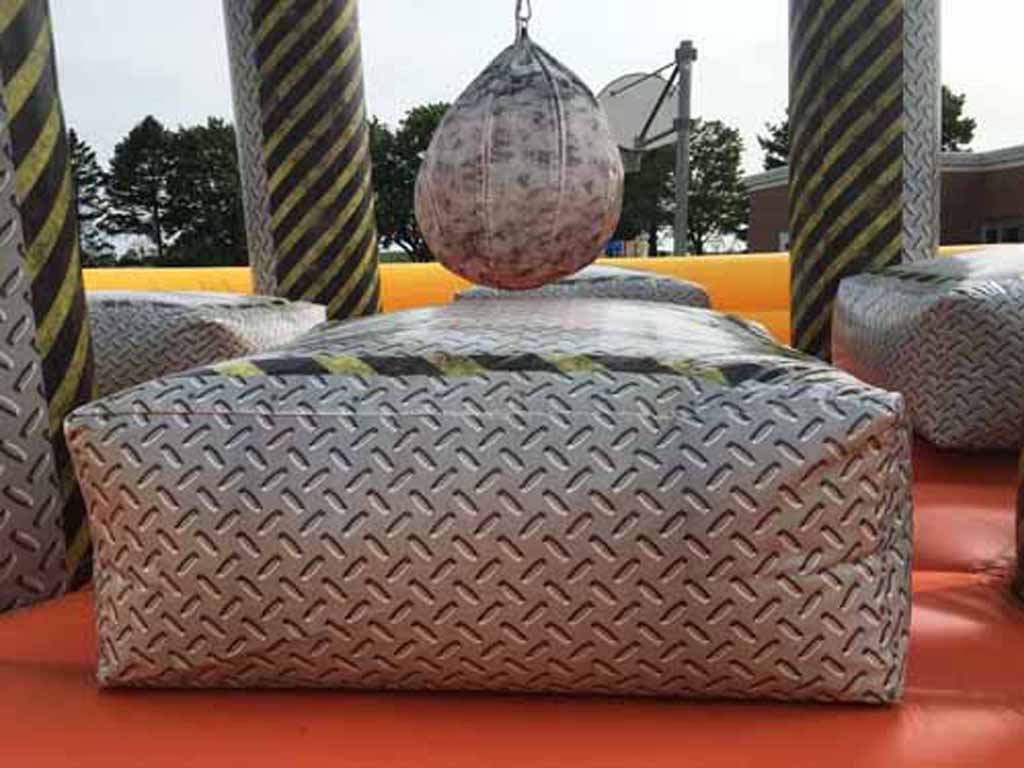 Interactive Inflatable Game Rental Lancaster, PA
Interactive Inflatable Game Rentals Lancaster adds a level of excitement to events that cannot be put into words. These inflatable game rentals provide a friendly, competitive feel to your event and will have the crowd cheering on the participants and belly laughing at their moves, especially in the Boxing Ring and the Rock N Roll Joust! Large, netted windows on both of these units allow for spectators to view the matches and cheer on the players. Some test speed, some test agility, and some test muscles that you don't use every day! Try out the velcro wall, bungee run, defender dome, or the big red baller for your next college event, corporate event, backyard party, anniversary party, or summer picnic. We also specialize in Mechanical Bull Rentals and the Grand Slammer Meltdown Rental. 3 Monkeys delivers interactive fun to Lancaster, Elizabethtown, Mount Joy, Landisville, and other surrounding cities. Rent interactive inflatable games in Lancaster today to make your party the best party ever!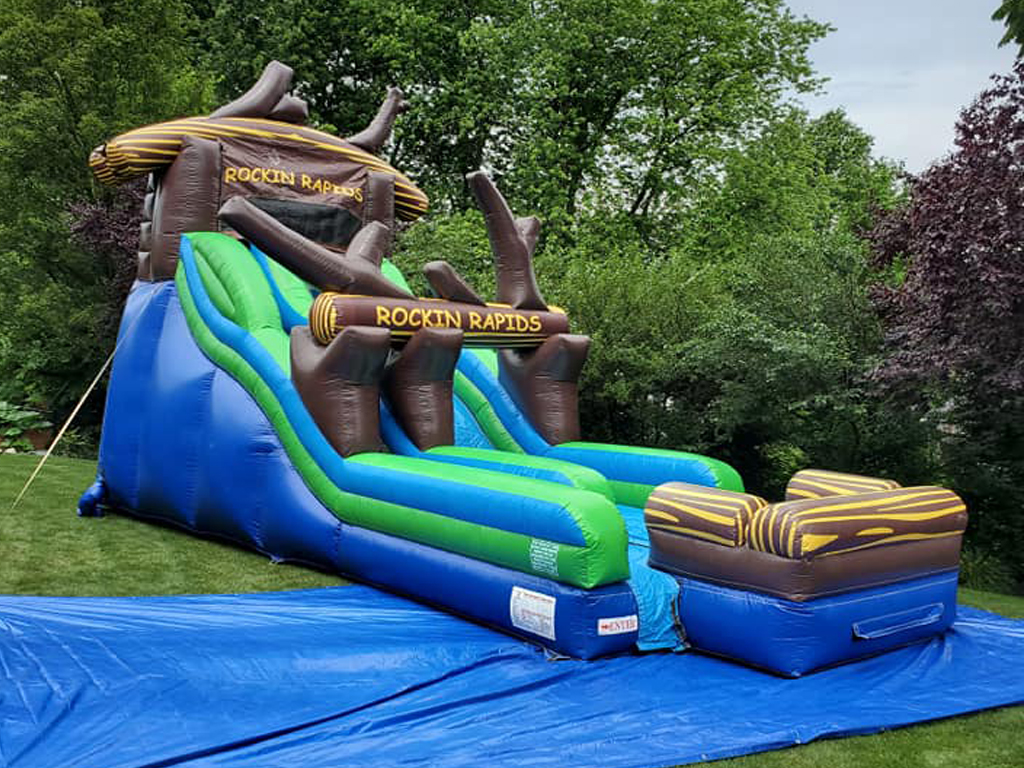 Water Slide Rental Lancaster, PA
Rent a water slide in Lancaster from 3 Monkeys Inflatables today! What fun is a summer party without a water slide rental? Our Lancaster Water Slide Rentals are just as fun for adults as the kids! Our water slide rentals come equipped with a connector hose that will need to connect to your garden hose and water source so please have that readily available for your water slide rental in Lancaster. We ask that you have the water turned on to just a trickle, enough to keep the slide wet. We offer a variety of double and single-lane slides to our Lancaster, PA customers. Our most popular slides are the 27' Lava Waterslide rental and the 22' Tropical Waterslide rental. Our single-lane, Lancaster waterslide rental collection includes the Big Kahuna, Rockin Rapids, the Splash Down, 20' Caustic, and many more. Additionally, we now have a unique Tropical Obstacle that combines obstacle features with a waterslide at the end. The other awesome thing about this obstacle rental in Lancaster is that it is for two participants at one time! Don't wait to book your Lancaster Water Slide rental because in the summer they go fast! Call us today at (717) 650-7657.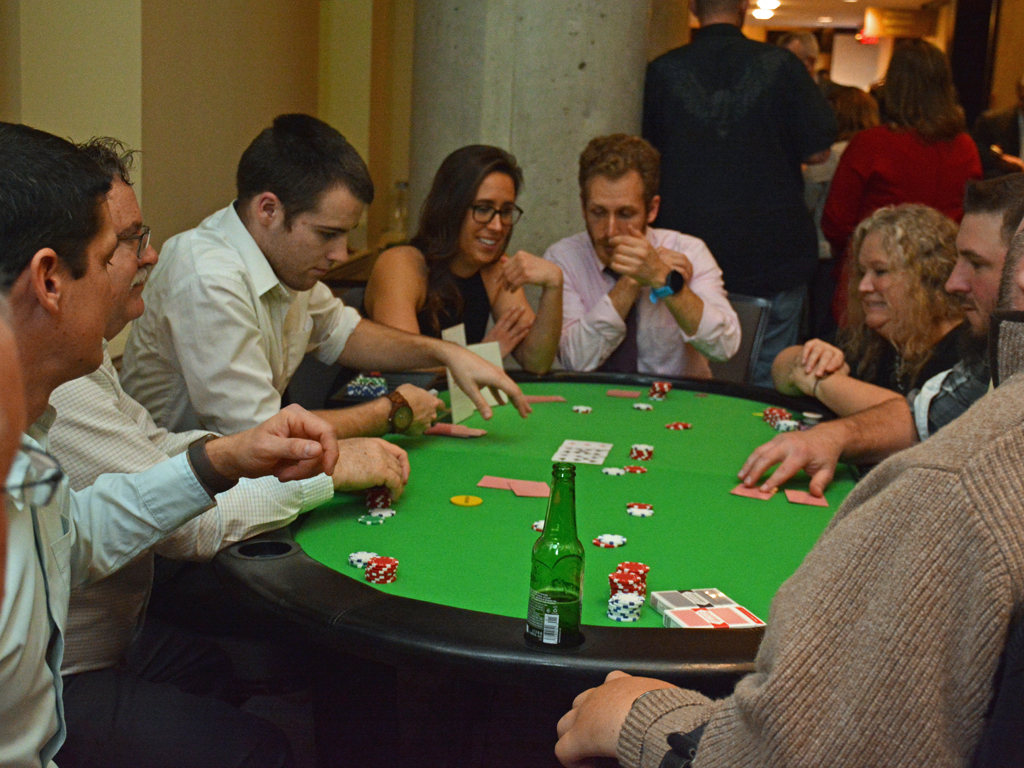 Lancaster, PA Casino Party Rental
Casino Party Rentals Lancaster makes for great corporate events, promotional events, client or customer appreciations, post-prom parties, and adult birthday parties. 3 Monkeys provides a night of entertainment with casino games including Blackjack, Poker, Roulette, Craps, and even Slot Machines. Add a Pit Boss to your event to keep it running smoothly. We provide the chips and dealers. Make your event thrilling by offering prizes of your choice at the end of the evening. Throw in a photo-op with our King and Queen photo prop. Casino nights are so much fun and attendees tend to have a blast. This is a great opportunity for those who are unsure of how to play some of the games to learn and see how it is done. Some will even walk out with confidence to approach the real deal casino tables the next time they are there.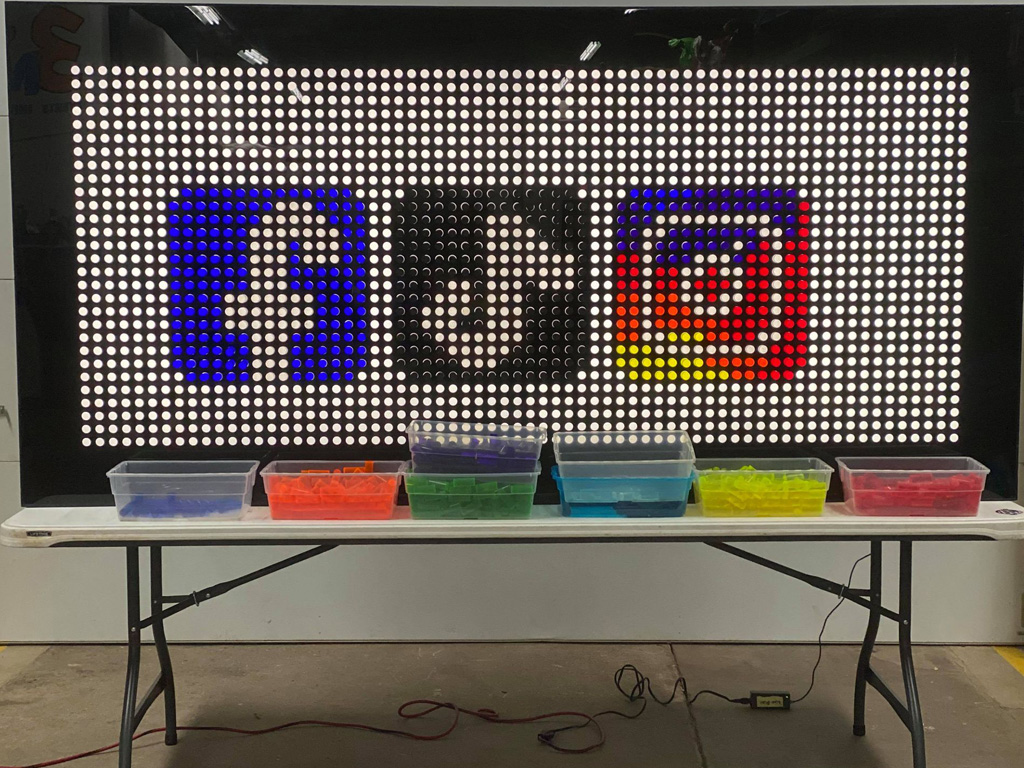 Giant Carnival Game Rental Lancaster, PA
Giant Game Rentals Lancaster makes for perfect additional entertainment items at your party or event. Give your guests plenty of playing options by choosing from Giant Jenga, Giant Connect Four, Giant Battleship, Giant Pick-Up Sticks, Giant Checkers, Giant Chess, Giant Corn Hole, Giant Horseshoes, and more! Compliment giant games with other carnival game rentals like our Bin or Frame Games. Just imagine the game night you could host with some of the amazing game rental offered in Lancaster by 3 Monkeys Inflatables. You need to rent Lancaster carnival games to complete your event. Carnival games add so much to large events or even backyard parties. New to our inventory is Giant Lite Brite which will take you back to your childhood days! Oh yeah! Let's not forget about Giant Yard Pong too!! Looking for a variety of over-sized games? We can help! We carry Giant Yard Games which consists of 9 exciting games for you and your guests to engage in! Giant Game Rentals Lancaster makes great add-ons to all party or event orders.
Order-by-Date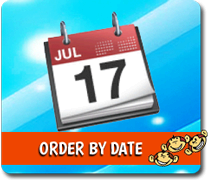 Bounce House Rentals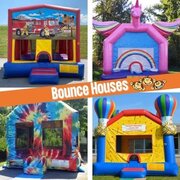 Combo Bouncer Rentals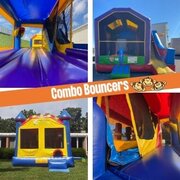 Water Slide Rentals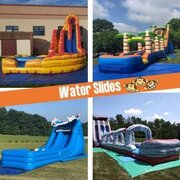 Inflatable Slide Rentals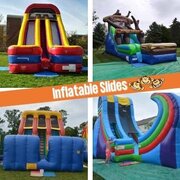 Toddler Inflatables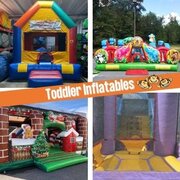 Obstacle Course Rentals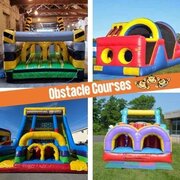 Extreme Interactives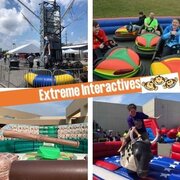 Giant Games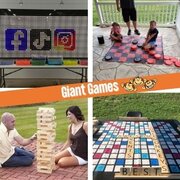 Carnival Games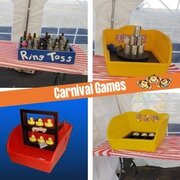 Foam Parties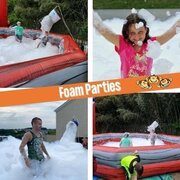 Tents Tables and More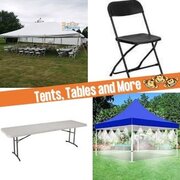 Casino Parties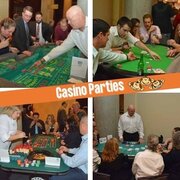 Escape Room Rentals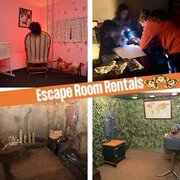 Virtual Reality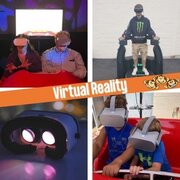 Make And Take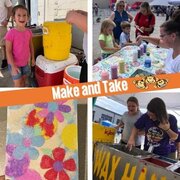 Event Equipment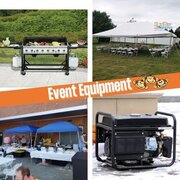 Picnic Foods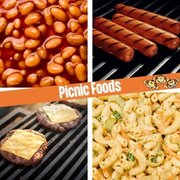 Glow Games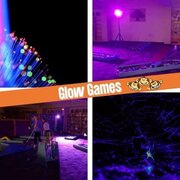 Staff Attendants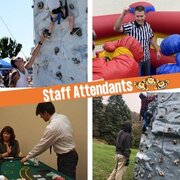 Holidays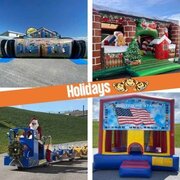 Packages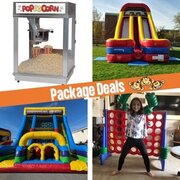 NEW-PURCHASES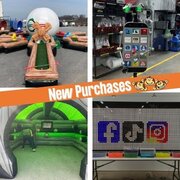 Digital Video Game Rentals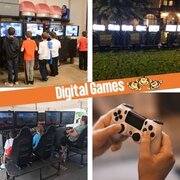 Dunk Tanks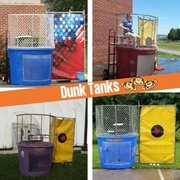 Photo Booths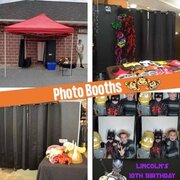 Entertainment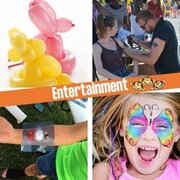 Concessions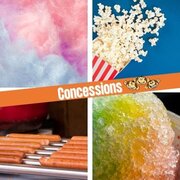 Advertising Inflatables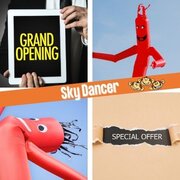 Xtreme Racing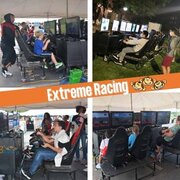 Movie Screens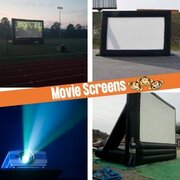 Gift Certificates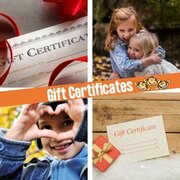 Mobile Axe Throwing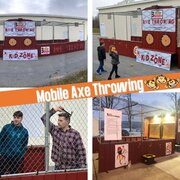 Golf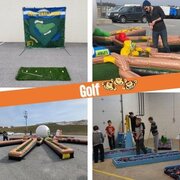 IPS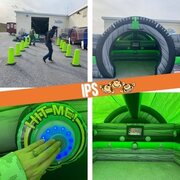 About 3 Monkeys Inflatables

3 Monkeys Inflatables has been providing bounce house rentals, party rentals, and event rentals in the Lancaster, Pennsylvania area since 2007. We have become a highly renowned and respected name in the Lancaster Bounce House Rental and Event Rental Industry. The Lancaster Area School District is one of the best districts in the Central Pennsylvania area offering many School and College campuses who are proud to say we serve them. Lancaster is a great place to have party rentals, event rentals, and bounce house rentals. Many neighborhoods have parks, recs, and community locations in them for a great place to hold parties in Lancaster, PA.

Registered, Licensed & Inspected Inflatables

All cities in Pennsylvania require that your inflatable rental or any party rentals you are using that is considered an amusement ride are strictly licensed through the Department of Agriculture Ride Safety Division. They require all companies and public events to be registered and the company is required to have a specific insurance policy that is naming the Department of Agriculture as additionally insured. In Lancaster Pennsylvania for Bounce House Rentals, you also want to ensure you are working with a company that is licensed to operate inflatables in the state but also have renewed their license each year and you can simply do that by calling the Department of Agriculture Ride Safety Division at 717-215-4316 or simply look for the current year sticker featured on the metal registration tag located on the blower. If they do not have the sticker you may want to notify the Ride Safety Division to ensure your event is properly licensed.

Trust 3 Monkeys Inflatables for your Party Rentals

3 Monkeys Inflatables is proud to offer the best bounce house rentals, water slides, obstacle courses, concessions, interactive inflatables, Photobooths, Rock Wall, Euro Bungy, Mechanical Bull, Wax Hands, Fun Foods, Novelty Rentals, and more than Lancaster, PA has to offer. We are a full-service one-stop-shop rental company that will provide everything you need for you to have an amazing unforgettable party or event. We are able to provide rentals for birthday parties, church picnics, corporate events, college events, Campus Activities, Camps, Pools, Grand Openings, Mini Thons, Post Proms we have the best selections to make it the Best Event Ever. We have provided services to schools, businesses, churches, and universities in the Lancaster, PA area. Bounce.house rentals provide up to 8 hours of rentals at one low price!
Staycations for the win!
Staycations are becoming more and more popular as traveling has become less since Covid changed our lives. 3 Monkeys Inflatables has endless options for you to choose from when planning your ultimate staycation. Lancaster water slide rentals are the way to go in the hot summer months. One of our most popular slides is the 27' Lava Waterslide which is not one, but two lanes and also has an added slip-and-slide feature at the end! Call us today to book your Lancaster, PA Staycation at 717-650-7657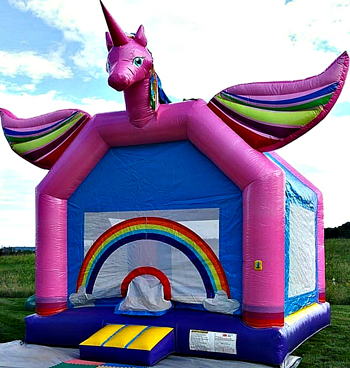 Delivery Bounce House Rentals Lancaster
We proudly serve other areas in Central Pennsylvania including but not limited to Brownstown, Lititz, Manheim, Ephrata, Denver, Adamstown, Blue Ball, and all the surrounding areas in Central Pennsylvania. 3 Monkeys Inflatables is fully licensed and insured. Our entire staff is committed to providing you with excellent customer service, great rental, and making sure it's the best event ever! What are you waiting for? Give us a call at 717-650-7657 | 410-581-5867 or email us at info@3monkeysinflatables.com. We offer real-time 24/7 online booking for your convenience but also are available by phone or email for that personal experience. Thank you and we look forward to working with you.
3 Monkeys Inflatables is your
party rental
specialist in Lancaster, PA. We have everything you need to create a magical event. Our business has been providing party rentals since 2007 so we do not only have all the party rental items you need but have the experience to masterfully guide you in creating the ultimate party no matter what the size or budget. We have successfully helped with backyard parties, church events, block parties, Corporate Events, School Maydays and Fundays, as well as College Events.
Bouncy House Rentals are fun exciting pieces to have at any type of party and event, and being that they create so much excitement around a bouncy house for rent your party will be a huge hit while taking care of the boredom and entertainment for the kids during the party. It's also a great way to keep kids outdoors in the sunshine and fresh air to have them on bounce.house rentals.
Bounce House Rental Lancaster PA is your one-stop party and inflatable rentals company servicing all of Lancaster County Pennsylvania. We love working with our local clients and offering them the biggest selection for Bounce House Rental
Lancaster PA
. Our selection of jump house rentals, inflatables,
bounce houses
,
water slides
, obstacle courses, dunk tanks, concessions,
rock walls
, euro bungee,
mechanical bulls
,
trackless trains
, a jumpy house near me, and so much more. We have so many carnival games and giant games as well that are great additions to any type of
party
or event.
Biggest Inflatable Rental Collection in Lancaster County
Inflatable Rentals Lancaster near me is a great party entertainer for not only small kids but teens and adults as well! The Waterslide rental for summer months book up months in advance, so plan early! We also are happy to provide Water bounce houses, wet/dry combos, or bounce n slide combo's whatever you might call them they are all a sampling of a bounce house plus slide and typically basketball inside and some of them offer wet/dry options which makes for a great summer fun rental! Don't forget the
Tents
, Tables, Chairs, Generators, and Concession Rentals that we have available to rent for all of your party needs. Additionally, we even rent misting fans and misting tents for those extremely hot days to keep your guests cool from the sun. Our concession products come with instructions on how to use and supply with each type of concession so you won't have to worry about anything!
Party Rentals
Bounce Houses
, Inflatables,
Water Slides
,
Obstacles
, and Event Rentals in
Lancaster PA
are a great way to really
celebrate
all the occasions you might have your family and friends over to your house, or a church or work event. They really bring out the
fun
factor and the playfulness of kids and adults alike. They are great for both younger kids, teens, through adults. That is what makes it even more fun when you have items that just about anyone can participate and play with! There are some great parks and recreation areas to set up and have a great party rental
Lancaster PA
near me. Great locations in addition to parks would be locations like Fire Halls, Meeting Halls, Community Centers, and many more.
Inflatable Water Slide Rentals
Rent Inflatables Water Slides in Lancaster for your summer fun activities. Choose from Inflatable Water Slide Rentals like the 27ft Lava Waterslide that features a 76ft long slip and slide area which is our biggest waterslide rental available or choose something like a great backyard waterslide like our popular Rockin Rapids Water Slide, or Kahuna Water Slide Rental. Water Slides for Rent are one of the most popular summertime activities for backyard parties and celebrations. We even have a water bounce house for rent like our popular Bounce n Slide wet/dry combo's or our popular Water Obstacle Course Rentals that pair obstacle courses with water to create one exciting and cooling water rental! Bounce House Water Slide Rentals are a great way to cool off in the hot summer sun! If you are looking for the best Lancaster water slide rental then look no further as 3 Monkeys Inflatables has you covered! Inflatable water activity rentals are perfect for your summer parties, block parties and outdoor events to celebrate graduations, anniversaries, showers, and etc.
Frequently Asked Questions on Lancaster Bounce House Rentals
We deliver Inflatable Bounce Houses to Lancaster PA
3 Monkeys deliver bounce house rentals and party rentals to the
Pennsylvania
towns of
York, Lancaster, Harrisburg, Hershey, Dallastown, Dover, Red Lion, New Salem, Spring Grove, West York, Dillsburg, Wrightsville, Shrewsbury, East York, Stewartstown, Glen Rock, New Freedom, Manchester, Lewisberry, Seven Valleys, York Haven, Goldsboro, Mount Wolf, East Prospect, Felton, and more.
Copyright © . 3 Monkeys Inflatables LLC. All rights reserved. Red Lion PA (717) 650-7657