College Events in Central PA and Northern MD
College Activity Planning and Campus Carnival Rentals
Are you planning an event for your college or university in Central PA and Northern MD? 3 Monkeys has been providing college event rentals to colleges all over PA, MD, NY, NJ, and OH for over 13 years. We have a college inventory that is unstoppable, and will create that campus buzz you are looking for! Jump into our content below with ideas and the cool bounce house, inflatables & party equipment, and of course the unique, cool, and crazy equipment we have available to make your college the best experience ever! From orientation, homecoming events, sororities, fraternities, student unions, programming boards, alumni events, greek events, campus activities boards, finals week, and so much more! If you want to look at all we have to offer CLICK HERE and it will take you to our entire website, but beware we are going to show you college entertainment below at its finest!

College Rental Items that are HOT HOT HOT!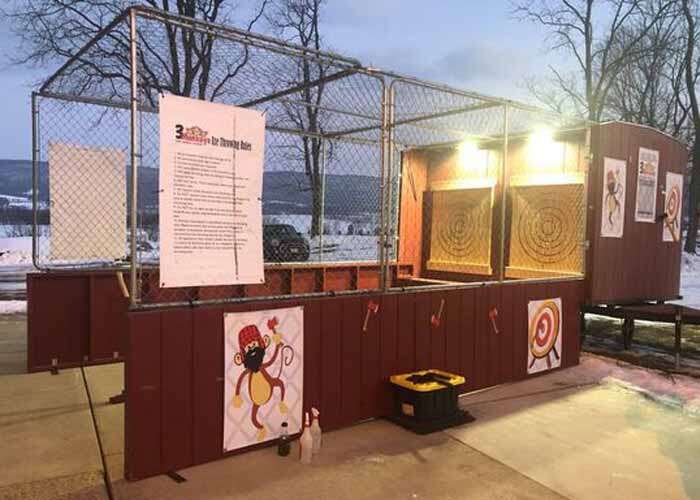 College Mobile Axe Throwing Event
Mobile Axe Throwing is the HOTTEST college rental this year! It is very easy to clean and it is a super trending item that everyone wants to try and get excited about the opportunity! The mobile axe throwing comes in 2- or 4 lanes and included is an axepert who runs the event from start to finish and is educated to be able to guide throwers on making adjustments to their throws so that they have a successful throw.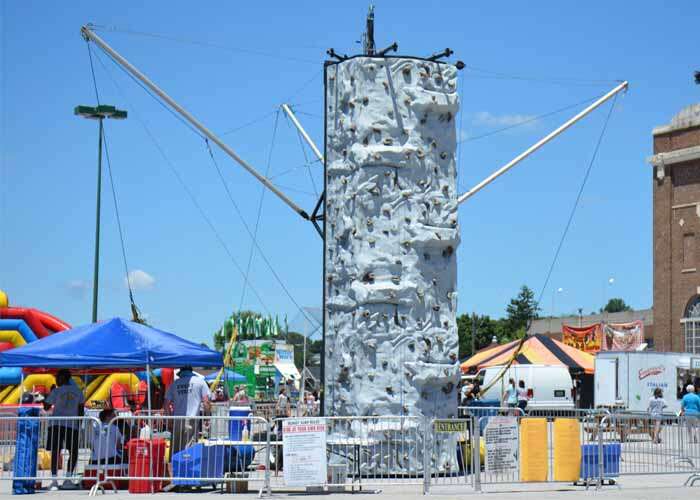 Rock Wall & Euro Bungee Combo
Rock Wall & Euro Bungee Rentals are a perfect college activities board event, orientations, and homecoming events! Our rock walls provide quite the challenge to climbers to see if they can make their way to the top of the wall where they will have the chance to ring the buzzer!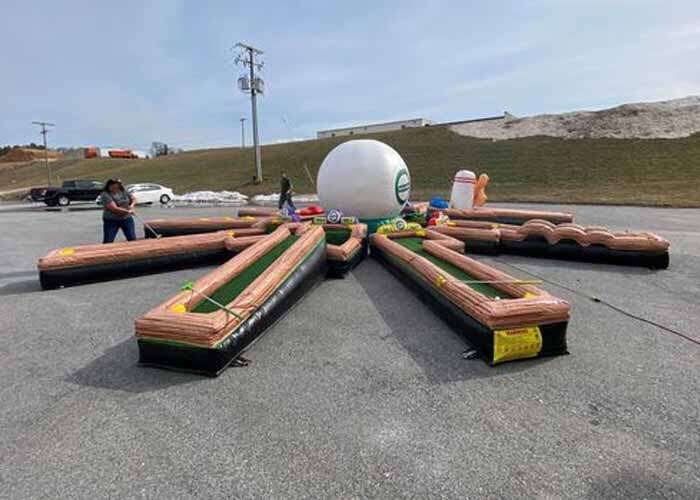 Inflatable Mini Golf Game Rental
Inflatable Mini Golf Game Rental comes in 9 hole Inflatable Mini Golf that is perfect for indoor or outdoor events and comes with balls, score cards, and putters. We even have a 9 hole mini-golf, wacky golf, and billiard golf too if you want something different!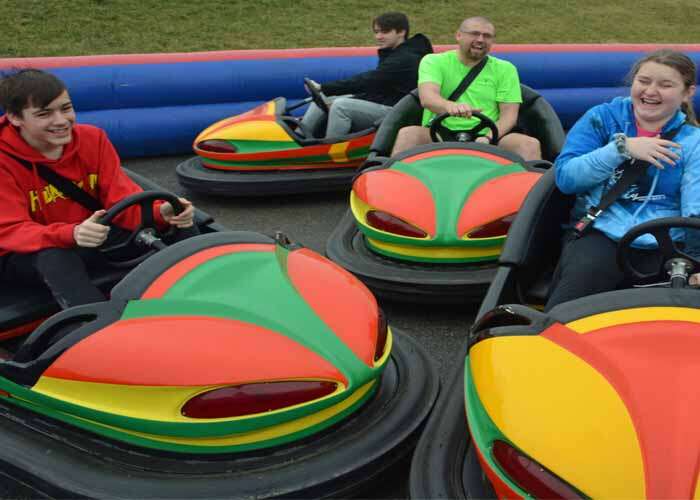 Bumper Cars
3 Monkeys offers Bumper Car rentals that are a ton of fun. This rental comes with 4, battery-operated cars, that the drivers drive around inside the inflatable arena while trying to bump into one another. As you can see from the picture this interactive ride will keep your participants quite engaged and laughing the entire time! Cars drive best on concrete, asphalt, or indoors but can be driven on a flat, grassy area. This is one ride you won't want to miss out on at your next college party!
Rent Bumper Cars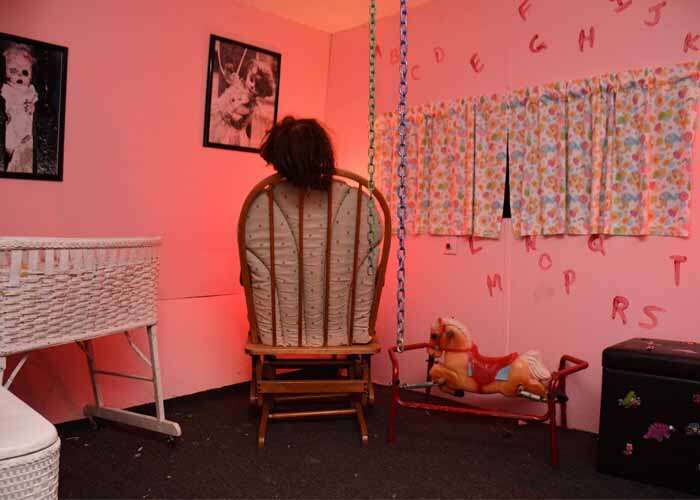 Mobile Escape Rooms
One of the popular places to go these days is to Escape Rooms. In an escape room, teams are challenged to solve their way through puzzles, locks, riddles, and more. The ultimate goal is to see if they can 'escape' within an allotted time OR the fastest. 3 Monkeys offers several different themed escape rooms including the Creepy Nursery, Military, Fortune Teller, Temple Ruins, and a Bank Heist. What makes the Bank Heist unique is that it can be set up indoors and is set up under a tent with real props and a faux vault. The other escape rooms are in mobile trailers that we set up at your event location.
Escape Room Rentals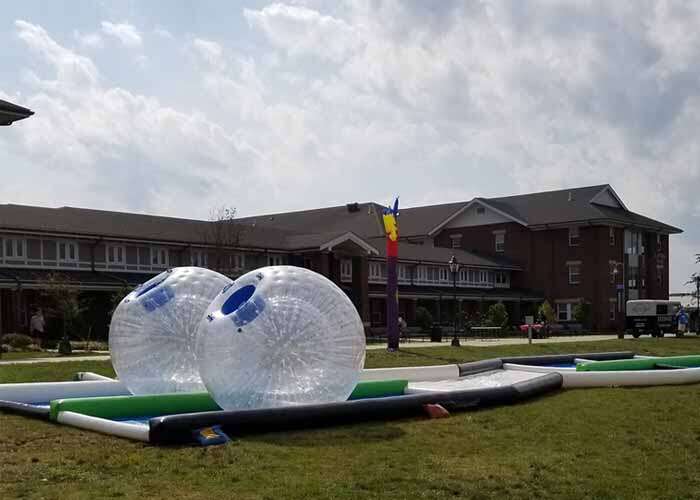 Zorb Balls
Everyone loves Zorb Balls often referred to as Human Hamster Balls too. This is a two-player activity, one player per zorb ball. Each player will try to push their their way down the track. Eventually, the two separate paths will cross and you must try to beat your opponent through the crossover. You can even really throw them off course by crossing over into their lane and finishing out the track on their side. The first person to roll their zorb ball to the end is the winner. These are always quite a hit at all college or university events!
Zorb Rentals
How Can 3 Monkeys Help?

We know planning any entertainment and activity on college and university campuses can be draining! Booking with a company you can trust, that is there to help you at every step along the way is going to relieve a lot of the stress you feel when planning large events. 3 Monkeys Inflatables can supply your event with inflatables, games, attractions, photo booths, bumper cars, axe throwing, spin art, rock walls, wax hands, and so much more! We can plan Homecoming Celebrations, Fundraising Programs, End of Year Parties, Orientation Programs, College Formals, Holiday Parties, Alumni Events, Finals Week Events, Half-time Entertainment, and anything else that you may be planning for!

What we Offer:
Stress-Free Booking

Let us make it as easy for you as possible. All you need to do is inform us of any specific ideas or themes that you may have or if you just want us to run with it and plan the best event ever. We can plan and execute the entertainment and keep you updated throughout the process. We provide professional attendants as well as a Supervisor on-site to ensure all the activities are working great and to see to it that the participants are enjoying everything. We handle everything with our one-stop-shop!

Engagement

We offer the best selection in interactive & obstacle course inflatables in addition to fun and exciting Video Gaming Events, along with our Racing Simulators, oversized movie screens, Dance Revolution, Rock Band, Twister, and Monkey Feet Challenge add to the Team Building & competitive games available. We can even add some great Fun Foods, Spin Art, and Photo Booths to create those lasting memorable items.

Safety & Cleanliness

Safety is always something that is a concern to any coordinator. You can rest assured that 3 Monkeys is both registered and licensed. We also carry a $5 Million Dollar Liability Insurance Policy. We have a Workman's Comp Policy, as well as Commercial Insurance Policy on our vehicles. All legitimate companies should have these available and able to show you the proof as requested! In addition to following all safety guidelines we keep our inflatables well maintained and clean and sanitize between customers. Refer to our cleaning video below for more information on our cleaning process.

When you are planning your college or university event you surely are going to want to know what is recommended and what the most popular renters are. Below is a quick list of our most popular items booked by Universities in the Mid-Atlantic States.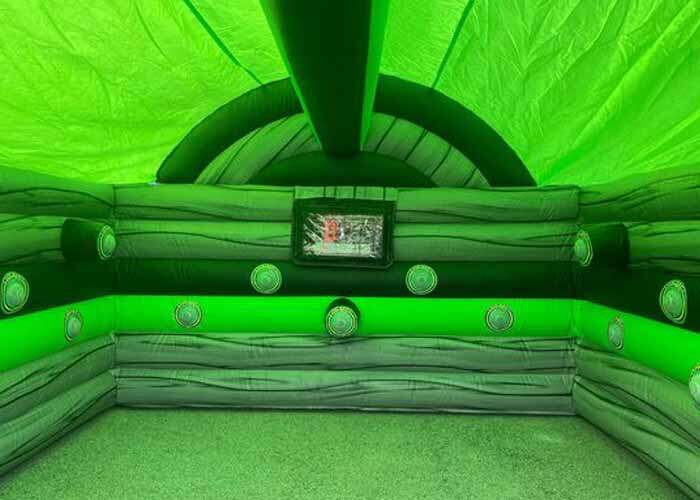 Battle Dome Interactive Arena
We have two different versions of the IPS system to choose from. The battle dome arena seen above is a two-player game that will get your heart pumping and your adrenaline rushing! Onlookers can stand outside of the arena and watch as players battle to the finish buzzer.

IPS Rental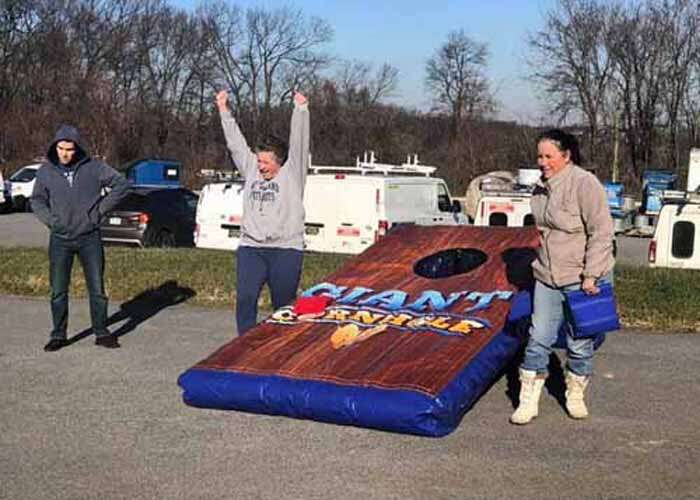 Giant Corn Hole

Giant Corn Hole is just one of the many Giant Games 3 Monkeys has to offer. Adding giant games to any event is perfect because it gives the guests more options to keep them busy! Choose from other games including Giant Chess, Giant Connect 4, & Giant Jenga to name a few.


Giant Game Rentals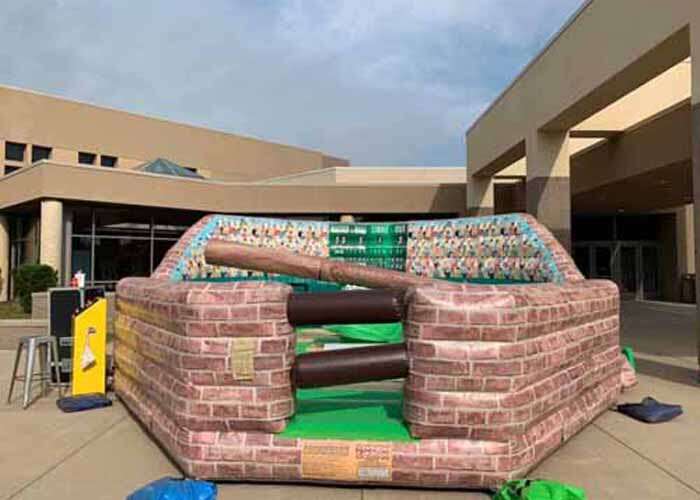 Grand Slammer Meltdown

The Grand Slammer Meltdown is a four player interactive mechanical game that is social-distance friendly. Each player stands on a podium and has to try to jump over the rotating giant bat that will be going around in circles without falling off. The player left standing is the ultimate winner.
Grand Slammer Rental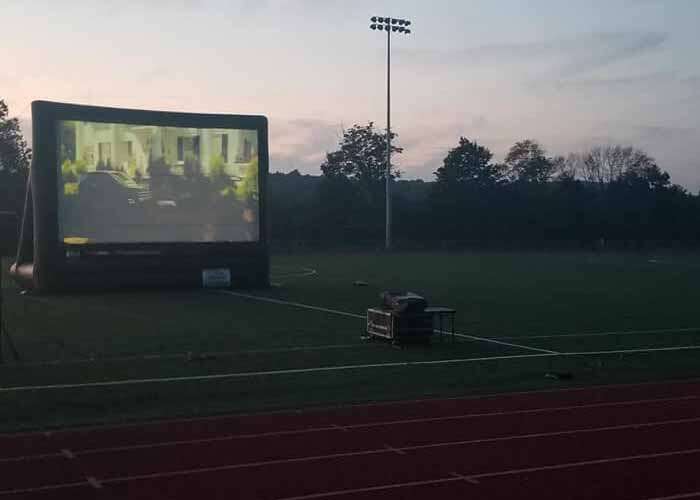 Giant Movie Screen
Giant movie screen rentals are growing in popularity as people search for great social distance event ideas. Our mega movie screen rental measure 23 feet diagonally (the actual viewing screen). Rent an FM transmitter for your guests to be able to listen from their car radios or on small radios.
Rent a Movie Screen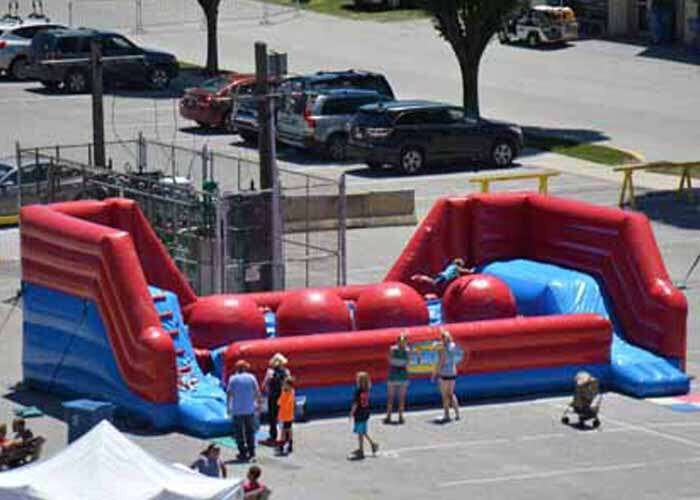 Big Red Baller
What an attraction! Our Big Red Baller from our Extreme Interactive Rental Category is always a favorite at college events. This is a single participant game and the participant tries to make it across the big red balls without falling off. This is a crowd drawing interactive inflatable rental!
Extreme Interactive Rentals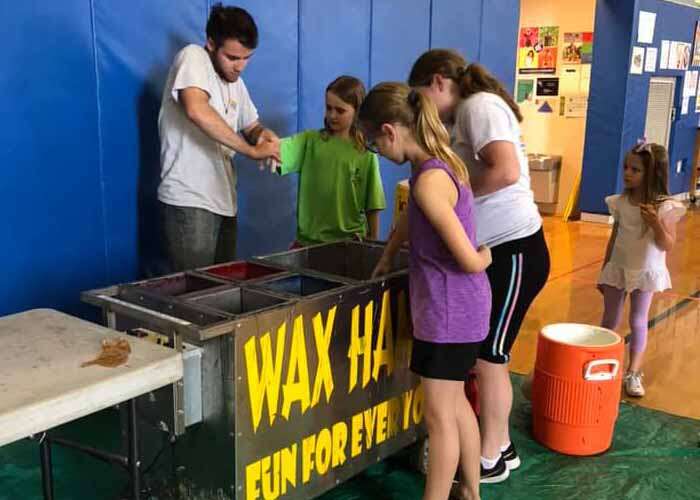 Wax Hands
Our wax hands station is very unique and really provides a WOW factor at your event. This is a make-and-take item that your guests can make so that they have an ever lasting memory of the event. Our wax hand specialist will be present to help participants successfully make a wax mold of their hand.
Wax Hand Rental