Concessions
Concession Rentals York, Pennsylvania
3 Monkeys Rentals delivering Concession Rentals to York, Harrisburg, Lancaster, Baltimore, Reading, and more
3 Monkeys Inflatables offers a huge selection of concession fun food rentals from Cotton Candy, Snow Cones, Popcorn, Hot Dot Rollers, Pucker Powder, and even hot mini donuts! Our delivery area is pretty huge as we deliver to York, Lancaster, Harrisburg, Reading, Dallastown, Delta, Felton, and most of the Pennsylvania and Northern Maryland areas.
Concession Rental Information
To rent a concession rental with 3 Monkeys Inflatables, simply pick the concession you are interested in renting by adding to your cart (don't forget about the tents, tables, chairs, bounce houses, inflatables, and game rentals we have to add to your cart) and then simply add your booking details like your address, email, and phone number and complete the order with just a 25% deposit now with the remainder not being due until the day of your event. It's simple and easy! We have been been in business since 2013 so your order helps our small family business continue to thrive. Thank you! Call or email us with any questions.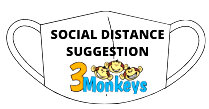 Social Distance Suggestion Tip: Concession Rentals are super easy to social distance with the quick and easy ability to space out the tables with the machine against a wall and serving table in front of you. Quickly and easily limit participants near the machines leaving only one person who is wearing gloves, mask, and hat to limit any germ opportunities. We also suggest that you have anti-bac at the serving table and ask participants to anti-bac and wear a mask when they come up to the table to get one of these tasty treats! Signage and 6-foot reminder line spots are recommended as well.
Call 717-650-7657 | 410-581-5867 or email: info@3monkeysinflatables.com
Subscribe for fun and how-to videos! https://www.youtube.com/c/3MonkeysInflatables
3 Monkeys Inflatables concessions are always a hit at any type of party or event. You can add snow cone rentals to help cool down your party guests over the summer. Popcorn or Cotton Candy create the smell of a fair and get participants excited to come over and sample all the great fun foods. We do offer even hot dog rollers, donut makers, pucker powder candy art machines and many more fun items.
Add Extra to your Event

Concession Rentals are a fun entertaining twist to add to just about any type of Party or Event Rental such as birthday party, church event, school mayday, carnival, fair, College Events, Corporate Events, and many other events. We have many concession items to choose from that will accent your event perfectly. Choose from Cotton Candy Machine Rentals, Snow Cone Machine Rentals, Popcorn Machine Rentals, Shaved Ice Machine Rentals, Donut Maker Rental, Hot Dog Roller Rentals, and Pucker Powder Candy Art Rentals.
Cotton Candy Machine Rental
Cotton Candy Machine Operation Video to help you navigate how to make the perfect cotton candy cone. The smell will have the lines forming quickly while you make this so be ready to draw crowds as you begin making this sweet treat!
Snow Cone Machine Rental
Snow Cone Machine Operation Video to help make a perfect Snow Ball and Snow Cone treat! The perfect combination of cool and the flavor of snow cone syrup on a hot summer day is a perfect treat to any celebration!
Ready for you to enjoy!
Our concession rentals are pre-packaged ready for you to enjoy. We have always included everything you need to get the party going with all of our concession rentals (with the exception of the snow cone rental where we remind you to get ice for the machine)
Cotton Candy
Our
Cotton Candy Machine
comes complete with floss, cones, and of course your sanitary plastic glove to keep things safe and germ-free during your event. No event is complete without an instruction manual along with the machine as well as a youtube video above on directions step by step on how to make your very own cotton candy cones for your event.
Snow Cones
Our
Snow Cone machines
come with 3 flavor bottles, cups, a plastic scooper and of course your sanitary plastic glove to keep things safe and germ-free during your event. We do remind you that you will need to purchase ice prior to your party so that you have that to make your cones with. No event is complete without the instruction manual along with the machine as well as a youtube video above to give you step by step tips on making your best snow cone ever!
Popcorn
Our popcorn machine comes with a popcorn kit that conveniently has the popcorn, salt & butter all ready to go to dump into the kettle along with popcorn bags, and of course, your sanitary plastic glove to keep things safe and germ-free while you are serving popcorn at your event. We also have instructions printed onto the popcorn machine for operating the machine as well.
Pucker Powder Candy Art
Our Pucker Powder candy art comes with 30 of our 6-inch tubes and Powder sugar-flavored in the unit for your guests to make a "sand art" type masterpiece in their 6-inch tube with flavors and colors they will love and it's completely edible and kosher free!
Mini Donuts
Can you smell them yet? Gosh just thinking about them I get the smell teasing me! These donuts are amazing and come with a mini donut warmer along with your donuts you will get your choice of flavoring that you pick online or by phone and then you will, of course, get a plastic glove, and directions on how to operate the mini donut machine.