Potentially Save a Life with Our Drunk Driving Education Program
Drunk Driving Simulator Rentals Nationwide
Drunk Driving is a problem across the Nation that causes many people to lose their lives each year. In fact, on average over 10,000 people lose their lives to drunk driving accidents per year. Mother's against drunk driving shouldn't be the only ones concerned about this dangerous act. Here at 3 Monkeys we strive to educate both individuals and groups of poeple on the dangers of drunk driving through the use of our Drunk Driving Education program. This educational program about drunk driving is done through the use of driving simulators and drunk driving goggles which distort the driver's vision. Our Drunk Driving Education program has taken us across the country and even into Canada to share the dangers of drunk driving. Our simulators can be rented as 2-seats, 4-seats, or 6-seats and does include an instructor to run the event from start to finish. Pricing for the drunk driving simulators is done customly by our office staff so if you wish to receive a quote please email us details at info@3monkeysinflatables.com. Some of the things you should include are the date of interest, the delivery address, the start and the end time, and how many seats you are interested in having at your event. Take the next step towards educating and saving lives by booking our drunk driving education program for your event.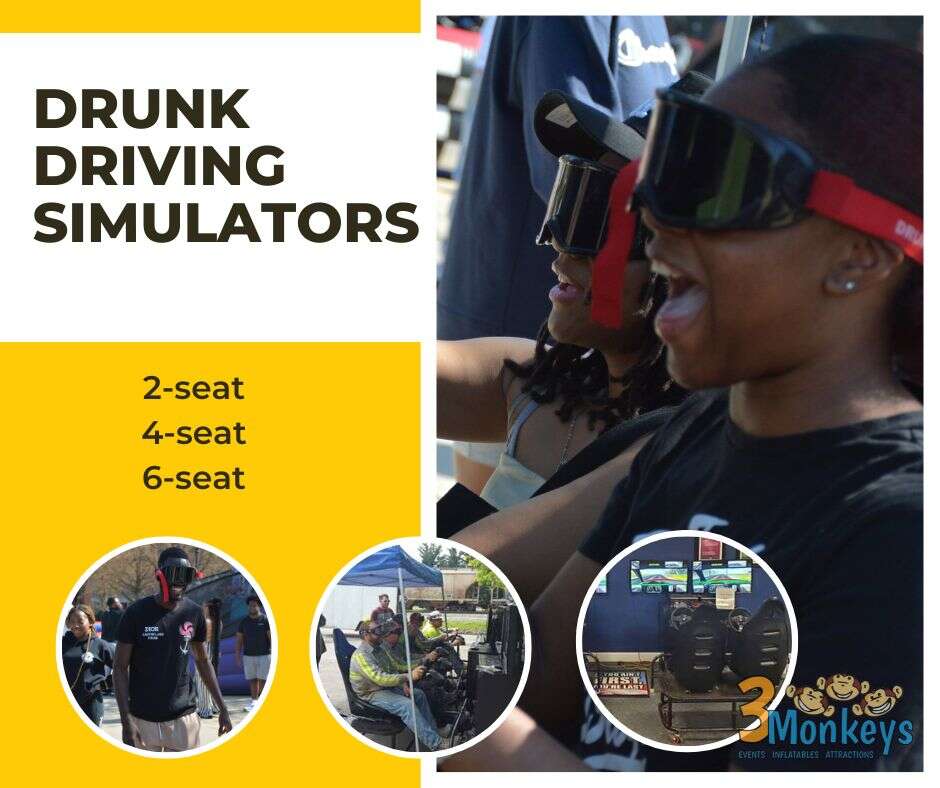 Simulator Rentals
Drunk Driving Simulators can be rented in 2-, 4-, or 6- seat simulators. Instructor included with rental fee. For complete pricing contact our office.
Rent Simulators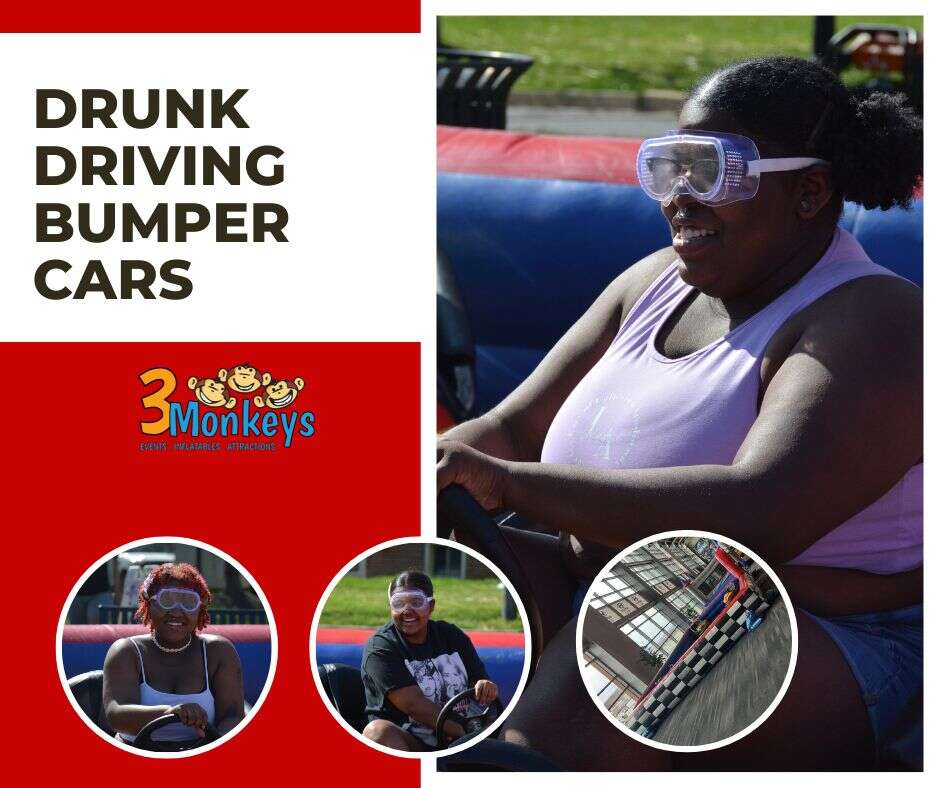 Bumper Car Rentals
Become even more educated on how hard it is to drive while wearing drunk driving goggles and trying to drive the bumper cars at the same time!
Rent Bumper Cars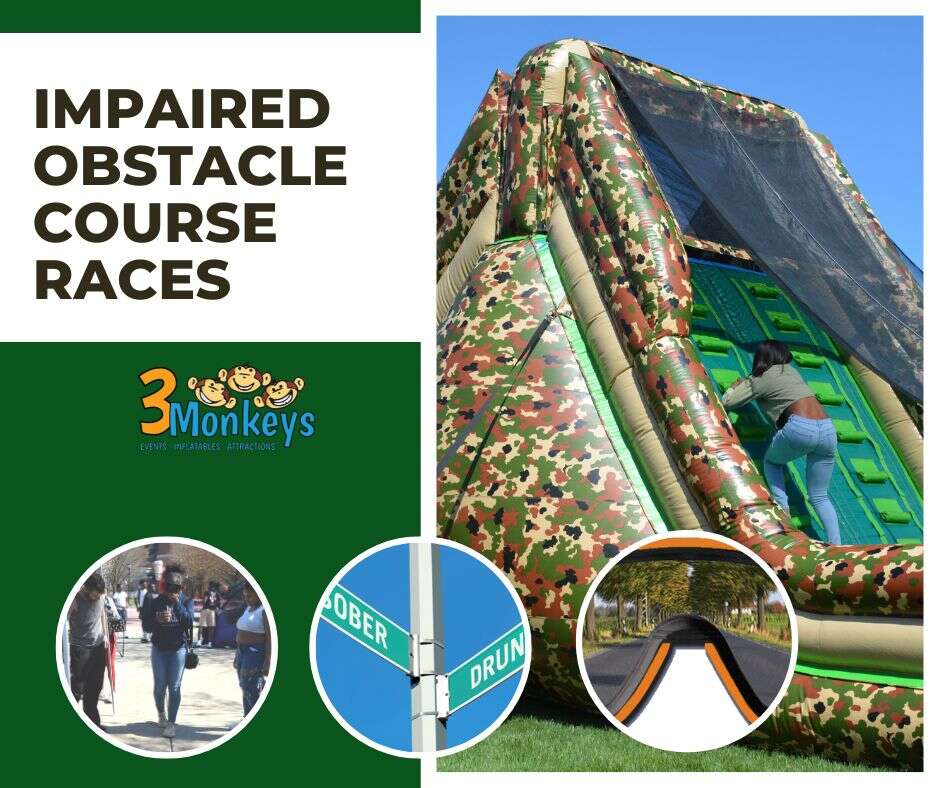 Obstacle Course Rentals
Teach the dangers of drunk driving but let participants have a little fun. Have them put on a pair of drunk driving goggles while they go through an obstacle course!
Rent an Obstacle Course
Drunk Driving Education - Event Rental Ideas
The main attraction of a drunk driving education event should of course be the driving simulator rentals. But in addition, we have had come up with a few other ideas to keep participants engaged and to provide other ways they can see how alcohol can impair your judgement, vision, and balance. Bumper Cars are a very popular event rental so we turned them into 'drunk driving bumper cars' by adding drunk driving goggles to the drivers. The "wow" 's, "oh my gosh" 's, and "I can't see" 's, proved through these goggles that the impairment caused by alcohol will affect your driving ability. Thankfully in this case it does not matter if you crash into another driver because of course that is the goal with bumper cars. Another suggested activity with the use of impairment goggles is an obstacle course challenge. We do not suggest you make this a race but more of an individual challenge. Have the rider put on a pair of the drunk driving goggles and watch as they attempt to complete the blow up obstacle course. Be sure to pay special attention to their climb up the steps because their depth perception is going to be off! Some other suggested rental items for an impairment or drunk driving event would be Giant Jenga! Wait until you see players trying to pull out a block and place it on the top of the stack. Boy is that hilarious! Another great game would be the 'Under the Knife', Oversized Operation game! This requires a steady hand to tweezer out the game pieces without hitting the sides. Try that with impairment goggles on! Corn Hole and Horseshoes could also be a great challenging games with drunk driving goggles on. Let us build you a package based upon your audience so that you can provide education to the fullest extent!
What type of other events do you offer rentals for?
Please click the banner below which will take you to our 'Events' page where we offer suggestions and tips on all different types of event rentals. We have suggestions for birthday parties, toddler parties, bar mitzvahs, anniversary parties, graduation parties, holiday parties, Halloween parties, Fall Festivals, Winter parties, and so much more!
Drunk Driving Simulator Delivery Area
3 Monkeys delivers the drunk driving education simulators all over the country. We will even travel to Canada to teach Canadians the dangers of drunk driving. We travel via truck and trailer with our equipment so pricing is determined on the length of the trip (miles and time), the length of the event, and the number of seats you desire to have at your event. We have traveled to Pennsylvania, Maryland, Texas, Chicago, North Carolina, South Carolina, Florida, West Virginia, Virginina, Connecticut, Delaware, New Hampsire, New Jersey, and other states to provide this fantastic education. Don't wait to reserve these simulators when you could educate and save lives!