Obstacle Course Rentals
Obstacle Course Rentals
Rent an Obstacle Course in Central PA
Obstacle Course Inflatable Rentals are a great spotlight or stand-alone piece for just about any type of party rental. 3 Monkeys Inflatables offers a huge selection of obstacle course rentals from race obstacles to playground obstacles. Our delivery area service area is huge as we deliver to all of Central PA. We have unique obstacle courses for rent like our most popular obstacle rentals. We have a great kids obstacle course which is our: 65ft Obstacle Course Inflatable Rental or our all-age group obstacle is our 40ft Obstacle Collection, and of course, our Kid's obstacle course jumper, Teen & Adult Obstacles our most popular obstacle is the Nuclear Series. We have sizes from 30ft, a Military obstacle course that is 72ft long, and up to our Giant 115-foot Nuclear Obstacle endurance beast obstacle to playground obstacles that are perfect for younger guests. We often are asked by our customers for a bounce house with obstacles, confusing the difference between an Inflatable Obstacle Course and a bounce house :) which we happily show you the amazing inventory of our Inflatable Bounce House obstacles. 3 Monkeys Inflatables is rated #1 for Water Obstacle Courses near me in Central PA.
Obstacle Courses For Rent
The obstacle course for rent on our website is easy, simply choose your desired obstacle course inflatable rental below, and add it to your cart. Don't forget that we have bounce houses, wet/dry combos, interactives, concessions, tents, tables & chairs, and some of our unique items. Once you have your choices in your cart simply fill out the booking information with your event address, email, and phone numbers, and check out with just a 25% deposit, with the remainder of the payment not due until the day of the event at setup. Not sure what you want or need help creating a package? Simply email info@3monkeysinflatables.com or call us at 717-650-7657 and we would be happy to create a customized package based on your budget and event needs.
Frequently Rented Together with Obstacle Courses
When considering
inflatable obstacle courses near me
for rental we often get asked what goes best with obstacles for event rentals, parties, community events, church events, college events, and everything in between. The best answer we can give you is almost everything on our website closely works well with one another, dependent almost always on a budget, and how much extra you want to spend will most likely lead you to some great options. For example, if you are looking for several other inflatables our
Slide Rentals
, and
Foam Parties
are also popular for summer and
fall festivals
and parties! We also don't know if you realize this but we offer
Party Tents, Tables & Chairs
for your party planning needs, along with our popular
Concession Rentals
, and of course, no matter is complete without Game Rentals, and boy do we have bunch of different options available to our customers for games, like our
Giant Game Rentals
,
Lawn Games
, and
Carnival Games
. Whatever you choose there are tons of ideas and things that will fit just about any budget! Don't forget if you want a water obstacle course near me for the summer then we have the largest selection of obstacles that includes a
toddler obstacle course
,
army obstacle course
,
adult obstacle course near me
, and even
maze obstacle course
rentals!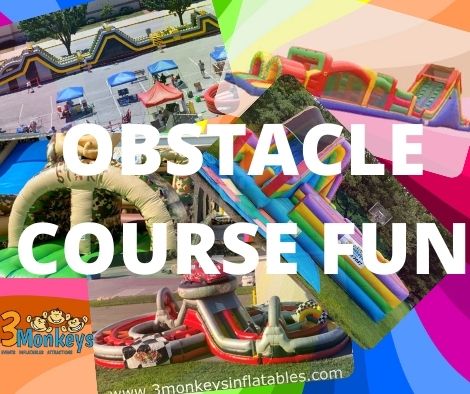 Obstacle Course Rentals are great for Parties & Events
Obstacle Course Rentals are very popular rentals to have for just about any type of event or Party Rental. They offer that endurance-packed fun of racing against your friends, family, and co-workers that create a team-building, fun, competitive environment that will make any event a huge hit with smiles and laughter. It's not hard after being on the 3 Monkeys Inflatables website to see why we are a favorite for Central PA's best
jumper obstacle course
when you take a look around and consider the fact that we are the largest company in Central PA offering backyard to Corporate Event rentals and not only have a large inventory but a quite unique collection of obstacle courses,
obstacle course bounce house
,
obstacle course birthday party
,
obstacle course water slide
, and much much more. If you are looking for an event rental company this year then you have arrived at the right place. Attention to detail, On-site Training for our staff, and documented on-site operation instructions with 24/7 support. It's good to be appreciated as a customer and with 3 Monkeys Inflatables, you are always appreciated!
Book your Obstacle Course Rental Now
Obstacle Course Rentals Central PA
Obstacle Courses Rentals are the best adult obstacle bounce house rentals. All of the Central PA celebrations at schools, churches, community events, sporting events, backyard parties, and block parties typically rent an Obstacle Course Inflatable Rental as it is one of the event rentals that will create your least line for your guests as the kids keep the momentum going while racing against opponents to see who will be the obstacle course winner! One thing to consider when renting an obstacle course is how much space you have in your yard or area you are setting up. These obstacles can come in all different sizes and shapes with our most popular being the race obstacles. Most of our obstacles are fun for young kids, teens, young adults, and kids at heart. :)
Rent water obstacle courses now
Why rent an obstacle course?
Perfect for kids, teens, and adults!
Competitive Fun!
Fast Lines for larger groups
All-day Fun!
Obstacle Rentals for who?
Daycares & Camps
Schools & Colleges
Corporate Events
Backyard Parties & Events
More about Obstacle Course Rentals
Obstacle Course Rentals in York and the surrounding areas are perfect for any type of event where you either have competitive participants or just want something that is going to keep the kids busy but cut down significantly on waiting and lines. Obstacles have been known to be one of the fastest attractions to have at your party or event due to participants wanting to race against their opponent so they can declare a winner!
We have a large selection of Obstacle Courses to choose from. Ranging from race obstacles that are the most popular of the obstacles allowing for quick line control, competitions and by far the most popular as far as utilizing at large events to keep participants active throughout the entire event. We do also have playground obstacles that are very popular in regards to younger kids because it allows them time to explore, climb, bounce, and jump their way through the obstacle versus just a traditional bounce house rental that only allows for the jumping which kids equally love but this allows for some exploration and typically the obstacles have a slide of some sort on it as well.
What do I need to know to book?
Renting an Obstacle Course Inflatable Rental is simple all you need to do is measure your available space at your setup location and ensure that you have a bigger area than the size listed on each individual obstacle course. You will also need to look at the listed power requirements and ensure you have those available within the preferred 50 feet of where you want us to place the inflatable. It is best if the ground is completely flat, but if it's only a small grade difference we can easily adapt the obstacle to that type of setup. The last thing is to make sure you are on-site when we deliver so we can walk the area and ensure it will work for where you plan if you can have a plan b option that is always best but rest assured our professional installers can suggest areas to set up when in doubt. Remember also to mow your lawn at least 2 days prior so you don't end up dragging lawn clippings into the obstacle course, and of course, trim any branches prior to our delivery so you are ready for your setup. We will typically take around 30-60 minutes to set up an inflatable obstacle course.
Water Obstacle Course near me and Dry Obstacle Course near me Rules of Play
It's easy to have fun with either a water obstacle course near me or a dry obstacle course near me, and that is where we come in to make certain you understand the risks involved with renting an obstacle course rental and how to mediate those risks for a safe, fun event. Each obstacle course manufacturer has a complete set of rules on how to set up and operate the inflatable obstacle courses to limit or what they hope to eradicate any issues regarding an injury. The best way to avoid injury is to only use the inflatable obstacle courses as designed and follow the rules we provide to our guests at drop-off. Keep in the mind the ultimate goal is to have fun but as safe as possible. We will go over with you on-site how we secure the inflatable obstacle with either sandbags, water bags, or ground stakes. We will also show you how to turn the blower on/off so that in the event of bad weather (storms, winds, etc) they should be taken down until it passes. In the event of high winds over 15-20mph you should get all participants off the unit, and not use the inflatable obstacle until it has passed. When in doubt get all kids off the unit, and check local forecasts, and use visual cues - if trees are moving and blowing it's too strong to have kids playing inside the unit, and they should wait until the winds slow down to under 15 mph. Never risk the need to bounce and play over the safety measures of insuring the kids need to come out in a lightning storm or winds.
What to Expect When a 3 Monkeys Delivery Team Shows Up to Deliver Your Inflatable Obstacle Course
Expect the best! Our delivery crews are trained set-up crews who will arrive at your home, prior to your party start time, to set up your inflatable obstacle course rental. They will ask you where you would like the inflatable set up and then they will determine if that is the best spot. Remember, they are professionals, so trust them. You will see them unloading cords, spikes, hammers, blowers, and the inflatable obstacle course. The kids are usually super excited so they will watch them, ask questions, and maybe even help. One of our customers said,
"...the delivery guys even engaged really well with the kids, who were not so patiently waiting for the obstacle course to inflate. The inflatable was seemed to be in near-new condition and we had zero issues with the equipment."
This is what's to be expected when we deliver your inflatable obstacle course from 3 Monkeys Inflatables!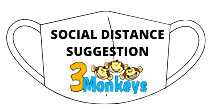 Social Distance Suggestion Suggestion Tip: 3 Monkeys Inflatables offers cleaned and sanitized obstacle course rentals at the time of setup. The great news is that Obstacle Course rentals offer a perfect social distance component with participants of 2 at a time. You may add a table (or hire us to do this) with social distance suggestions and anti-bacterial soap for all participants to use prior to racing. You can also require masks during the race.
3 Monkeys Inflatables also offers a germ buster attendant that can provide in-between or regularly scheduled cleaning times during your event rental. Our attendants can also offer cleaning as well. Create an event with signage and information with our 3 Monkeys teams' help! :)
Call 717-650-7657 | 410-581-5867 or email: info@3monkeysinflatables.com Support your local business! Please subscribe for fun & informative videos!
3 Monkeys deliver bouncer rentals and party rentals to the Pennsylvania towns of
York,
Lancaster
,
Harrisburg,
Hershey,
Dallastown
, Dover, Red Lion, New Salem, Spring Grove, West York, Dillsburg, Wrightsville, Shrewsbury, East York, Stewartstown, Glen Rock, New Freedom, Manchester, Lewisberry, Seven Valleys, York Haven, Mount Wolf, Goldsboro, East Prospect, Felton,
Hunt Valley
Lititz,
Enola
, and more.