Inflatable Party Rentals York, PA
Inflatable Party Rentals in York PA - Creating the Best Experiences!
3 Monkeys Inflatables is your best choice for Inflatable Party Rentals and Event Rentals in York, PA. If you are looking to work with a company who provides high quality and impressive party rentals including bounce houses, water slides, tents, tables, chairs, games, rock walls, and other rental equipment, you can feel certain that 3 Monkeys Inflatables Bounce House Rentals, Party Rentals and Event Rentals will carefully and professionally take care of your needs. 3 Monkeys Inflatables is rated number one in the York, Pennsylvania are for quality, customer service and attention to detail. 3 Monkeys Inflatables is located in York County Pennsylvania and is proud to service the entire York, Pennsylvania delivery area at no additional delivery fee. York is a large and valued service area for our business including residential customer, churches, schools and businesses. We service a diverse customer base in the York area and have built lasting and great friendships and relationships over the years. One of our favorite places to provide parties and entertainment is York, Pennsylvania as they are some of the friendliest people we have met and the area is full of great locations to have parties.
Parks
If you are considering having a party at one of the York City Parks, do not forget to contact the Parks and Recreation Department to reserve your spot and time and take care of any paperwork they may have for you. The York City Parks and Recreation Department is located at City Hall, 2nd Floor, 1010 South George Street, York PA 17401. They accept applications online on their website or you can contact them by phone 717-854-1587. One of our favorite York parks to setup up is John Rudy County Park located at 400 Mundis Race Road York, Pa 17406. The York County Department of Parks and Recreation offers 11 parks to choose from that you can book on their online pavilion rental system.
Choose the best
3 Monkeys Inflatables has been in business for over 12 years and continues to educate and evolve employee training to ensure we continue to be the best at what we do. We are fully insured, and state inspected in Pennsylvania as required by the Pennsylvania Department of Agriculture. Our staff training is held to the highest standards and accountability in the industry. Our mission and purpose have always been to provide quality equipment, amazing customer service, and innovative rental equipment. If you want to stand out from the crowd, we offer innovative inflatables with a wide array of rental items to choose from. 3 Monkeys Inflatables offers rentals in bounce houses, combo bounce houses, obstacle courses, inflatable water slides, toddler inflatables, interactive inflatables, tables, chairs, casino games, bumper cars, rock walls, euro bungee, casino games, concessions, and mobile gem mining. You can of course choose party packages so you can save time and money and pick multiple items in one shot. No job is too big or too small for 3 Monkeys Inflatables to handle them all. Check out the complete lineup of our inventory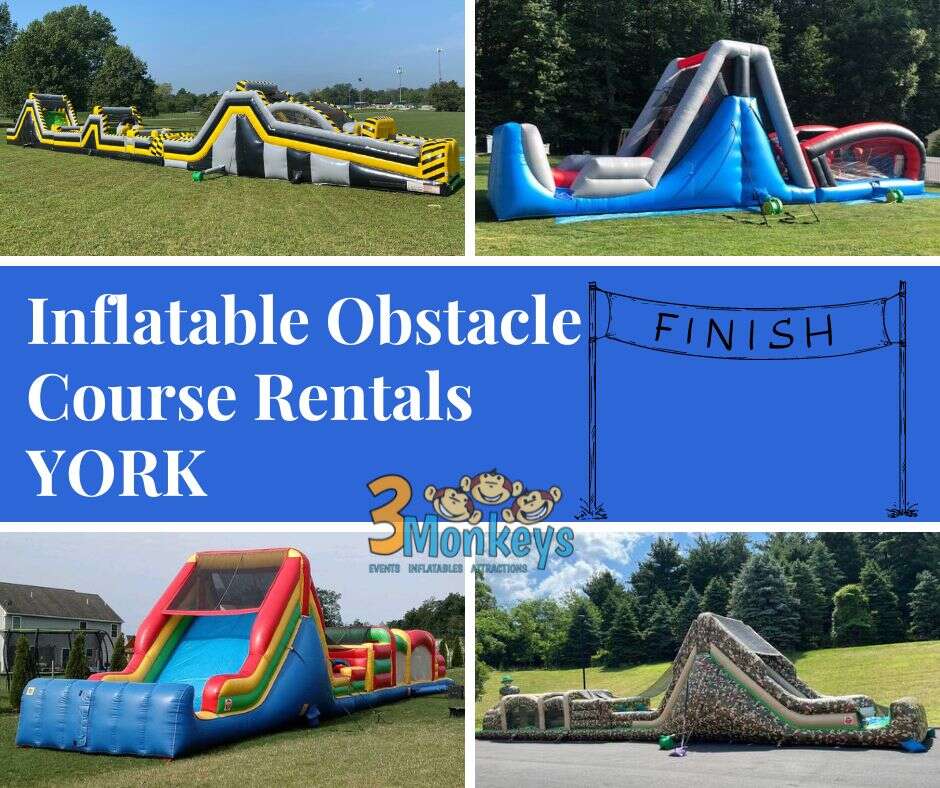 Obstacle Courses
Inflatable Obstacle Course rentals can be fun for the kids and the adults. Obstacle Courses for rent provides the opportunity for physical activity and friendly competition. Have your attendant shout, "Ready, Set, Go!" And watch as the participants take off, most like laughing along the way, and climb there way over, under, and through the obstacle. If you get one of our larger obstacles like the 65', 72', or even the 115' there will also be a large slide at the end to complete the race. But no worries! Not everyone is into racing, and that's totally okay. Just send two participants through at a time, at their leisure so that everyone can have fun. In addition to our race obstacle courses we have what we call playground obstacle courses like Wacky World and Wacky Fun Center.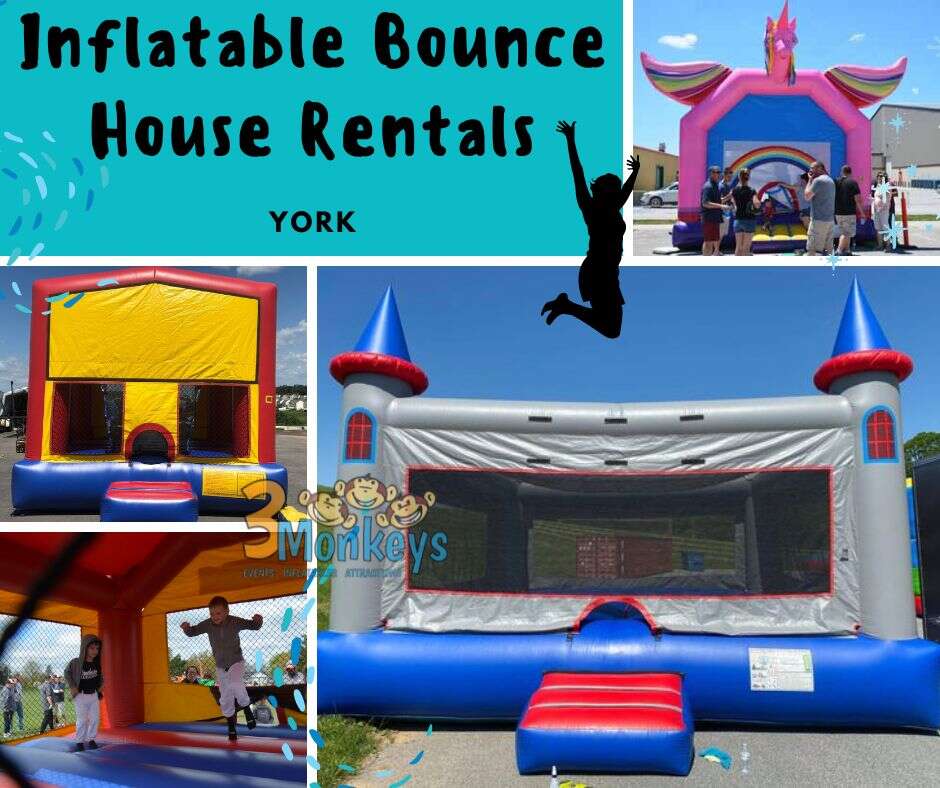 Bounce Houses
3 Monkeys Inflatables is proud to offer a huge selection of themed and bright fun jump house rentals to choose from for your party or event. We have unique bounce house rentals like our Tie Dye Bounce House Rental which is one of a kind and unique as we designed it and had it build specially for 3 Monkeys Inflatable customers. We also have licensed bounce houses like our popular Princess, Batman, Superman, Pirate, Dr. Suess, and many more but also must have bounce houses like our popular Unicorn, Stinka, Jungle, Hot Air Balloon, Lancaster Mini, York Bounce, and our Castle Bounce. We have so many to choose from your biggest problem will be what to choose and how many you want to have!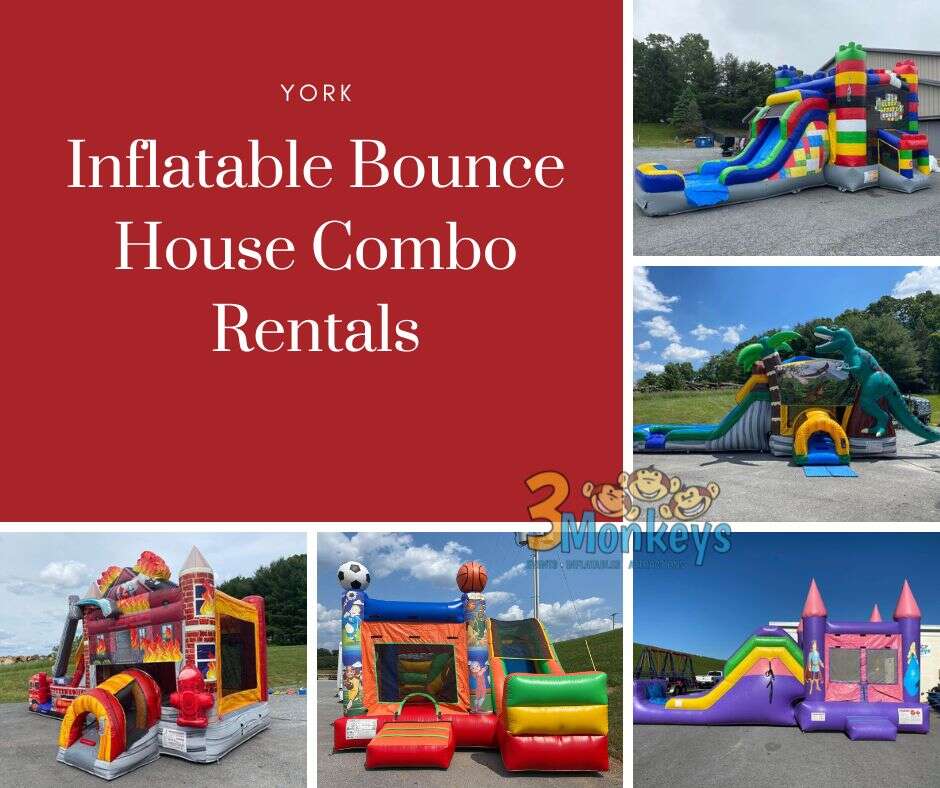 Combo Bounce Houses
What exactly is a combo bouncy house? A combo bouncer is an inflatable that combines the fun of a bounce house with additional activities. Typically those additional activities include a basketball net, a climb, and a slide! Combos will keep the kiddos entertained for many hours because they will continuously jump, climb, slide, and repeat! Our combos do come with a ball so that the riders can play basketball while bouncing. Some of our combos are wet/dry units which means the slides can be turned into water slides for the hot summer months when you want to let the children play and stay cool at the same time. Click below to see our collection of inflatable combo bounce house rentals!