18 ft Double Lane Dry Slide (#16)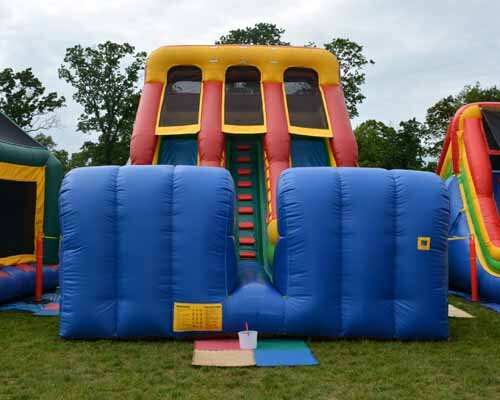 Description
18ft. Double-lane Dry Slide Rental
3 Monkeys Inflatable

Rentals delivering Dry Slide Rentals to PA & MD Cities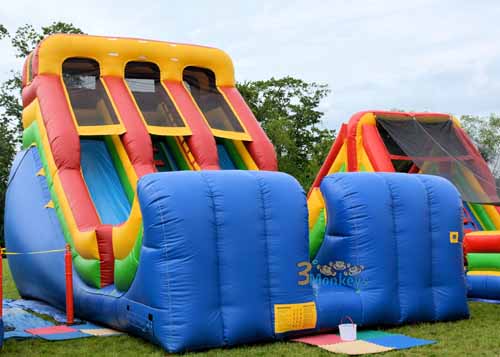 The 18ft Double Lane Dry Slide rental is perfect for those large events: carnivals, fairs, maydays, corporate parties, church picnics, fall festivals, spring flings, grand openings, etc. The great thing about this slide is you enter in the center then each child will pick a side and they will be able to slide down at the same time on each side of the slide...double the number of kids and kids at heart that gets to use this slide. This slide is one of our fastest-moving attractions, so it is so popular for those large events. Standing 18ft tall it is no wonder why this slide is so much fun!
Specifics on the 18ft Double Lane Dry Slide Rental
On this slide, you climb up and slide down the same side of the slide making monitoring easy. The Double Lane Slide clocks in at 16' wide by 26' long and 18' tall. You need a fairly big area for this slide to sit without any low-hanging trees. When setting up indoors or on concrete or asphalt, 3 Monkeys Inflatables provides mats to put under the entry and exit to give participants a place to line their shoes nearby. There is a wall at the end to stop the momentum from the slide so you are not able to fly off the edge. All inflatables through 3 Monkeys Inflatables are licensed and inspected by the state of Pennsylvania and Maryland for safety and registration! You will need one outlet for set-up on this slide as this unit pulls 8.8 amps on the blower. The outlet should be within 50 feet of your setup. We can use your outside outlet or you can rent a generator.
Delivery Area:
Our delivery area for the 18ft Double Lane Slide includes the Central PA and Northern Maryland cities of York, Lancaster, Harrisburg, Ephrata, Lititz, Reading, Gettysburg, Hanover, Hershey, Baltimore, Dundalk, Owings Mills, and many more!
To book the 18ft Double Lane Slide
If you would like to book the 18ft Double Lane Dry Slide for your party, simply click add to cart or start reservation at the top of the page. Once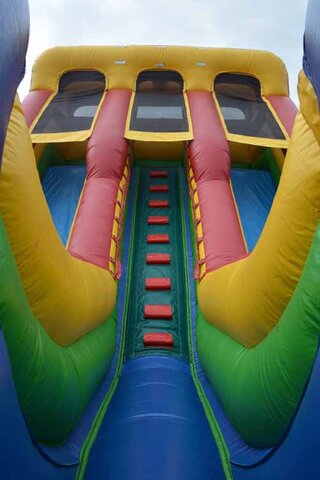 you enter your party information and make the 25%, non-refundable deposit to hold the slide, an automatic email confirmation will be sent to confirm your order. Don't forget to check out our tables and chairs, tents, carnival games, and Giant Game Rentals, and concession machines to complete your order for the perfect party. If you would rather call to book or need more information, give us a call as we would love to assist you. Let 3 Monkeys Inflatables help you organize your party today! If you are looking for a water slide rental instead of a dry slide rental you can check them out here.
Frequently Asked Questions About the 18' Double Lane Blow-Up Slide Rental
Q: When will you deliver my by blow-up slide rental?
A: When booking a rental with 3 Monkeys we require you to have the flexibility for us to drop off and pick up the inflatable rental. With that being said, if we have to drop off the day before your party, or pick up the day after your party, we do ask for that flexibility. Please understand that we only have so many drivers and assistants and it is nearly impossible to get all events set up on the day of the event. If you are having your event at a public location, and do not have the flexibility you are subject to a $100.00 fee.
Q: If the slide is delivered a day or so in advanced and/or picked up a day or so after my party, do I have to keep it inflated the entire time and can I move the blow-up?
A: If we do in fact deliver early or pick up late, you do not need to keep the inflatable(s) inflated the entire time. There is a toggle switch on the blower that gets flipped to the 'off' position when you are done using the slide. It will deflate to the ground. We do ask that you inflate the unit prior to your pickup time so that it is ready for inspection prior to rolling back up. Additionally, we do not permit any customers to move or unstack our inflatables not only for safety reasons but so that the units do not get damaged either.
Q: What other double-lane dry slides do you have for rent?
A: In addition to our 18' slide we have a 22' slide and a 24' slide. And for those hot, summer months don't forget about our large waterslide selection too!