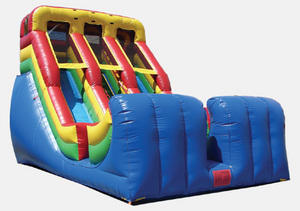 18 ft Double Lane Dry Slide (#16)
The 18ft Double Lane Dry Slide is perfect for those large events: carnivals, fairs, maydays, corporate parties, grand openings, etc. The great thing about this slide is you enter in the center then each child will pick a side and they will be able to slide down at the same time on each side of the slide...double the amount of kids and kids at heart that get to use this slide. This slide is one of our fastest moving attractions which is another reason it is so popular for those large events. Standing 18ft tall it is no wonder why this slide is so much fun!
Give us a call to rent this today!
Copyright © . 3 Monkeys Inflatables LLC. All rights reserved. Red Lion PA (717) 650-7657