Inflatable Slide Rentals
Inflatable Slide Rentals York Pennsylvania
3 Monkeys Inflatables in York, Pennsylvania is your Inflatable Slide Rental Specialist for cities in Pennsylvania and Maryland such as Harrisburg, Lancaster, Baltimore, Hershey, Gettysburg, Towson, Elizabethtown, Millersville, Spring Grove, Hanover, Reading, Frederick, and many more.
3 Monkeys Inflatables offers a great selection of Inflatable Slide rentals from Single and Double Slide Options as well as Water Slide Options found here. Our delivery area is pretty huge as we deliver to York, Lancaster, Harrisburg, Reading, Baltimore, Hershey, and most of the PA and Northern Maryland area.
Inflatable Slide Rental Information
To rent an Inflatable Slide rental with 3 Monkeys Inflatables, simply pick the Inflatable Bounce House Slide Rental you are interested in renting by adding to your cart (don't forget about the tents, tables, chairs, concessions, and game rentals we have to add to your cart) and then simply add your booking details like your address, email, and phone number and complete the order with just a 25% deposit now with the remainder not being due until the day of your event. It's simple and easy! We have been been in business since 2013 so your order helps our small family business continue to thrive. Thank you! Call or email us with any questions.

Still, have questions?

3 Monkeys Inflatables is available to answer your questions and assist you with booking your dream party rentals! Simply call us at 717-650-7657 | 410-581-5867 or email: info@3monkeysinflatables.com Our YouTube video is often updated with new equipment rentals & views of some of our existing rentals to show you how they look & function. Subscribe here: https://www.youtube.com/c/3MonkeysInflatables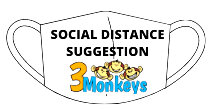 Inflatable Slide Rentals Social Distance Suggestion:
Our Inflatables Water Slides feature one person per lane so it allows for social distancing naturally. We clean and sanitize the inflatables prior to setup and then spot clean on setup so you can rest assured your slide is ready to go with a clean sanitized surface. We suggest you have 6-foot line signage to keep participants in line waiting with a 6-foot distance apart and suggest masks for all riders.
3 Monkeys has an assortment of Inflatable Slide Rentals. Inflatable Slide Rentals are a big must have for any type of event where you need a few different inflatable rides and games. They add to the fun factor and attract quite a crowd. Slides are really a great fit for any event because they also work great for so many different age groups from grade school, middle, high school through adults.

Skip the Line

Inflatable Slide Rentals are perfect for any event where you might have a lot of participants and guests as they are a super fast ride and this helps with your line control. We usually recommend that you pair a faster line moving inflatable to your line up so that you have a good mix of fast moving, medium moving and slow line moving inflatables so that your lines don't become out of control. Both Inflatables Slides and Race Obstacle Courses are winners when it comes to fast moving and line control which is what makes them a staple at any type of group or large event.

Trust

3 Monkeys Inflatables is the leader in Amusement and Attraction Entertainment across Central PA and Northern MD. 3 Monkeys Inflatables trains their employees per state and manufacture guidelines for proper anchoring and setup of inflatable slide rentals. 3 Monkeys Inflatables has been in business since 2007 creating an amazing safety and cleanliness reputation across the community.


Inflatable Slide Rentals Lancaster, PA

Inflatable Slides are very popular all year round due to the unique design that allows participants to form a single line and go down the slide in a 20-second shot and then rejoin the new line. It makes for a fast ride that kids will line up for hours to enjoy. Slide Rentals are one of the most popular items so reserve yours today!