4 in 1 Inflatable Carnival Game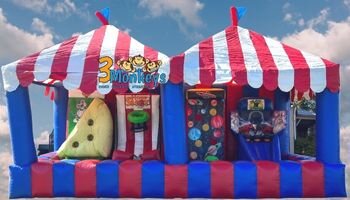 Actual Size: 12'L x 24'W x 14'H
Monitors: 1
Outlets: 2
Age Group: Kids | Teens | Adults
Description
4 in 1 Inflatable Carnival Game Rental
Carnival Game Rentals in Central Pa and Northern Md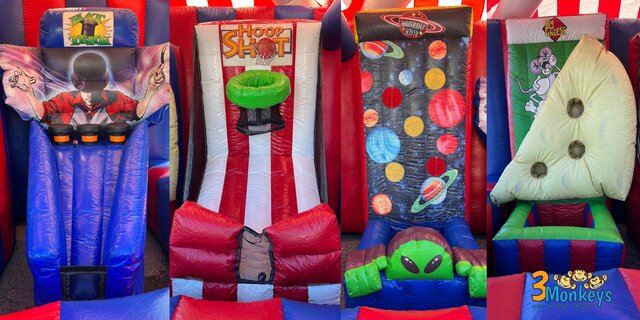 Step right up! Give it your best try! This 4 in 1 Inflatable Carnival Game Rental is a game changer at your event. Bring the feel of the carnival or Big Top events to your venue when you rent this inflatable game. It is carnival themed, gives off carnival vibes, and provides 4 game options in 1 rental. Participants will step right up to the game and choose which one of the four games they will attempt to conquer first. The four game choices are; Hat Trick, Alien Invasion, Hoop Shoot, and the Big Cheese.
How to Play the 4 in 1 Carnival Games
Playing Hat Trick is a little 'trickier' than it looks. The magician has 3 inflatable magic hats in front of him and the player has to try to toss the small, bean filled balls and have it land on top of one of the hats and remain in place on the hat. Will you land one, two, or all three tries? Next up is Alien Invasion. Your job is to invade the planets and galactical moons that fill the background of this carnival game. Some are velcro and some are not. You will be given small balls to launch your invasion. See how many velcro balls you can land and invade with. The next game is Hoop Shoot which is your traditional game of basketball. See how many hoops you can score. Last but not least is the Big Cheese inflatable game. There are three holes in the inflatable cheese wedge. Take the little mice and see if you can land them in the holes.
Carnival Game Add-Ons
Carnival Games are the perfect add ons to any party rental. Game rentals are also great space fillers if you want to make your event look nice and full and give your guests plenty of things to do to have fun. This 4 in 1 carnival game for rent pairs well with any of our other inflatable carnival game rentals like the basketball toss, qb blitz, hoverball archery, soccer shootout, ice hockey shootout, or even skeeball. Our tabletop games are also great additions. Check out some of our new games like Whip-N-Skip, Plinko, Alien Invasion, Monster Blast, Wacky Wire, Snake Pit, and Bottles Up to name a few.
4 in 1 Inflatable Game Delivery Area
We deliver carnival games to Central PA including the cities of York, Lancaster, Red Lion, Felton, Harrisburg, Dover, Hallam, Mechanicsburg, Wrightsville, Columbia, Mountville, Hempfield, Millersville, Ephrata, Denver, Mohnton, and other surrounding cities. We also deliver to Northern MD to cities such as Freeland, White Hall, Parkton, Hereford, Monkton, Sparks, Cockeysville, and Baltimore to name a few.
Choosing the Right Rental Company
Choosing the right company can be overwhelming. 3 Monkeys Inflatables has been in business for over fifteen years and is family owned. We work hard to build long lasting relationships with our customers and many of them return to us year after year. We work with many schools, colleges, corporations, churches, communities, townships, and backyard customers to make their events amazing. We want you to let us do the work while you get to have fun with your guests.
How to Rent the 4 in 1 Inflatable Carnival Game
Placing your party rental order with 3 Monkeys is easy and you have a few different options available to you. Perhaps one of the simplest is booking online with our 24-7, online booking, live calendar. All you need to do is add the desired party items to your cart, enter your city, zip code, contact information, and party details, and place your 25%, non-refundable deposit online via credit card. Voila! If you would prefer to speak with one of our reservation specialists please call our office between the hours of 9 a.m. and 5 p.m.,Mondays through Fridays, at 717-650-7657. If you have questions or inquiries please also feel free to email us 24-7 at info@3monkeysinflatables.com.