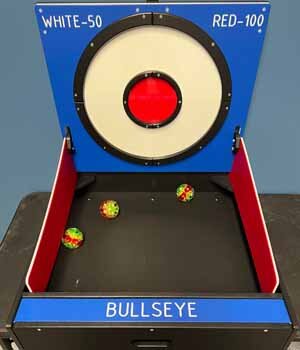 Description
Bullseye Carnival Game Rental
Tabletop Carnival Game Rentals in Central Pennsylvania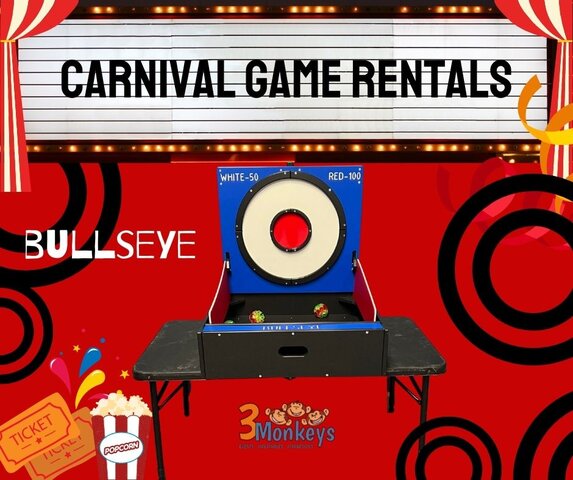 The bullseye carnival game rental makes a wonderful additiion to any festival, carnival, party, or event where you are looking to keep your guests occupied! The versatility of this game allows for fun by both young children and adults. Even a toddler could walk up and play bullseye! Just set this on a table and you are ready to go. No power is needed, just a table. Don't have a table? No worries, we've got you covered! You can add a table rental to your order and we will bring it with us at set up.
Instructions on how to play Bullseye.
One participant at a time will stand in front of the game rental and they will get three, light up balls with suction cups all over them! The suction cups are what will hold the ball to the playing board. They will proceed to throw the balls, one at a time, to see if they can get a bullseye! Each ball that lands on the white section of the board earns 50 points and each ball that lands in the bullseye scores a whopping 100 points! Add up your points to see who gets the highest score!
Other Carnival Games to Rent with Bullseye
There is large carnival game selection throughout our inventory that will allow you to add other games to your party rental when you rent the bullseye carnival game for rent. You can choose from other tabletop games like snake pit, troll dentist, tic tac toe, rattlesnake roundup, roller bowler, monkey mayhem, ring toss, streetskee, fish bowl frenzy, wack wire, and so much more! We also have a fantastic selection of inflatable games like basketball toss, qb blitz football toss, hoverball archery, scocer shootout, ice hockey shootout, and even twister! Add games to your party rental so that there really is something for everyone to do.
Bullseye Carnival Game Delivery Area
3 Monkeys Inflatables will deliver, setup up, and tear down your party rentals. We do have order minimums and delivery fees based upon zip codes. You must meet the order minimum for your zip code, before taxes and travel, in order to check out. This is not something we can override so whether you book online or on the phone with one of our booking specialists you must either meet the order minimum or pay the order minimum fee. Some of the cities we deliver to include York, Lancaster, Harrisburg, Mechanicsburg, Glen Rock, Brogue, Bel Air, White Hall, Freeland, Baltimore, Cockeysville, Towson, Hunt Valley, and more.