Hot Dog Deluxe Picnic Package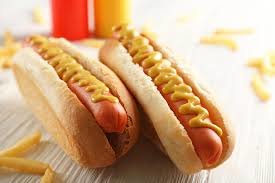 Description
Hot Dog Deluxe Picnic Catering Package Rental
3 Monkeys Inflatable

Rentals delivering to York, Harrisburg, Lancaster, Carlisle, Baltimore, Reading, Camp Hill, Wyomissing, Towson, Owings Mills, and more Pennsylvania & Maryland Cities
Hot Dog Deluxe Picnic Catering Package
The Deluxe Picnic Catering Package comes with all-beef grilled hot dogs which are grilled on-site in front of your guests. Hot dogs come with bagged potato chips, baked beans, cold salad (you can choose from macaroni salad, potato salad, or coleslaw), a variety of bottled water, canned soda, plates, napkins, utensils, and condiments. We will provide 1 server for up to 2 hours along with our grilling chef. The catering is done on-site as we will arrive early and set up the grill along with the serving station. You will then have the full 2 hours of serving/eating while you and your guests enjoy the menu and mingle. There is a 100 person minimum for our catering services.
Book your catering rental
Give us a call at 717-650-7657 or 410-581-5867 or email us at info@3monkeysinflatables.com and we will help you find the perfect catering options for your event. We offer everything from the meats made fresh right at your event site, along with a variety of chips, salads, beans, canned sodas, bottled water, and some concession rentals.
Other Picnic Packages Include:
Hot Dog Basic Picnic Package, Standard Picnic Package, Custom Picnic Package, and the Classic Picnic Package.
Tents, Tables, and Chair Rentals Too
Provide a communal place for your guests to sit and eat together while enjoying one another's company. We have tent rentals in a variety of sizes including 20x20, 20x30, and 20x40. In addition to tents, we have table (6-foot or 8-foot) and chair (white, black, or brown) rentals too. For a small, additional fee you can add our setup and takedown service to the tables and chairs so that you do not have to do any of the work. Coordinators are usually busy doing other things so it is nice to have someone take care of the small things for you. This is an additional service so if you wish to add this to your rental please make sure you mark the number of tables and chairs if placing an order online or call our booking specialist to have it correctly added.
Complete your event with us.
Complete your party or event rental by adding Inflatables, Carnival Games, Extreme Interactives, Giant Games, and specialty items like Wax Hands, Balloon Twisting, Face Painting, or the Photo Booth! Inflatables are not just for kids either. We offer more than just Bouncy House Rentals for kids, we offer Obstacle Course Races that range from 40 feet in length to 115 feet in length, giant blowup slides, and extreme inflatables like the Hungry Hippo Chow Down, the Big Red Baller, and the Human Fooseball! Giant Games are very popular add-ons and provide that nostalgic feeling to your guests when you rent things such as Giant Operation or Giant Lite Brite! Providing all of these options makes us your number one party rental specialist in Pennsylvania.