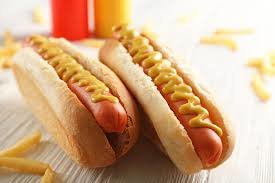 Hot Dog Deluxe Picnic Package
Hot Dog Deluxe Picnic Catering Package Rental
3 Monkeys Inflatable
Rentals delivering to York, Harrisburg, Lancaster, Carlisle, Baltimore, Reading, Camp Hill, Wyomissing, Towson, Owings Mills, and more Pennsylvania & Maryland Citie
Deluxe Picnic Catering Package
The Deluxe Picnic Catering Package comes with all beef grilled hot dogs grilled on site in front of your guests with bagged potato chips, baked beans, cold salad (you can choose from macaroni salad, potato salad, or coleslaw), variety of bottled water, canned soda, plates, napkins, utensils, condiments, and your choice of snow cones or popcorn. We will provide 1 server for up to 2 hours along with our chef. The catering is done on site as we will arrive early and setup the grill and serving station and you will have the full 2 hours of serving/eating while your gues enjoy the menu.
Book your catering rental
Give us a call 717-650-7657 or 410-581-5867 or email us at info@3monkeysinflatables.com and we will help you find the perfect catering options for your event. We offer everything from the meats made fresh on your event site, along with variety of chips, salads, beans, canned sodas, bottle water, along with some concession rentals. You can also add inflatables, carnival games, tents, tables, chairs, and so much more!