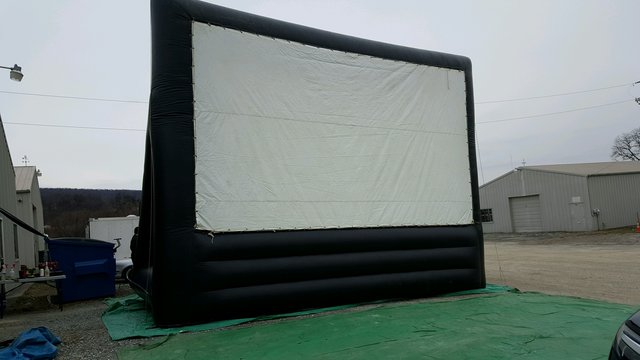 Mega Movie Screen Rental (#53)
Movie Screen Rental
3 Monkeys Inflatables offers Movie screen rentals in Pennsylvania and Maryland

High Definition Projection
DVD/Blue Ray Player
Concert Grade Speakers
Complete your outdoor movies with the following:
Dimensions:
24Lx13.5Wx19H (actual screen is 23 ft diagonal)
Electric: 4 outlets (1-blower 8.8 amps, 1 for projector and 1 for dvd/blue ray player, and 1-speakers)
**** PLEASE KEEP IN MIND THAT WE DO NOT DELIVER THE MOVIE SCREENS UNTIL AFTER 7 PM AS YOU CANNOT USE THE MOVIE SCREEN UNTIL IT IS DARK. THE PROJECTOR IS NOT ABLE TO BE SEEN UNLESS IT IS DARK.
IF YOU ARE REQUESTING THE MOVIE SCREEN FOR USE OUTDOORS PLEASE KEEP IN MIND THE FOLLOWING:
THE SCREENS ARE NOT ABLE TO USE IN ANY TYPE OF WIND. WE WILL NEED TO CANCEL IF THEY ARE CALLING FOR ANY WIND THAT DAY. (THEY ARE NOT MEANT TO STAND UP TO WINDS)
THE PROJECTORS ARE FOR USED AT NIGHT ONLY. THEY ARE NOT ABLE TO BE USED DURING THE DAYTIME HOURS.
This is our Mega movie screen (as opposed to our smaller movie screen) These screens are perfect for larger get togethers and audiences. Perfect 300+ guests range.

Keep in mind the speakers can become quite loud so if you are not able to or have a noise ordinance where you are setting up you are responsible for ensuring the sound will not be a problem. Please get in touch with us before booking if you have specific sound or viewing circumstances so we can let you know if we are able to accommodate them.
ADD FM TRANSMITTER TO YOUR ORDER!
FOR SETUP: WE TYPICALLY SETUP SCREENS AFTER 7PM IN ORDER TO BE ABLE TO SETUP THE PROJECTOR AND ENSURE THAT THE PICTURE WILL BE SHOWING FULLY ON THE SCREEN. PLEASE KEEP IN MIND YOU WON'T BE ABLE TO VIEW THE MOVIE UNTIL AFTER IT GETS DARK (WHICH IN THE SUMMER ISN'T UNTIL 8:30-9PM)
WE TYPICALLY PICK UP THE MOVIE SCREEN RENTALS by 11pm for the Giant Screen. Any rentals after 11pm will be adding an additional cost for the Movie Screen. This is for a 3 hour hour rental.