Mega Movie Screen Rental (#53)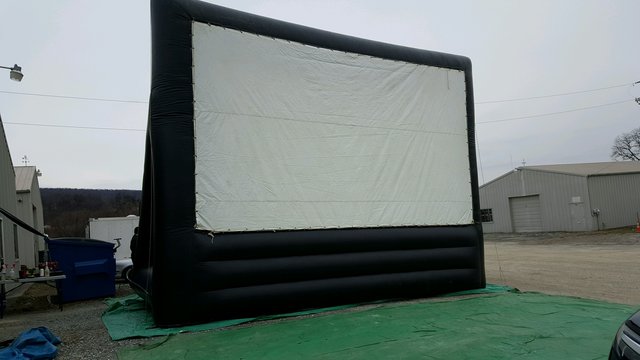 Description
Movie Screen Rental - Giant Screen
3 Monkeys Inflatables offers Movie screen rentals in Pennsylvania and Maryland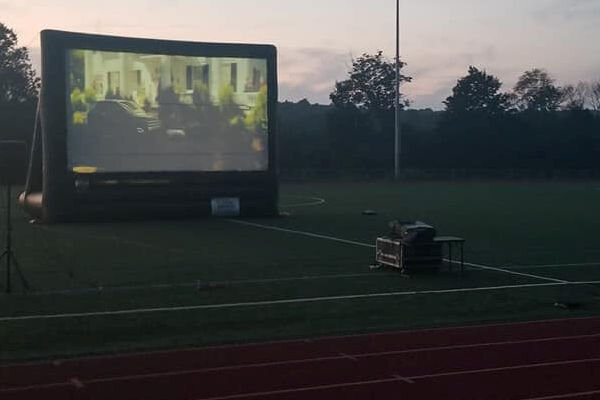 What is Included in the Movie Screen Rental?
3 Monkeys has a Mega Outdoor Movie Screen Rental available for up to 3 hours and is perfect for your socially distanced event. This screen rental comes with a screen, a high-definition projector, a sound speaker, and a blue ray or DVD player. If you wish to use an FM Transmitter because you are planning a drive-in movie or want participants to be able to listen on a local radio frequency, you can easily add one to your movie screen rental. We can provide you with a quote that will include delivery, setup, rental, and pick up. If you would like a quote please email the office at info@3monkeysinflatalbes.com or call the office at 717-650-7657.
Dimensions:
24'L x 13.5'W x 19'H (the actual screen measures 23 feet diagonally)
Power Requirements:
4 power outlets are needed for this rental (1 blower pulling 8.8 amps, 1 for the projector, 1 for the speakers, and 1 for the DVD/blue ray player)
Things to Know About an Outdoor Movie Screen Rental
-Movie Screens cannot be used in any type of wind. We will need to cancel if they are calling for wind on the day of your mega movie screen rental. Screens are not designed to stand up in wind).
-Projectors are for nighttime use only. They cannot be used during daylight hours.
****PLEASE KEEP IN MIND, THAT WE DO NOT DELIVER THE MOVIE SCREENS UNTIL AFTER 7 PM BECAUSE YOU CAN NOT USE THE MOVIE SCREEN UNTIL IT IS DARK. THE IMAGE PROJECTED IS NOT ABLE TO BE SEEN UNLESS IT IS DARK OUTSIDE.
Make the Entire Evening Fun for Your Guests!
Amp up your movie screen rental by adding on a concession rental. Choose from cotton candy, popcorn, snow cones, pucker powder, and mini-fair donuts! If you want to give your guests something to do while they wait for the movie to start you could always add some game rentals such as giant games, bin games, frame games, or giant games. Our giant game collection is quite the hit offering giant-sized Jenga, Operation, Checkers, Corn Hole, Horseshoes, Battleship, Yard Pong, Connect 4, and more! The game rentals will keep your guests busy before the sun goes down and the movie starts.

Questions and Answers
Q: How many people will the movie screen accommodate?
A: This is our mega movie screen (as opposed to the smaller, backyard movie screen). These mega screens are perfect for larger gatherings and audiences. It is perfect for the guest range of 300+.
Q: When do you set up this mega movie screen rental?
A: We typically set up our movie screens after 7 p.m. in order to be able to set up the projector to ensure that the picture will be showing fully on the screen. Please keep in mind that you will not be able to view the movie until after it gets dark, which in the summer is not until about 8:30/9:00 p.m.
Q: When do you come back to pick up the movie screen?
A: We typically return to pick up the movie screen rentals by 11 p.m. Any rentals after 11 p.m. will be subject to an additional cost for the movie screen.
Q: How loud are the speakers?
A: Please keep in mind that the speakers can become quite loud so if there is a local noise ordinance be aware of that prior to your rental. It is your responsibility to ensure the sound will not be a problem.
*If you have any specific sound or viewing circumstances please get in touch with us prior to booking so that we can let you know if we are able to accommodate them.