Movie Screens
Movie Screen Inflatable Rentals
3 Monkeys Inflatables is your Movie Screen Specialist for the cities of York, Harrisburg, Lancaster, Reading, Baltimore, Owings Mills, Frederick, Towson, Hagerstown, and more.
3 Monkeys Inflatables offers a selection of Movie screen rentals for your backyard parties, graduation parties, business, corporate, and church rentals. They are also perfect for Parks & Recreations, Schools, Universities, Fundraisers, Sporting Events, and many more places! Our delivery area is pretty huge as we deliver to York, Lancaster, Harrisburg, Reading, Baltimore, Hershey, and most of the PA and Northern Maryland area.
Movie Screen Rental Information
Our Movie Screens come in 2 different sizes the Inflatable backyard movie screen which is perfect for backyard viewing of small groups and our Mega Movie Screen Rental which is for a large gathering or spread out gathering. Both Drive-in Movie Screens offer you speakers, and blue-ray or CD Player options with the projector, but there is also an option to add the FM Transmitter to your rental that allows for you to hear the sound in your cars as well for that authentic drive-in movie experience. To rent a movie screen rental with 3 Monkeys Inflatables, simply pick the size movie screen rental you are interested in renting by adding to your cart (don't forget about the tents, tables, chairs, concessions, and game rentals we have to add to your cart) and then simply add your booking details like your address, email, and phone number and complete the order with just a 25% deposit now with the remainder not being due until the day of your event. It's simple and easy! We have been been in business since 2013 so your order helps our small family business continue to thrive. Thank you! Call or email us with any questions.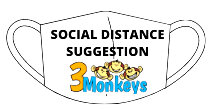 Movie Screen Social Distance Suggestion Tips: The movie screen rentals can easily be socially distanced by participants spreading out their chairs/blankets with 6-foot distance from other participants or as shown above we also have an FM transmitter which allows participants to sit in their car and get that old-time feel by listening to the movie on the FM radio with the miracle of technology allowed for your guests to have that old-time movie feeling!
Call 717-650-7657 | 410-581-5867 or email: info@3monkeysinflatables.com
Support your local business! Please subscribe for fun & informative videos! https://www.youtube.com/c/3MonkeysInflatables
Want to rent an inflatable movie screen in the York, Pennsylvania area? 3 Monkeys Inflatables delivers to Gettysburg, Hershey, Hanover, Spring Grove, Dauphin, Denver, Elizabethtown, Millersville, Palmyra, and more. We have you covered with our Awesome new movie screen rentals that are for indoor and huge screens that are for outdoor only. Depending on your event we definitely have the perfect variety for your event!

When choosing a movie screen check out our Mega Movie Screen Rental. It is like being back at the drive-in minus your car. If you book the Movie package, we even bring the DVD or Blu Ray as well as the sound system and projector so that it is everything you need to have a movie under the stars less than a movie. We do not handle any movie licensures. It is your responsibility to find out what licensures if any are needed to project your movies. Swank Movie Licensing can help you determine if you need a license and they can help you obtain licensure. If you already have all the equipment you need and just need a movie screen, we also rent the movie screen without the audio-video equipment.


Movie Screen Rentals
The movie screen rentals are perfect for those events that you have a movie night or trivia night - even a gaming night as we can put just about anything on the inflated movie screens to feature your event. Think about Superbowl parties, gaming events, trivia nights, and of course the famous movie nights! We have smaller screens that are perfect for indoor presentations, gaming, and winter parties. Keep in mind that we do have a Giant Movie Screen that can be used outdoors just like the movies in the park events you see. Please contact us for any interest.
Our movie screen rentals are typically 2-4 hour rentals. If you want the movie screen longer please specify that when you call in. Anytime over 4-hour rentals will require an extra charge. Our latest pick up time is typically 10 pm. Anything past 10 pm will be charged an additional late pickup charge.

About us
3 Monkeys Inflatables has been in business since 2007 and is the leader in Party and Event Rentals in Pennsylvania and Maryland. You can trust 3 Monkeys Inflatables to provide your movie screen rentals in the York, Pennsylvania, and surrounding areas.

How to book a Movie Screen Rental
You can book your movie screen rental online any time with our automated real-time booking system. It is simple and quick to use. If you prefer to book with a live person you can always call us to book at 717-650-7657 or 410-581-5867. If you have any questions about the movie screen, audio, or video equipment rentals please give us a call or email us at info@3monkeysinflatables.com We are here to help!