Military Mobile Escape Room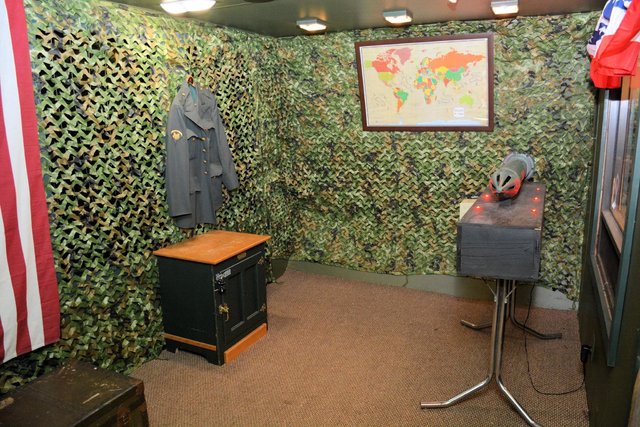 $995.00
Please call to reserve this item.

Description
Military Mobile Escape Room Rental
This is a 15-minute escape room with a difficulty level of beginner/intermediate.
About the Military Escape Room
Can you answer the call for duty? We are on the verge of WWIII and you and your team have infiltrated our enemy's base and have gained access to the missile launch room. The missile is set to launch in 15 minutes and it is aimed at Washington DC. You need to work together in a complex room of puzzles, codes, and hidden messages before it is too late. Keen eyes and quick thinking are a requirement for this room. There are 5 puzzles to solve in this room before you can gain access to the key to unlock the missile launchpad and disarm the missile. Our Military Missile Room is very authentic with many military-based props and puzzles. You and your guest are sure to have a unique experience. Will you successfully disarm the missile and save the world from another world war? Or will you run out of time?
How long is the Military Escape Room Rental?
Pricing is for the combination of the Military Mobile Escape Room and the Creepy Nursery Escape Room Trailer. The trailer is split in half and the Creepy Nursery is on one side and the Military Room is on the other. This rental is for up to 3 hours and comes with an Attendant. The attendant is present to attend to both the guests inside the escape room and those who are waiting in line for their turn. The attendant will keep the guests in line informed about how long their wait will be and will frequently check in with the guests in the escape room to see that they are progressing through the puzzles.

Booking a Mobile Escape Room
Feel free to add the desired rental item(s) to your cart and check out online. We offer a user-friendly online checkout system. If you have specific questions about any of our mobile escape room rentals we ask that you give us a call at 717.650.7657j or email us at info@3monkeysinflatables.com.
Questions and Answers
Q: What happens if the participants get stuck on a puzzle?
A: The mobile escape room attendant is there to help the participants should they get stuck on a puzzle. They can provide them with hints or clues to help them.
Q: What other themes do you have for your escape rooms?
A: We offer Creepy Nursery, Fortune Teller, Temple Ruins, and Bank Heist-themed Escape Room Rentals too.
Q: Can you suggest any rental items that can occupy the guests who are waiting their turn in line?
A: Sure thing! We have a great selection of game rentals that can be set up at stations throughout your line so that the waiting guests have something to occupy their time while waiting. Choose from some of our awesome games like Giant Jenga, Giant Connect 4, Giant Chess, or even Giant Checkers!
Q: How big is the trailer?
A: The military mobile escape room is situated in one-half of a 33-foot long camper trailer.
Q: Do I need power for anything?
A: Yes, you will need an electrical outlet within 100 feet of the setup area for this Military Escape Room.