Nuclear Explosion (#64, #65, #66)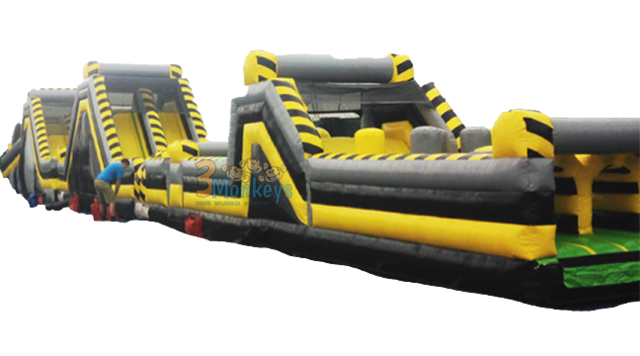 Description
Nuclear Explosion 115 ft Obstacle Course Rental
3 Monkeys Inflatable

Rentals delivering to York, Harrisburg, Lancaster, Carlisle, Baltimore, Reading, and more Pennsylvania & Maryland Cities
Our 115 Foot Nuclear Obstacle is EPIC to say the very least!

Nuclear Explosion 115ft Obstacle Course Rental
It has our 40ft Obstacle Course, our 45ft Inclined Obstacle (yup, you heard that right on a complete incline going up you race through and then end on a gigantic slide on the backside), and then yet another Rock Climb Slide...Epic! We can setup this unit any order you want or leave it up to our team to set it up depending on what they choose. The entire obstacle course covers 115 feet long and it definitely going to be a test of your energy. You will race through this beast and be exhausted when you finally claim the win against your opponent. This is a serious obstacle that packs the biggest challenge and adventure! This obstacle is designed to be an endurance-packed action while racing against your opponent. The object is to see who can get through it in the quickest time. This will definitely get the blood pumping while you race through the Nuclear Explosion (#64, #65, #66). *Please note these three obstacle pieces are interchangeable and may not always be set up exactly like the picture. As long as it is setup so that participants can enter at one end, complete the obstacle, and exit out the other end the experience is the same. The order the pieces are set up is at the discretion of our setup crew.
Can you handle challenging obstacle courses?
So, what do you think? Do you think you can handle challenging obstacle courses? Nuclear Explosion is a very large, long obstacle that is best suited for grade school through college student, and even adults can go through! Speaking of adults, we have even had 40th birthday celebrations with this massive obstacle course rental we know it's a lot and requires a lot since it's so long and the 45ft portion is inclined it definitely will give adults work out! We absolutely love this obstacle and in fact, in our 3 Monkeys Inflatables family this is by far our most favorite obstacle course because of this unique 45-foot incline and the massive size of the 115 feet...just when you think you are going to win you realize you are only halfway through the race! As a parent, this obstacle is going to tire out your kiddos...I love it for that too! The fact that it is a race obstacle is yet another reason it's a favorite because you don't' fight with long lines or someone taking too long going through...they are racing and competitive on this and so you will not have to fight with the participants to come through especially if you really hit on that fact of who's racing who. Game on!
Requirements:
Occupancy: 2 at a time racing, 500 lb weight limit
Dimensions: 16H x 115 L x 11W
Outlets: 2 Standard (23 amps total/3 outlets) 110-volt GFCI outlet within 100 feet of the unit. Generator Rentals are also available here.
Attendants/Monitors: This item requires (2) Attendants minimum to stay with the unit while in use. You may use your own attendant, or book an attendant with us here. Read more about attendants here.
Setup Location: Please specify when you book this item if you will be setting up Indoors or Outdoors. If outdoors we would need to know specifically if it will be on grass or asphalt a minimum of 5 days prior to your booking. All anchors need to be secured using a spike or sandbag according to the manufacture's guidelines. We prefer to use ground stakes when possible, if this is not an option we will need to anchor using sandbags.
Setup Location FYI:
1. Your setup location needs to be free of rocks, pet waste, sharp objects, or any other hazards.
2. We cannot setup under any utility lines and must have a clearance of 5 feet in all directions away from any obstacles.
3. Please make sure you clear a spot for us to park & unload the equipment as close to the location as possible. If your parking is further than 75 feet please notify our office or put it in the notes portion of your booking.
The Nuclear Explosion Race Obstacle Includes:
Professional setup/tear down.
We are registered with the Dept of Pennsylvania/Maryland State Amusement Industry
We have Liability Insurance
Pre and Post Event Cleaning, Sanitizing and Inspection
Staking and/or Sandbagging
Tarping (not indoors as it becomes a safety concern)
Extension Cords (we bring out the extensions needed to get electric to the spot you are setting up in) Keep in mind we can only go 100 ft max.
Safety Training
**This is special pricing...so keep in mind we cannot take off any other discounts or specials.