Roller Bowler Carnival Game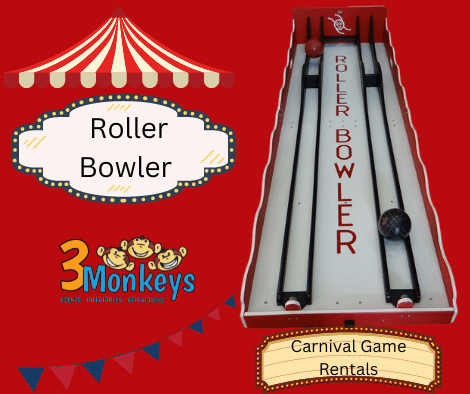 Actual Size: 22 x 22 x 24
Monitors: 1
Outlets: None
Description
Roller Bowler Carnival Game Rental
Bowling Tabletop Carnival Game Rentals in York, Lancaster, Harrisburg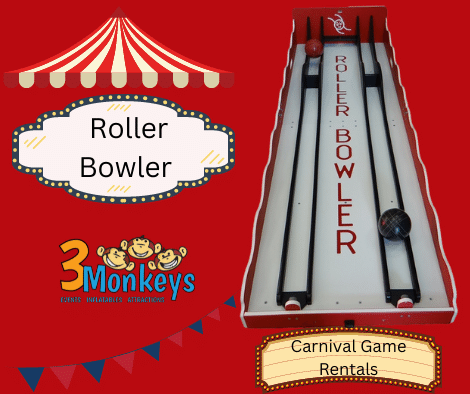 Are you searching for the perfect carnival games to complement the party or event you are planning? The Roller Bowler
Carnival Game Rental
is perfect to fit that spot! Along with our newest tabletop game options, you will see that these highly addictive and fun games take up very little space, but offer quite a bit of fun games for your participants to play! The roller bowler game rental fits great on a 6ft table and features two lanes to create a competitive team-building activity that both adults and kids will love!
A Little Bit About the Roller Bowler Carnival Bin Game Rental
The roller bowler game rental is a game that looks like something that will be a cinch to win, with the object of the game to beat your opponent by rolling the ball down the lane, at the perfect speed and in order to create enough speed to go over the hump, and stay in the pocket zone at the end of the lane, but be careful! Push too hard down the lane and the ball will hit the back part and climb the humpback again to your start, toss too slowly and it won't even make the hump to the winning pocket zone! Who will master this technique first will be the one with the best hand/eye coordination and skill of rolling just so as to make it stick in the winning circle! We have tons of carnival games to choose from.
Other Carnival Game Rentals
We have a huge selection to choose from in our new games that are attractive, durable, easy to setup and pickup, and allow for a great group of unique and fun carnival games that will keep your guests excited and create the perfect carnival-type setting. Choose from games like bullseye, fish bowl frenzy, whip-n-skip, plinko, rattlesnake roundup, bottles up, tic tac toe, and so much more!
Delivery Area
Our main delivery consists of cities in Central PA and Northern MD. We are often seen delivering party rentals in York, Lancaster, Harrisburg, Stewartstown, Red Lion, Brogue, New Freedom, Glen Rock, Felton, Millersville, Columbia, Manheim, Lititz, White Hall, Cockeysville, Hunt Valley, Bel Air, Freeland, and Baltimore.