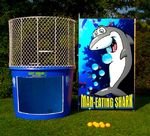 Description
Shark Dunk Tank Rental York Pennsylvania Area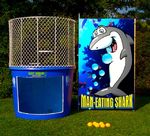 3 Monkeys Inflatables is your Shark Dunk Tank Rental Specialist in Harrisburg, Lancaster, Hershey, Hanover, Carlisle, Baltimore, Towson, Frederick, and Gettysburg Area.
Shark Tank
Our dunk tanks are utilized for a variety of events. From church fundraisers, maydays, park days, camps, festivals, charity event fundraising, Bridal Showers (where you dunk the Groom to Be)...you can use the dunk tanks for just about anything you can think of! Dunk tanks are also used heavily at carnivals. Sometimes the dunk tank can be your leading money generator. Whether you're renting the Dunk tank in York Pennsylvania, Central PA, or even in Northern MD 3 Monkeys is here to offer you options for not just your dunk tank rental but your other party rentals.
How to Play at the Shark Dunk Tank for Rent
Once the dunk tank rental is filled up with water and the event begins, the first dunk tank participant will sit on the seat and wait to be dunked! Often the person seated on the dunk tank seat will, all in good fun, taunt the audience so that they step up and take their best shot at dunking them. Who is going to be challenged without taking the challenge? Not many people! A participant will step up to the dunk tank, take one of the dunk tank balls, wind up, and throw their best, hardest shot at the target. If the thrower aims well enough and hits the target the seat will release and the individual will fall with a splash into the tank of water. If they miss, they get to take another shot with another dunk tank ball! Each time the seat is activated the participant will need to re-seat themselves to prepare for their next splash! Quite often you will see teachers, principals, coaches, bosses, CEOs, and other high officials on the hot seat for charity events because this usually entices people to reach in their pockets to pay for a few balls to throw.
Specs:
500-gallon Polyethylene Tank Vinyl Coated Steel Protective Cage High Density, UV Resistant Seat
250-pound weight capacity
Requirements:
You will need a water hose, which is connected to a water source, that reaches the area to fill up the Dunk Tank.

On average it will typically take up to 45 min to fill the dunk tank with a moderate flow of water through the hose, which is about 25ft.

The attendant needs to be over 18 years of age

Participants using the dunk tank needs to be over 18 years of age.

We do not allow non-swimmers to participate and sit on the dunk tank seat.

250lb weight capacity
How to Reserve the Shark Dunking Booth
The dunking booth rental can be reserved through our live-calendar online booking system or by calling or emailing our office staff - 717-650-7687 or info@3monkeysinflatables.com. Dunk Tanks are for delivery only and cannot be reserved as a customer pickup item.