Wreck N Ball Carnival Game #514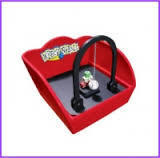 Description
Wrecking Ball Carnival Game Rental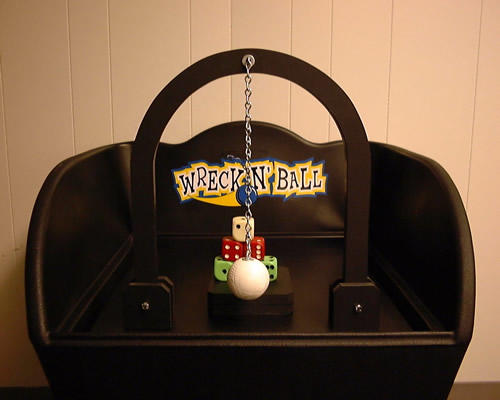 Wreck N Ball Carnival Game Rental
Players will swing the ball on the chain and try to knock the large dice off the platform. One swing per player. The rules require the lucky player to knock all dies off the platform to win! Dimensions are 29L x26W x17H. This carnival game rental does not require any electrical for it to operate. It is the perfect game for preschoolers through adults. We can put the Wreck n Ball Carnival Game rental on the legs that come with the game that has it stand about 2 1/2 feet high or we can, of course, leave the legs off and you can put it up higher and feature it on a table. We even have 8ft red and white carnival-themed table clothes, as well as 8ft Plexi tables you can rent if you would like to feature these on a table. We suggest you can do up to 2 bin carnival game rentals power 8ft table.
Rent the Wrecking Ball Carnival Game
To rent the wrecking ball carnival game simply choose to add the game to your cart (along with any other games, tents, table, or chair rentals to your order), and then add your rental date and times along with your contact information and delivery address and check out with a credit card with a 25% non-refundable deposit. The remainder of the payment is not due until the day of the rental at setup. We also can be available by phone at the following numbers: 717-650-7657 or 410-581-5867 and by email at info@3monkeysinflatables.com We do get asked often what happens if it rains, well our carnival games can simply move inside if you have the space, or you can simply be rescheduled for us if the weather is looking bad (check out our weather policy on our faq's page.) If the weather falls under our weather policy then we will simply just issue a raincheck good for one year, and ask you to reschedule your event in that time frame and then apply your raincheck, so there is nothing lost on your end in the event of bad weather.
Check out all of our Carnival Game Rentals
Carnival Game Rentals are popular rentals that can be placed at just about any type of event to create a larger-looking event with more features at a minimal cost. The games for rent with 3 Monkeys Inflatables cost a reasonable cost to be able to afford to add a few games to an inflatable rental without going over budget. Did you know we can even create custom game packages for you with bin games, frame games, lawn games, giant games, and even a mixture of all of the different types of game rentals available? For example, our bin game package near me features 8 bin games, 4 tables, and 4 super cute red/white carnival-themed table covers. We have so many baseball-themed game rentals as well to choose from with choices like our Grand Slammer Meltdown Game, Baseball Toss Carnival Frame Game, Home Run Derby Inflatable Baseball Game, Sports-themed bounce house rental, speed pitch with inflatable, dunk tank, take me out to the ball game package, and so much more to choose from!