Best Mechanical Bull Harrisburg
Safest Harrisburg Mechanical Bull
Mechanical Bulls for rental in Harrisburg provides you with the best opportunity for entertainment for young kids or older adults! 3 Monkeys Inflatables operates the bull rental with our professional trained operator to ensure the ride is safe and tailored to the individual rider. A bull rental is often thought to be the spotlight and heartbeat of every event as it draws crowds to watch and speculate on how well the rider will do on the bull and offers opportunities for timed competitions.

Often we are asked what is the Harrisburg mechanical bull rental best rider ages? Our customers are always inquiring who is this best for? Our standard of care of figuring out what riders can ride is that if they are able to climb up on the bull unassisted then they should be old enough to ride. We have had small kids ride with no issues as our trained operator offers them a ride that is both fun and safe and the best part for them is they ask "how long did I last on the bull?" and our operator will give them a their time. This becomes a huge point of talking with young and old comparing times (not speed) to how long they lasted! The sometimes short rides and longer rides add tons to talk about with quick fall offs to amazing cowboy rides you are sure to predict with ease that your guests will have an awesome time on the bull rental by 3 monkeys inflatables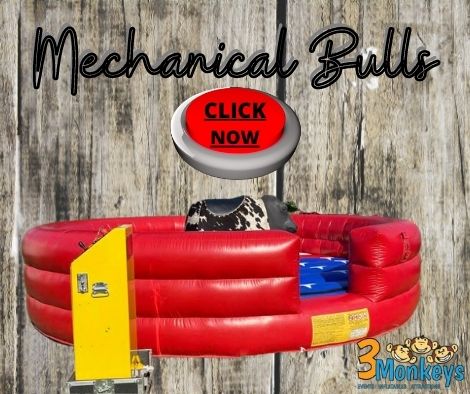 Harrisburg Mechanical Bull Rental
Are you looking to make your party epic with a mechanical bull rental in the Lancaster County area? 3 Monkeys Inflatables provides the best-rated Inflatable bull rentals in Lancaster and the Central PA area. Mechanical Bull Rentals Pennsylvania and Maryland offer not only the best looking, and safe bulls but 3 Monkeys Inflatables safety standards from inspecting the equipment during setup and pickup and reporting any issues with equipment reassure our guests that inspections are top priority on our list along with only using operators who have received the bull training from Galaxy Multi-rides along with training 3 Monkeys Inflatables requires for our bull operators to ensure not only a great ride but a safe one that is wrapped around each players age, ability and comfort level.
Book the Mechanical Bull Rentals Harrisburg
Frequently Asked Questions about Harrisburg Bull Rentals
Why rent our Mechanical Bull in Harrisburg?

3 Monkeys Inflatables has been in business with their bull rentals in Harrisburg for a decade and a half offering not only exciting and fun entertainment with the mechanical bull for rent Harrisburg but also offering safety and peace of mind when it comes to having trained operators who correctly operate a mechanical bull control panel offering not only a fun ride but a safe ride. Whether your guest is a small child or an adult we train all of our staff to learn to start everyone with a slow rotation to access the ability of the rider. After the rider is comfortable and proven they can stay on the bull comfortably and is following all the rules of the bull controller then and only then will we increase the speed by keeping a close eye on the rider to ensure the bull is stopped immediately during the fall of the rider, which in turn will keep the ride safe and fun for everyone! 3 Monkeys Inflatables has the bull registered in both the state of Pennsylvania and the state of Maryland Ride Safety Division and follow all of the safety guidelines in each state as well as carry the required liability insurance specifically for the bull ride as required.


What type of party can you rent a Harrisburg mechanical bull rental for?

The sky is the limit on the types of events and parties you can attract and feature the Mechanical Bull Ride in Harrisburg. The bull is perfect not only for your typical backyard party events like graduation and birthday parties, but also great to attract for your community event, football games, sports events, school functions, college parties, and of course large corporate events. The adaptability of the bull rental is wide open! We have offered Grand Opening events, Block Parties, Fundraisers, Fire Department Picnics, Bar and Bat Mitzvahs, and Church events.
What is your Mechanical Bull delivery area?

We do deliver to the Dauphin County Pennsylvania area including popular cities like Harrisburg, Dauphin, Hershey, Hummelstown, Middletown, Steelton, Millersburg, Linglestown, Halifax, Elizabethville, Lykens, Highspire, Paxtang, Williamstown, Penbrook, Gratz, Wiconisco, Royalton, Berrysburg, Colonial Park, Pillow, Paxtonia, Union Deposit, Skyline View, Progress, Piketown, Lawnton, Palmdale, Linkerville, Rutherford, and many more. Depending on your exact location there is an additional delivery fee to your location.

If you are outside the delivery area - have no fear! 3 Monkeys Inflatables delivers all across Central PA and Northern MD. If you are in those areas we are more than happy to help you out and send you a quote via email on the costs to bring out the bull rental along with any other party or event items you may need! Keep in mind that sometimes we go even further than our normal delivery area especially for large corporate events and large community events. When in doubt give us a call to check it out!