Mechanicsburg Obstacle Course Rentals
Rent an Obstacle Course in Mechanicsburg PA
Rent the best obstacle courses Mechanicsburg from a company you can trust. We have been delivering fun for nearly 15 years and are licensed and registered in the states of Pa and Md. We have 3, Pa state inspectors on our staff who are licensed to inspect the safety and setups of the rental equipment. Our goal is for the customer to shine like the star of the event by making it as seamless as possible. We value our customers and want them to come back year after year so we treat them with the best customer service possible.

If you are looking to rent bounce house obstacle course you have landed at the right place. We have a variety of obstacle course jumpers for rent so you will be able to find something for everyone! If you have younger children we have what we refer to as playground obstacle courses for rent. We have several different types of these obstacle course bounce house rentals available. The other type of obstacle we refer to as our inflatable race obstacle course rentals. These types of obstacle course jumpers are designed for two riders at a time with a, "Ready, set, go," style and a race to the finish.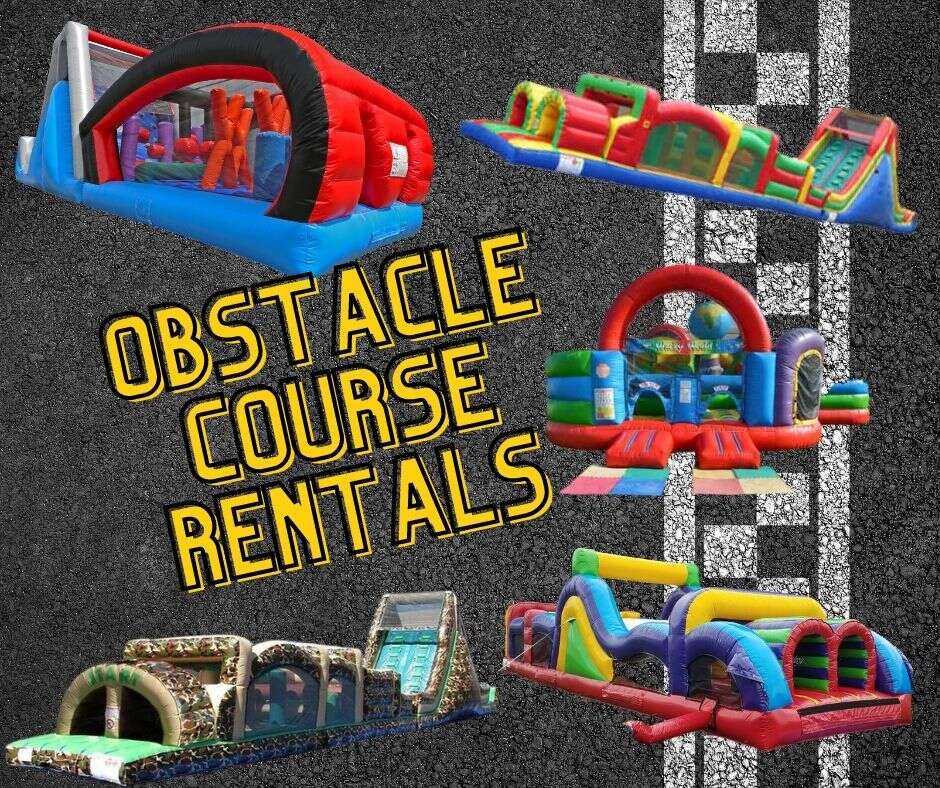 Inflatable Obstacle Course Rentals Mechanicsburg
Are you looking to get some fun, friendly competition going at your next party or event? Be sure to check out our Mechanicsburg obstacle courses for rent which allow players to race their way from the start to the finish on these huge inflatable obstacle courses. Opponents race to the end to see who will be the grand champion! We rent the best obstacle courses in Mechanicsburg for up to 8 hours, for one low price. The obstacle courses range from 40 feet all the way up to 115 feet of amazing fun! We also have kid obstacle courses that we also call our playground obstacles. There is an obstacle for all ages from children to adult which make these perfect inflatable rentals for birthday parties, graduation parties, college events, backyard picnics, corporate events, community day events, carnivals, festivals, and more!
Mechanicsburg obstacle inflatables for rent
Playground Obstacles versus Obstacle Course Races
If you are looking for an obstacle course for kids the playground obstacles are perfect! Children enter one at a time, and make their way from start to finish at their speed and ability. They will come across pop ups, tunnels, climbs, slides, and other obstacle features as they venture through the obstacle course inflatable. Our Wacky World Obstacle is one of the most popular playground style obstacles. At the end of the obstacle the rider finds themselves in a generous size bounce area with the floor designed like twister.

The other type of obstacle is what we refer to as our two-man race obstacle course. Looking for obstacle course ideas for adults outside? These are just the right thing for adults though they can be used by children too. In the race style obstacle course rentals 2 participants take their places at the entrance, one on each side. The attendant can say, "Ready, set, go!" and racers take off climbing through tunnels, climbing over log obstacles, going around pop ups, climbing up walls, sliding down slides, and more! Participants give it their all and race their opponent through the obstacle to see who can get to the end first!
Frequently Asked Questions and Answers about Inflatable Obstacle Course Rentals
What types of events are race obstacles best for?
The ninja warrior obstacle course rentals, also known as race obstacles, are very popular at events where they are expecting a large crowd. Why? These blow up obstacle course rentals tend to have faster moving lines than say a regular bouncy house. It also adds that element of friendly competition which people just love. They are often requested by preteen and teen parents when planning backyard birthday parties. That tends to be a competitive age and the obstacles really tend to get people moving.
How far in advance do I need to book my inflatable rental?
This question is asked often but is difficult to answer. The best answer we can provide is, the sooner, the better! The longer you wait, the closer to your event date, the less items there are going to be to choose from. Some customers plan well in advance and even book a year in advance. If there is an inflatable you really want to rent and it is available, rent it. Don't wait. We offer 24 hour, online booking and there is a chance someone else could go on that very night and book it, if you choose to wait.
How do you weigh down the obstacle course inflatable?
How we secure the inflatable depends upon the type of surface we are setting up on. When we set up on grass we will bring stakes, to stake the anchor points into the ground. When we set up indoors, on turf, on concrete or asphalt, we will bring sand bags to make sure the inflatable is safely secured to the ground. This is an important piece of information to know in advance, typically at the time of booking, so that we can mark it appropriately in the system and therefore the drivers can come prepared with the correct items.
Mechanicsburg Obstacle Course for Rent Service Area
If your project site is outside our normal service area, just let us know! We do deliver even farther out, and special accommodations can usually be made to suit your project.
NOTE: Extra fees may vary depending on how far you are outside our service area.