Hunt Valley Obstacle Course Jumpers
We even have obstacle course for adults for rent!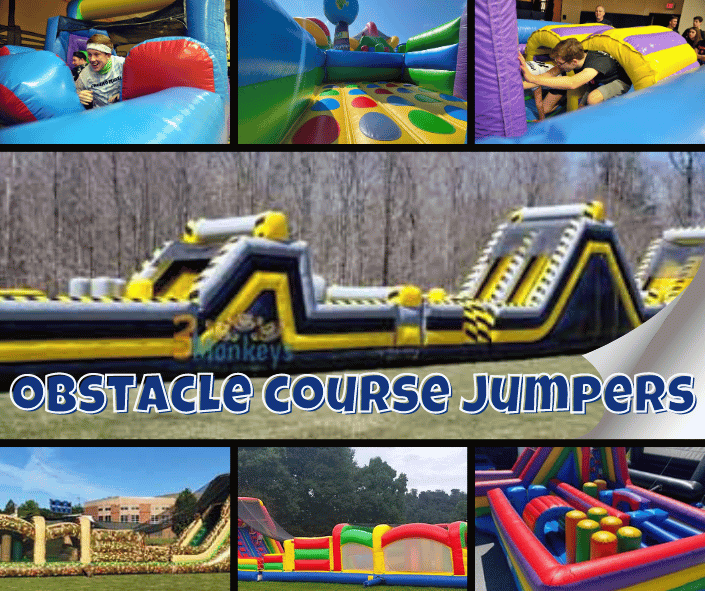 Obstacle Course Jumpers in Hunt Valley
Are you looking to make turn up the heat and competition at your next party or event? Check out Hunt Valley obstacle course jumpers with huge options like Race Obstacle Jumpers which have participants race their way from start to finish through these gigantic obstacle course jumpers to be the ultimate winner. We rent these awesome inflatable obstacle course jumpers for rent in Hunt Valley for up to 8 hours, not including delivery and setup times, and of course, you can choose from 40ft obstacles, all the way up to gigantic obstacles like our 115 ft obstacle course that will be sure to tire out the toughest of kids, teens, and adults. We have kid obstacle course rentals, teen obstacle course rentals, and of course for the kids at heart adult obstacles that are perfect for those bachelor and bachelorette parties, grad parties, team-building, corporate events, and more!
Check out our full selection of Obstacle Course Jumpers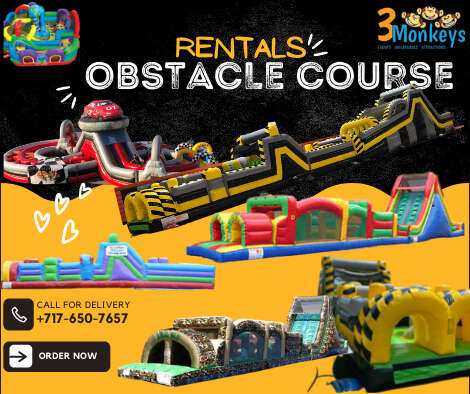 Race Obstacle Course Rentals
Our race obstacle course rentals are one of our most popular categories for everything from backyard parties, graduation parties, school events, community events, preschool events, church events, and more!

Obstacle Course rentals with race features are so much fun to run through and race against your friend or family member. It's also fun to watch your friend's race through and bet on who will be the ultimate winner! Hunt Valley's largest obstacle course the Nuclear Obstacle course features 115 ft of inclines, run through with obstacles, slides, climbing walls, for the most endurance-packed inflatable race you will be part of. Perfect for all age groups including adult obstacle course rentals!
#1 Renter: Nuclear 115ft Obstacle Course Jumper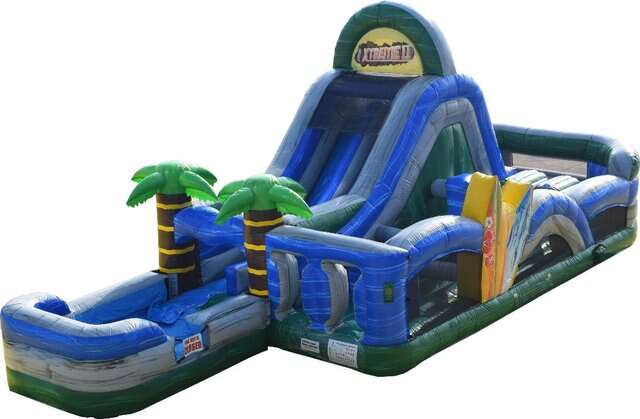 Playground Obstacle Course Rentals
Playground Obstacles are the best for hanging out and exploring, but can also have a race feature to them as well. For example, the Beast Obstacle Course is our most popular playground obstacle featuring lots of areas to jump, play and climb with a slide as well. Our close second is the Wacky World Obstacle Course for rent which features a bigger playground type of obstacle, 2 slides, lots of exploring, and even a twister inside! We even feature 2 water obstacle courses that are the new awesome trend where you get the best of interactive fun with water during a warm summer, but also get to be very physical running through against your opponents as both of these are both a combination of race and playground giving you the best of both worlds!
Check out our #1 Playground Obstacle Jumpers
Why rent our Obstacle Course for adults in Hunt Valley?
Obstacle Course for adults
in Hunt Valley is a very popular rental with 3 Monkeys Inflatables that has been around for 15+ years in the Hunt Valley community providing the area with a reliable, one-stop-shop party experience second to none. 3 Monkeys Is proud to offer rentals of obstacle courses for adults, teens, and kids. We love seeing not only kids getting excited about our equipment but adults playing on our obstacle course jumpers and racing through the inflatable elements is just icing on the cake!
What type of party can you rent an obstacle course rental in Hunt Valley for?
The sky is the limit on the types of events and parties you can attract and feature the Obstacle course for rent in Hunt Valley and surrounding areas. The obstacle course rentals are perfect not only for your typical backyard party events like graduation and birthday parties, but also great to attract for your community event, football games, sports events, school functions, college parties, and of course large corporate events. The adaptability of the obstacle rental is wide open! We have offered Grand Opening events, Block Parties, Fundraisers, Fire Department Picnics, Bar and Bat Mitzvahs, and Church events. Keep in mind they are attractive to rent because not only do they test endurance but encourage races and competitive fun while being great exercise and just overall a fun inflatable to play on. The best part about obstacles is the fast enter/exit strategy when you have a large group you are able to encourage the race mentality and see how fast the line moves with the own momentum to be the winner.
What is your Hunt Valley Obstacle Course delivery area?
We do deliver obstacle courses for rent to the Baltimore and Northern MD area including popular cities like Towson, Reisterstown, Owings Mills, Parkton, Whiteford, Pylesville, Jarrettsville, Forest Hill, Monkton, White Hall, Sparks Glencoe, Phoenix, Lutherville-Timonium, Parkville, Nottingham, Middle River, Randallstown, Baltimore, Upperco, Finksburg, Hampstead, Greenmount, Manchester, and many more. Depending on your exact location there is an additional obstacle course delivery fee to your location.

If you are outside the delivery area - have no fear! 3 Monkeys Inflatables delivers obstacle courses all across Central PA and Northern MD. If you are in those areas we are more than happy to help you out and send you a quote via email on the costs to bring out the obstacle course rental along with any other party or event items you may need! Keep in mind that sometimes we go even further than our normal delivery area, especially for large corporate events and large community events. When in doubt give us a call to check it out!
Hunt Valley Obstacle Course Jumper Service Area
If your project site is outside our normal service area, just let us know! We do deliver even farther out, and special accommodations can usually be made to suit your project.
NOTE: Extra fees may vary depending on how far you are outside our service area.
We deliver party rental equipment in the Hunt Valley area
3 Monkeys Inflatables reviews from hundreds of happy customers who have used our services and not only reported it was great equipment, selection, pricing, and quality, but also safe and in good working order. We strive to bring the best experiences on every rental from a backyard party to a large corporate event. Each customer is important to us and our story. Our staff is trained on proper setup and we follow not only ASTM standards, but state standards, along with company standards ensuring that not only are you getting a great inflatable, but you are getting one that is registered with the state and inspected for safety. There are many companies out there to choose from but once you start comparing you realize you are comparing apples to oranges as we are not the same. We are the area leader for the Entertainment industry setting the bar for the rest of the area operators. As a company that also runs inflatable doctor, a mobile inflatable repair company servicing manufacturers we understand not only the inflatable, but the inside baffles and strength of the items we rent, and we are the experts at what we do!
Hunt Valley Tent Rentals
Hunt Valley Mini Golf Rentals
Hunt Valley Catering Rentals