State College Party Rentals
The Best Party Rentals State College, PA
3 Monkeys Inflatables offers
State College Party Rentals!
The best party rentals in State College delivered by large event specialists, 3 Monkeys Inflatables. We have been in business for over 15 years and offer professional, safe, clean party and event rentals. We have worked with thousands of backyard customers, corporate customers, school customers, college customers, church customers, Jewish communities, camps, and the list goes on. Our goal is to provide fun and entertainment to your group of guests so that they can have fun, build relationships, and make memories. We offer a variety of
State College party rentals
including inflatables, rock walls, bumper cars, axe throwing, mobiile escape rooms, wax hands, virtual reality roller coaster, giant games, the grand slammer meltdown, mechanical bulls, and more.
We are solely a large event specialist in the State College area which means we do require an order minimum of $2,500.00 (prior to any taxes or fees) and have a travel fee of $300.00 per truck required to deliver the equipment. If you are planning a large corporate, college, school, church, or community event we would love the opportunity to work with you and put together an amazing party rental package just for you! We do currently offer packages such as
The Big Top Package
,
The Midway Package
, the
Corporate All Inclusive Package
, the
Corporate Picnic Dream Package
, and many others. Call us today to book your
State College Party Rentals
with 3 Monkeys Inflatables: 717-650-7657.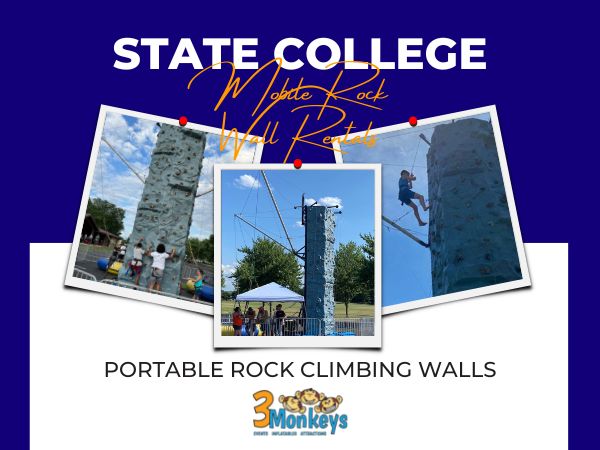 Rock Wall for Rent
State College Rock Wall Rentals make the perfect centerpiece at any large event. This portable rock wall State College stands 24' high and will have everyone wanting to challenge themselves to see if they can climb their way to the top. There are 4 different sides that allow for up to 4 climbers at a time, each having a different level of difficulty. Don't have your guests miss out on the fun and challenge of this awesome climbing wall!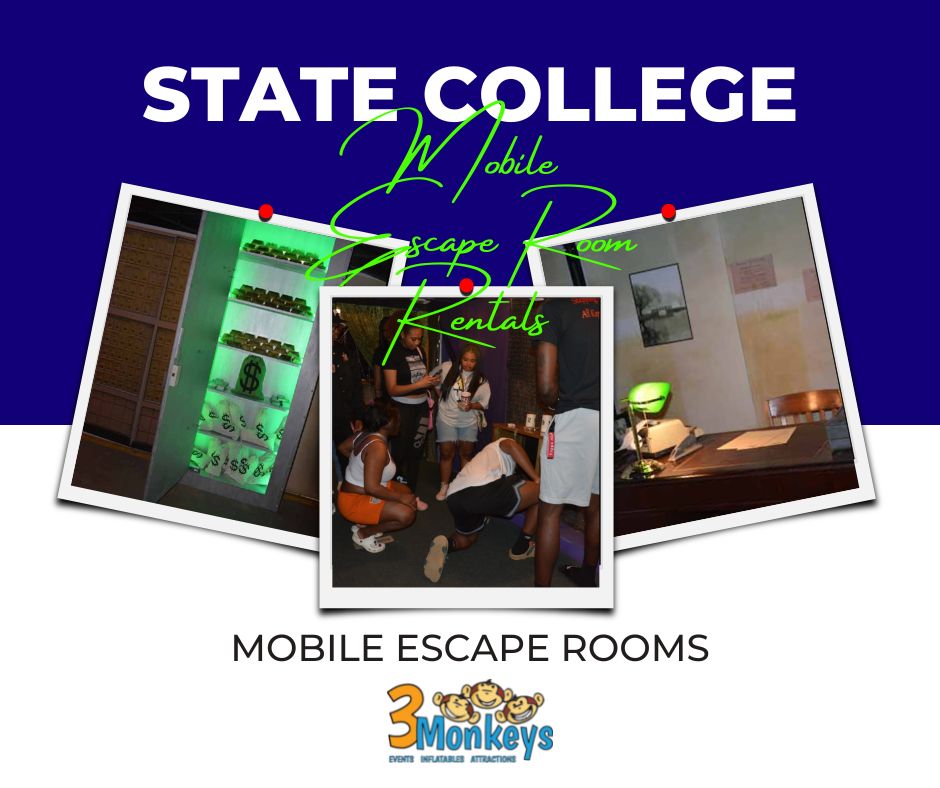 Mobile Escape Rooms for Rent
Mobile Escape Room Rentals in State College will add a unique element of fun to your next party! Choose from our different themed rooms including Creepy Nursery, Military, Fortune Teller, Bank Heist, and Temple Ruins. Each room is decorated to the theme of the room and is well equipped with real props, locks, and puzzles. Games can be tailored to your event and can be run in 15 or 30 minute sessions.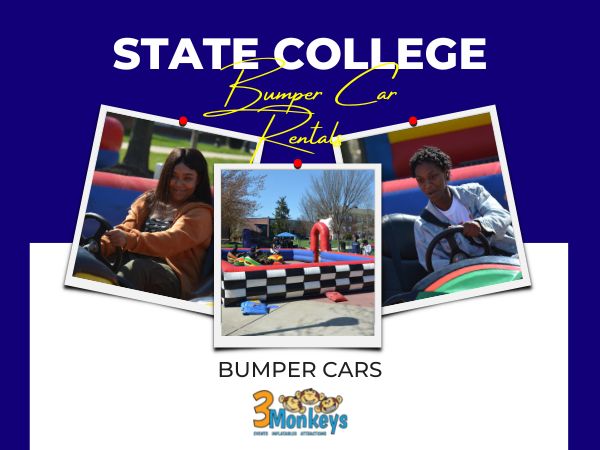 Bumper Cars for Rent
Bumper Car Rentals near State College are fun for children and adults. These bumper cars for rent come with four, battery operated cars to drive and safely bump into one another for a fun time! There is also an inflatable arena that contains the cars for the safety of both riders and spectators. Because the arena is inflatable it will require constant power as it does have a blower. This is a specialty item so our professionally trained staff member will set up, stay with, and run the bumper car rental from start to finish.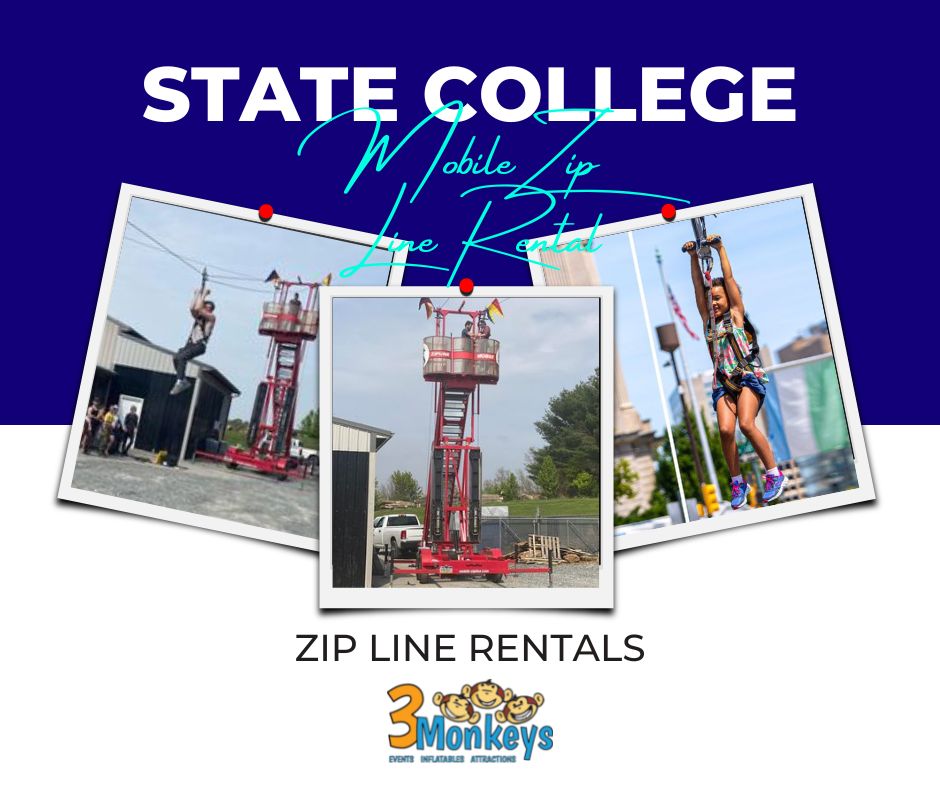 Mobile Zip Line Rental
Our new mobile zip line rental has taken us to all corners of Pennsylvanial for college and community day events! Talk about bringing the amusement ride to you - this will do it! Portable zip line riders will glide from the top of the zip line tower down towards the bottom where there is an inflatable wall set up. However, due to the safe design of this zip line, riders don't typically make it as far as the inflatable wall before our specially trained staff members greet them at their descent. The zip line rental includes up to four hours of fun, attendants to run the zip line event from start to finish, harnesses, and inflatable safety walls at the end of the ride. Book the portable zip line for your next big event as part of your State College Party Rentals!
Planning a large event is fun, exciting, and sometimes intimidating. As a coordinator you want to make sure you have all the right rental equipment, have plenty for your guests to do, and choose a company you can trust for your State College party rentals. This season we have had numerous phone calls with coordinators looking for last minute rentals because they had another company scheduled that called and canceled on them with no warning. There were also many times when we stepped in and made magic happen to 'save' their event. When we can, we will. This is not something 3 Monkeys Inflatables has ever done to one of our customers. We pride ourselves in wonderful customer service and will always follow through (as long as the weather allows and it's safe for the riders). Be sure to find a trustworthy, reputable company to help plan your event in State College!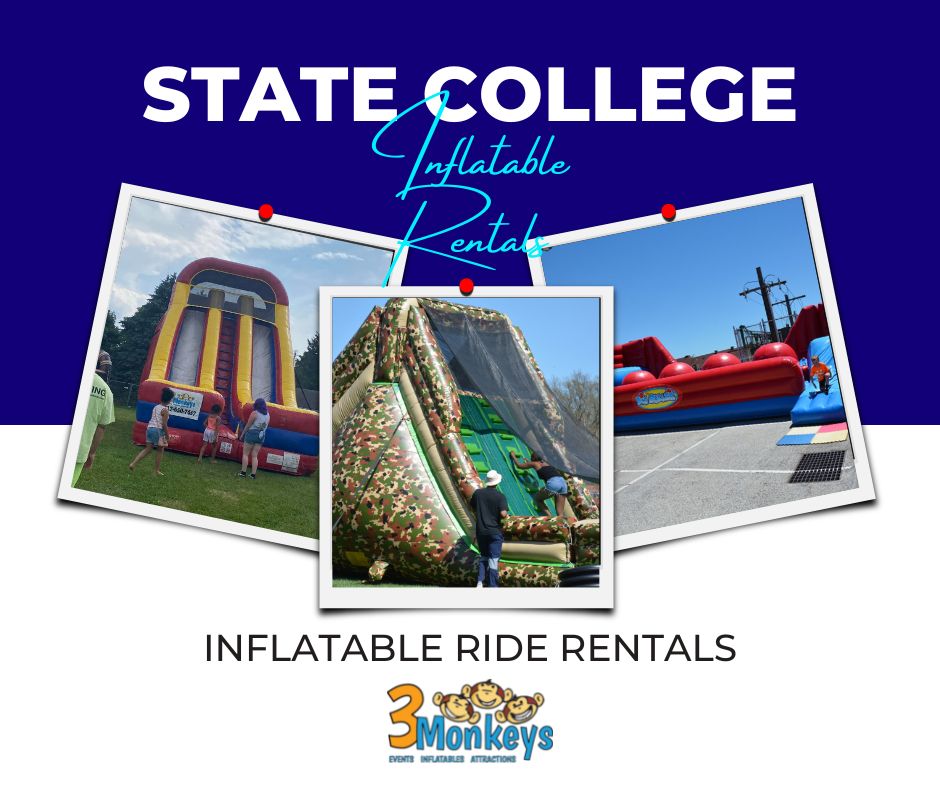 Inflatable Ride Rentals State College
3 Monkeys has a large selection of inflatable rentals in State College, PA for your large event. We of course have a great selection of the staple, bounce houses! I mean who doesn't love to jump in a bounce house? Even adults want to sometimes feel like a kid again, and what a better way to do that then by bouncing in a bouncy house rental? If you are having a family event and are going to be having smaller children we have a few great toddler inflatables to choose from including the popular Animal Kingdom. Inflatable Obstacle Courses and Blow Up Slides are always great to have if you are having large events because they keep the lines flowing at a nice pace. When you book your inflatable rental with 3 Monkeys, the blowers are included. You will need ample power within 100' for us to plug into. If there is not enough power within 100' you will need to add generator rentals. Each individual inflatable has its own requirements as far as power is concerned so you will want to be sure to ask how many outlets and circuts are needed for your order.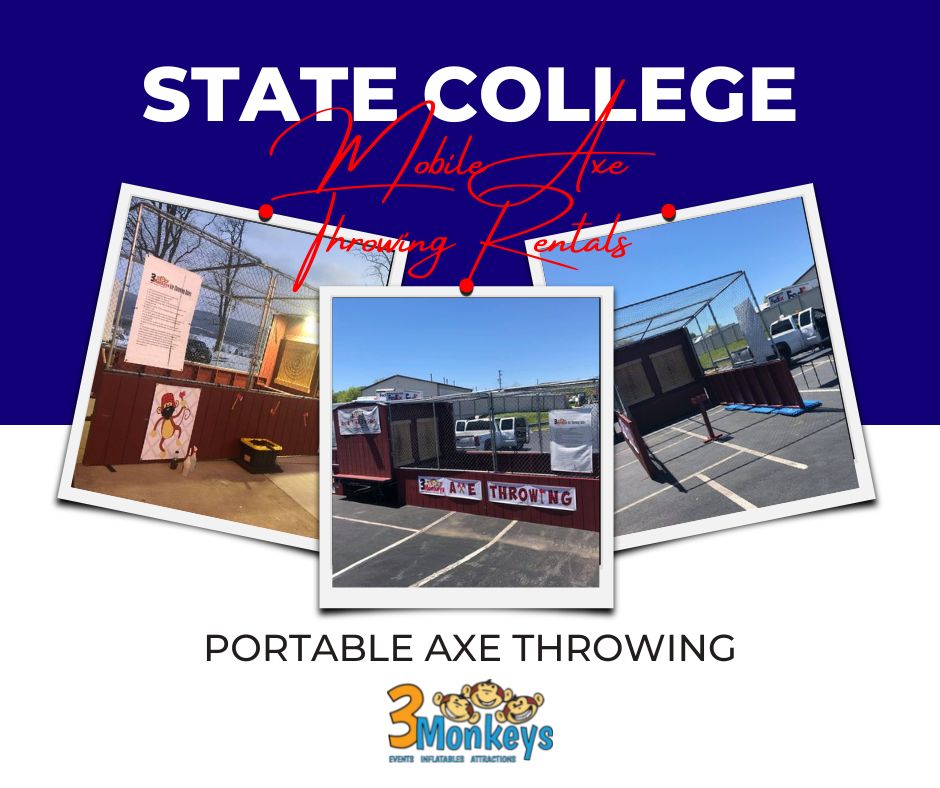 Mobile Axe Throwing Rentals Near State College
One of the latest, most popular date night activities is axe throwing, often refered to as hatchet throwing. 3 Monkeys has come up with out very own design for mobile axe throwing that can be delivered and set up right at your party venue. The portable axe throwing trailer can be rented as 2-lanes or 4-lanes depending upon the size of crowd you are expecting. The size of the 2-lane is 18'W x 25'L land the size of the 4-lane is 18'W x 42'L. Rest assured, this is safe mobile axe throwing as there are chain linked fences and half walls that enclose the throwing area. Only the current throwers and our axeperts are allowed inside this area. The axeperts are trained to help adjust throws so that participants have a higher success rate. Mobile axe throwing is great for carnivals, fairs, community day events, college parties, team building activities, bachelor parties, and more!