Advertising Inflatables
Advertising Inflatables York Pennsylvania Area
3 Monkeys Inflatables located in
York, Pennsylvania
is your Inflatable and Party Rental Specialist for many Pennsylvania and Maryland cities like Red Lion, York, Harrisburg, Lancaster, Dauphin, Camp Hill, Dallastown, Glen Rock, Mount Wolf, North York, Seven Valleys, Winterstown, York Haven, Carlisle, Dauphin, Hershey, Baltimore, Owings Mills, Manchester, Frederick, Towson, Hagerstown, and may more!
Create Excitement
Fly Guys draw attention and help your event or business get noticed! These guys grab attention and ensure a festive atmosphere for business grand openings, advertising, special events, and more! Add a sky dancer for a birthday party, event, fundraiser, festival, virtually anywhere you want to bring attention to! Browse the selections below and click on the title or image for more information and to make a reservation. These sky dancers, fly guys, advertising fly guys, fly tubes, sky ticklers, and air dancers often are known by a variety of names.
Advertising Inflatable Guys!
Popular Inflatables can create amazing advertising opportunities by featuring an event for your grand opening, an anniversary celebration, or a celebration for a job well done. They can create roadside excitement and draw crowds who are curious about what exactly might be happening at your location and stop in to see what you are doing and therefore providing you with an opportunity to provide your services to the customer who may not have ordinarily would have stopped.
Trust the experts
3 Monkeys Inflatables has been operating for 12+ years in the Inflatable & Entertainment area and continue to drive new and innovative pieces into their inventory so that not only do they remain #1 in Northern Maryland for Entertainment, and #1 in Central Pennsylvania for Entertainment but they continue to dominate the field of amusement by offering unique, creative and new items to the inventory while building upon ones that our customers already love. 3 Monkeys continue to build the one-stop-shop up to incredible layers of service specifically for our customers who are seeking Amusement products near me.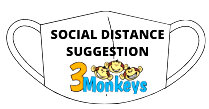 Advertising Inflatables Social Distance Tips: Advertising inflatable's purpose is to draw participants to a specific business or event. The advertising inflatables are set up prior to the event and removed after the event, with no one near them as they are typically setup street access and entrance points where participants are driving past into the event. Therefore other than our cleaning prior to arriving on-site and our contact less delivery option we don't offer any further suggestions as it is already socially distanced from guests.
Copyright © . 3 Monkeys Inflatables LLC. All rights reserved. Red Lion PA (717) 650-7657