Cockeysville Bumper Car Rentals
The Best Bumper Car Rentals in Cockeysville
You no longer have to go to an amusement park, carnival, or fair to ride the bumper cars! 3 Monkeys Inflatables will bring the bumper cars to your party venue even if it is your own backyard! You probably never even thought about renting bumper cars in Cockeysville for your party. Bumper car rentals are fun for both children and adults and don't worry. If the child is not tall enough to drive themselves, they can ride as a passenger with Mom, Dad, or an older brother or sister. Riding bumper cars in Cockeysville Maryland will bring lots of laughter and squeals of excitement as the other drivers bump into you and make you scream and giggle.

Cockeysville Bumper Car Rentals come with 4, battery operated bumper cars and an inflatable arena to contain the drivers. The cars are made with soft padding and bumpers all the way around the cars that help provide a gentle bump unlike some of the older bumper cars you may have ridden as a child. Each seat does include a safety belt which must be worn by drivers and passengers at all times. The bumper car rentals are sure to add fun and excitement to your Maryland parties including graduation party, birthday party, school carnival, college event, bar mitzvah, bat mitzvah, summer camp, family fellowship event, youth lock-ins, and more!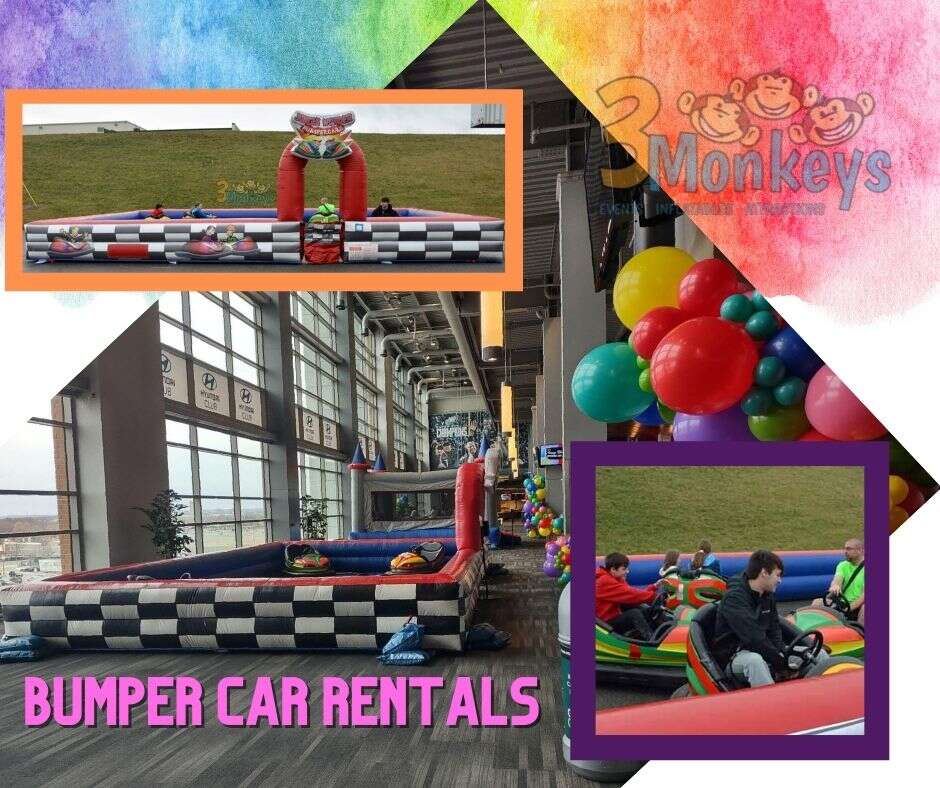 Bumper Car Rental
Zoom around the inflatable arena in one of four battery operated bumper cars. There will be an attendant who will run the event from start to finish to ensure the safety of all riders. The price of bumper car rentals in Cockeysville is for up to 3 hours but we can certainly extend the rental time if you wish. There is an additional charge, per hour beyond the initial 3 hour rental period.
Book the Bumper Cars
Frequently Asked Questions About Bumper Car Rentals
What other party rental items can I rent in the Cockeysville Maryland area?