Cockeysville Rock Wall Rental
The Best Rock Wall Rentals in Cockeysville
Cockeysville Rock Wall Rentals will liven up your party and draw a huge crowd around the base of the rock climbing wall. Maryland Portable rock climbing walls from 3 Monkeys Inflatables make great centerpieces for any event. Kids and teenagers (and even adults) will run with excitement to get in line so that they can have their turn at the challenge of climbing the 24' high wall. There are a total of 4 climbing stations, providing the potential for 4 climbers at a time. Each climbing side offers various levels of difficulty to the climbers. An attendant will safely harness the rider for a safe and secure climb. The climber will then be clipped to the belay system so that they can begin their climb. If a participant is skilled enough to climb their way to the top they will get an amazing view and they will be able to push the button of victory which will sound a buzzer so everyone knows and can celebrate their success! The auto belay system then allows them to safely propel their way back down to the rock wall to the ground where they started and will be unharnessed to make way for the next person in line.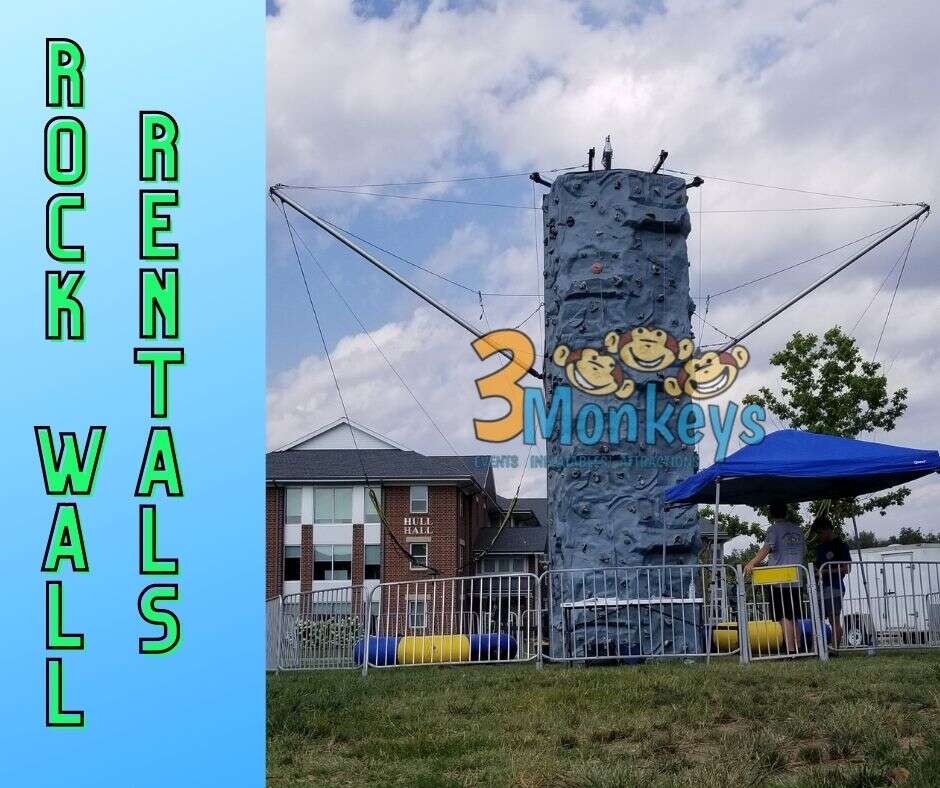 Cockeysville Rock Climbing Walls
Maryland Mobile Rock Wall Rentals are great for climbers 7 through adult and are great for all types of parties and events. If you are planning an event why not rent a rock wall as the centerpiece of your event? And don't let the fun stop at just climbing, add some bouncing! For an additional $500 you can rent euro-bungee jumpers that pair great with the rock wall. Renting both the rock wall and euro bungee will give 6 activities to your attendees; 4 on the rock wall and 2 on the euro bungee!
Book a Rock Wall Rental in Cockeysville
Frequently Asked Questions About Rock Walls for Rent
What other party rental items can I rent in the Cockeysville Maryland area?