Cockeysville Mobile Escape Room Rental
The Best Escape Room Rentals in Cockeysville
Some party planners feel the pressure of party planning because they want to plan a spectacular event with unique and fun activities for the attendees. 3 Monkeys Inflatables has just the thing for you; Mobile Escape Room Rentals. We have two different types of escape rooms; trailers and tent. The mobile trailers can be pulled up to any parking lot, grassy area, curbside, or even an indoor event if the garage door is large enough for us to pull through. The tent escape room can only be set up indoors.

Teams will need to work together to find clues, solve puzzles, unlock locks, and think outside the box to escape in a timely manner! Because of these challenges, escape rooms make great team building activities and are perfect for many types of events including corporate, college, school, carnivals, youth fellowship, family fellowship, and more. The escape rooms for rent can be used as 15 minute rooms or 30 minutes rooms. Add something unique to your next party and call 3 Monkeys to book an escape room!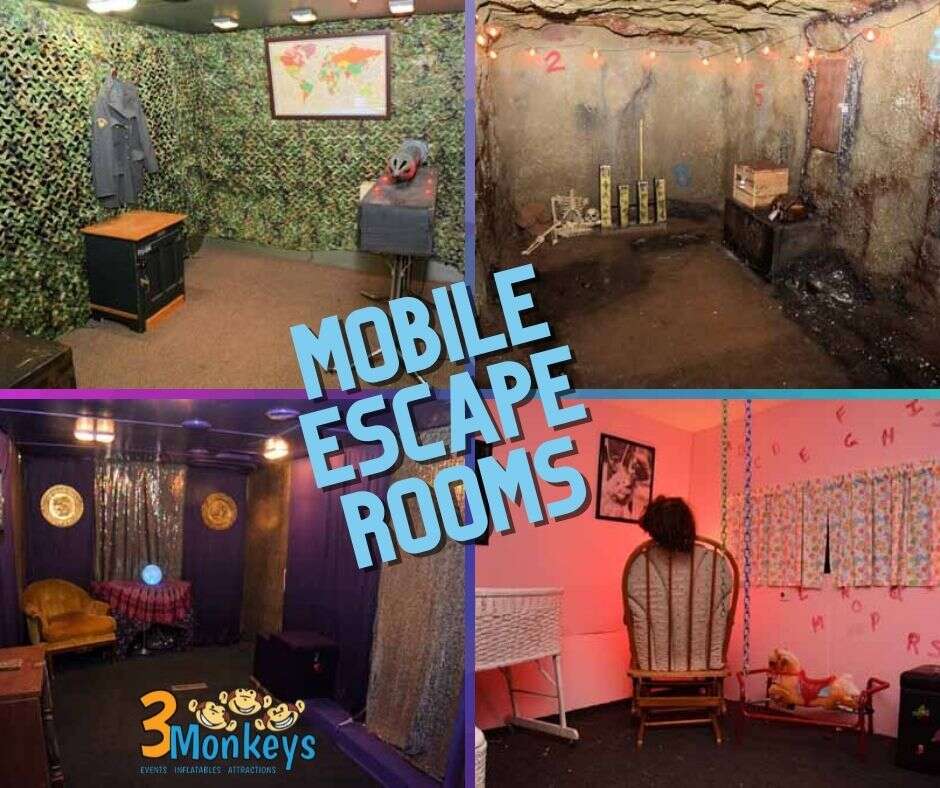 Cockeysville Escape Rooms
Choose from our different themed rooms including bank heist, creepy nursery, military, temple ruins, and fortune teller. The creepy nursery and the military are found in 1 trailer, with each room being at one end. This trailer can be rented as one room or the other, or both.
Book a Mobile Escape Room
Frequently Asked Questions About Mobile Escape Rooms
What other party rental items can I rent in the Cockeysville Maryland area?