The Best Corporate Event Rental in Central PA & Northern MD
Corporate Event Rentals in Central Pa and Northern Md, provided by 3 Monkeys Inflatables, will have you and your guests having the time of your lives! Let's be honest, planning a corporate event is kind of a big deal! You want to make sure everything is perfect for your employees, coworkers, and/or their families. Our large event specialists can help you plan the best company picnic or the best corporate event ever. Our friendly and knowledgeable support staff will listen to your needs and must-haves and build a package that is perfect for your event, while also sharing below some of the cool ideas we have for packages to see what other corporate events might have looked like. 3 Monkeys is a family-owned company that has been in business for over 16 years so this definitely won't be our first rodeo working with you to make your event top-notch. Whether you are looking for a team-building day, family fun day, or employee appreciation day we can help. Get started today and call our office to discuss your event.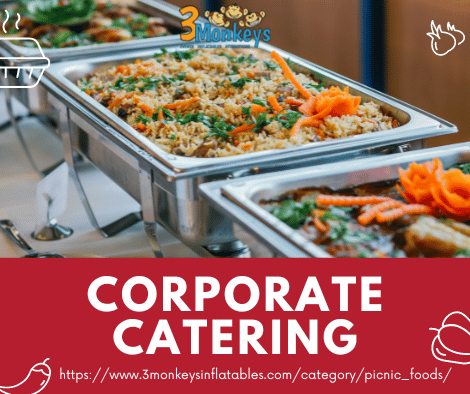 Catering Corporate Events
Often when we are booking corporate events catering we are pairing this with team-building, casino events, inflatables & rides. Our picnic type catering menu gets a big A+ from our corporate clients who are looking to have fresh, hot, prepared on site food for their employees, families, and customers. We have all types of food choices for catering and can prep for indoor events on site and bring in fresh food for your customers as well! Options are unlimited to your choices.
Check out Catering here!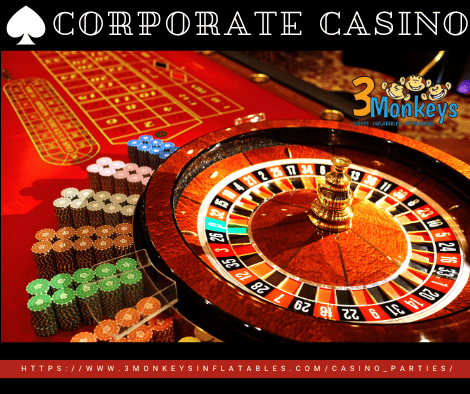 Corporate Casino Rentals
Popular with our Corporate clients are our Casino Party Rentals for both Team Building, Corporate Christmas Party Events, Holiday Parties, and more. The casino parties are great because we can customize the amount of tables/dealers with your guests list to ensure you have plenty of space for your guests to sit and play!

Check out the table games we offer that come with our professional dealers!
Book your Casino Party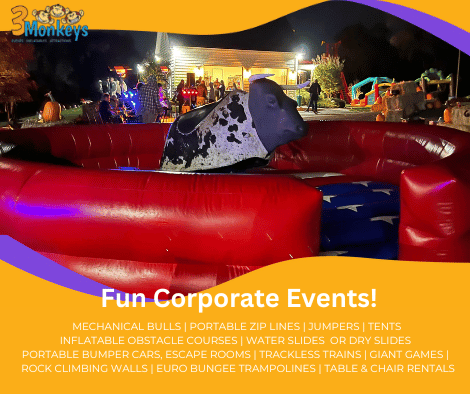 Inflatables & Rides for Corporate Events
3 Monkeys Inflatables has so many choices for Inflatables and popular corporate rides for your events to make them extra special. Our huge inventory consists of corporate favorites like our 2 and 4 Lane Axe Throwing Events, Trackless Train Rentals, Mechanical Bull Rentals, Portable Rock Walls & Euro Bungees and more!
Corporate Parties and Events with Inflatables
3 Monkeys Inflatables is Central PA and Northern MD's leader in Entertainment, Team Building, and Corporate Events. Creating amazing team-building opportunities for your staff that will engage, unite, and excite your entire team. Give us a call for us to share with you some of our amazing
team building packages.
Team Building is important for your business because it touches on so many important factors that help improve overall morale, productivity, teamwork, and motivation! 3 Monkeys Inflatables is known as the leader in Corporate Picnics and Events. We can create this perfect event from Inflatable Attractions, Large Attractions, Games, and Catering. In addition to offering such an amazing selection of rental items for corporate event rentals, we also place the highest priority on cleanliness and safety at 3 Monkeys Inflatables. Every item in our extensive inventory is regularly inspected and thoroughly cleaned to ensure that our customers only receive the best products possible.
Budget Friendly Corporate Event Ideas
Are you seraching for a Corporate Event Planning Company? Give us an idea of what type of event, and what you think you might need (seating, verses tented areas for serving tables, how many guests you are expecting, how many of them are families versus single adults, and what date and times you might have chosen). We lastly need to know about where your budget falls - this allows us to create and mold a Corporate Event within your guidelines that we can then present to you. Our goal is always to make sure we fit within your budget with things you brought up of interest paired with some ideas we have for your event to make sure we have a great event while still staying within your individual budget, and creating a last relationship with your corporation for years to come.
Let's make you a superstar at your event
Can you only imagine what your perfect event looks like? Can you only imagine how easy it is for this to happen? Can you only imagine this not taking forever to plan? Imagine no more! We are here to make you look like the superstar you are, make it easy and in your budget, and once you email/call us with the details we will do the heavy lifting of planning and executing and you can sit back and relax! We, of course, love creating that event after finding out your vision and budget for the event so we can go to the drawing board and lay out what that looks like to us and sending you a very involved plan of what we can do. Email us at info@3monkeysinflatables.com for more information. Please provide as many details as you can about the event you are planning. It is important to include the size of the event, budget, decor, or theme, and if you already have a location for your event. We are able to secure locations, plan the entire party from start to finish, provide services (inflatables, concessions, and catering) We look forward to working with you soon. CORPORATE PACKAGE - That amaze, excite, and are stress-free!
Team Building Corporate Event Guide
Find out the top 6 reasons to make your team a priority this year in terms of creating amazing Team Building Events for your Corporate Events.

Plan to create a stronger team who is engaged, motivated and work together stronger than ever.
Team Building Idea's
Our Service Area
3 Monkeys Inflatables provides a large service area for corporate events, and in the case of locations farther out than our normal service area shown on the map, we would just add an order minimum along with the delivery fee to cover our extra expenses while still being able to bring the best corporate rental items to your location providing you with a great experience for your staff. Our general delivery area is within Pennsylvania and Maryland areas like Felton, York, Harrisburg, Lancaster, Manchester, Gettysburg, Shrewsbury, Dallastown, Baltimore, Owings Mills,
Doylestown
, Philadelphia, and many more. We travel to Pittsburgh, Deleware, New York, and occasionally New Jersey (for a few items that are registered for this use) and we are always adding new ones every day. We have even traveled to St.Augustine Florida for large corporate events. If you have a healthy corporate event budget definitely reach out to our support staff to see what amazing things we can provide and do with a large corporate event budget for those farther away locations that are seeking to work with a professional support team who will support not only the goals you convey or our team, but that we go above and beyond and make you a superstar of the planning!