Picnic Foods
Picnic Foods York, Pennsylvania
3 Monkeys Inflatables is your Pennsylvania and Maryland Catering & Picnic Food Specialist for the cities of York, Harrisburg, Lancaster, Camp Hill, Carlisle, Reading, Gettysburg, Camp Hill, Baltimore, Owings Mills, Frederick, Towson Hagerstown, and many more.
3 Monkeys Inflatables offers a huge selection of Picnic and Catering Event rentals from Hot Dog Picnic Options to burgers, chicken, pulled pork, cold salads, baked beans, Snow Cones, Popcorn, and packaged snacks and beverages! Our delivery area is pretty huge as we deliver to York, Lancaster, Harrisburg, Reading, Baltimore, Hershey, and most of the PA and Northern Maryland area. We take pride in bringing you a backyard party-type picnic with a grill master cooking and keeping the food fresh while your guests enjoy the atmosphere and company of each other!
Picnic & Catering Food Rental Information
To rent a Picnic Food or Catering rental with 3 Monkeys Inflatables, simply pick the Picnic Food Package you are interested in renting by adding to your cart (don't forget about the bounce houses, tents, tables, chairs, concessions, and game rentals we have to add to your cart) and then simply add your booking details like your address, email, and phone number and complete the order with just a 25% deposit now with the remainder not being due until the day of your event. It's simple and easy! We have been been in business since 2013 so your order helps our small family business continue to thrive. Thank you! Call or email us with any questions.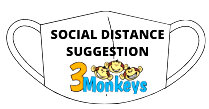 Picnic Foods Social Distance Suggestions: 3 Monkeys Inflatables is committed to creating amazing experiences and with the current social distance regulations we are prepared to create picnic foods with social distance regulations in mind. What we can do is create a picnic menu that includes us serving the food with face shields & masks on and create a 6-foot line control for your guests that allow them to come up and choose their foods with Plexi in front of them to allow for viewing but offering safety in the viewing. These changes are sure to make for a top-notch event while still keeping with your social distancing.
Call 717-650-7657 | 410-581-5867 or email: info@3monkeysinflatables.com
Support your local business! Please subscribe for fun & informative videos! https://www.youtube.com/c/3MonkeysInflatables
Are you planning for a Corporate Picnic, Company Team Building, or Holiday Party? 3 Monkeys Inflatables & Entertainment offer amazing idea's to create your event right on your facility, saving you time and money of having to go to another location and as you know dividing your team when everyone heads in different directions at a theme park, campground or themed location. The benefit of having the event at your location is you are now encouraging your employees to play and socialize together that will ultimately build a better, stronger team.

Catering

We offer amazing catering options with our Picnic Foods Menu like fresh hamburgers, hot dogs, pulled pork, tacos, mac & cheese, chips, cold salads, water, and soda's. We get rave reviews we get about the quality of food, freshness as well as the serving options we are able to provide.

Corporate Team Building Leader

Part of planning a Corporate Team Building activity is to have more then just an activity to draw your staff and/or families to. We are able to offer not only awesome team building activities with our wide selection of equipment but we are also able to provide catered lunches or catered dinner options, along with Tents, Tables, Chairs and even concession items.

Best Event Ever

3 Monkeys Inflatables & Entertainment believe in creating amazing experiences that will leave your staff saying "best event ever!" We can create family friendly events, open houses, or just employee corporate picnics, team building or holiday parties.