Hunt Valley Bumper Car Rentals
Best Bumper Car Rentals in Hunt Valley
Hunt Valley Bumper Cars are a popular item in Northern MD and the Baltimore County area. Remember the feel of playing on bumper cars at the theme parks? Think now of how cool your event is with the bumper car rental at your location there in Hunt Valley or the surrounding area. Bumper Car rentals are fun and extreme entertainment. They also carry that wow factor that your event is so large that you have portable bumper cars on site! This is definitely. one of those spotlight carnival ride pieces that are a must-have if you are doing a large event, an important event, celebrating something special, or want to make a huge statement!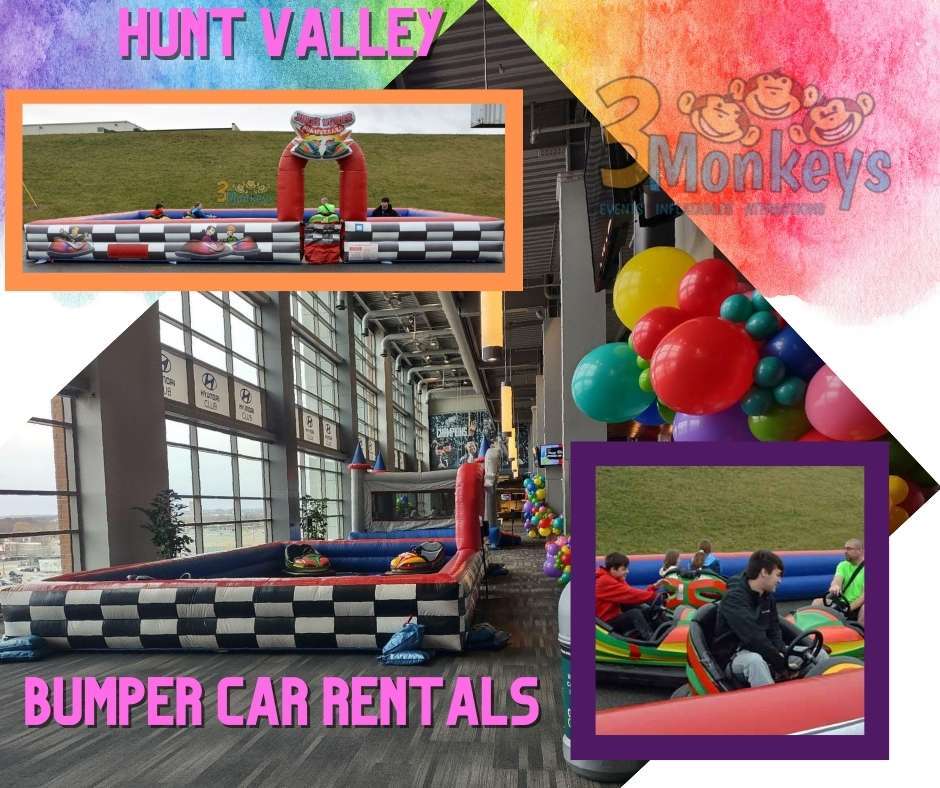 Hunt Valley Bumper Car Rental
Bumper Cars for rent in Hunt Valley are so much fun for up to 4 players at a time. Navigate your way around the inflatable track in your individual bumper car and find that friend you want to bump and laugh with as you get to them before they get to you. Don't get bumped as you bump and move away quickly so you don't get hit by another person! The bumper cars are great for adult bumper car parties, events, or even kids and teen events!
Book the bumper cars
The bumper cars run on our inflatable arena which fits comfortably the 4 bumper cars that give you plenty of space to ride around the arena bumping and playing on the cars. The bumper cars are battery-powered with car batteries, so we charge them ahead of the event, so they will run for up to 5 hours on a single charge! The bumper cars can be used either on asphalt, indoors, or on grass, however, if they are used on grass keep in mind we can't guarantee they will run on the full 5-hour charge because the terrain will affect the battery life. We are often asked if we have bumper cars for adults or bumper cars for kids. The bumper cars we have for rent here are perfect for adults, teens, and kids rentals. The only caveat to that statement would be the kids need to be over 48 inches in order to play and drive on the bumper cars, if they are under 48 inches they will become the passenger in the bumper cars, and an older child, teen or adult would be the driver. All bumper cars come with 2 seat belts that we insist must be worn at all times, and not taken off until the attendant tells you it is safe to take off and stand up. The seatbelts must be worn by both adults and kids.
We deliver party rental equipment in the Hunt Valley area
Hunt Valley Tent Rentals
Hunt Valley Mini Golf Rentals
Hunt Valley Catering Rentals
Hunt Valley, Maryland is located conveniently in the east of Maryland's what is known as Horse Country with a historic community with deep roots in horse breeding and racing. 3 Monkeys Inflatables is proud to offer Inflatable & Event Rental services including big rental items like our Bounce Houses, Mechanical Bull Rentals, Obstacle Course Rentals, Mobile Axe Throwing, Water Slide Rentals, Bumper Cars, Rock Wall Rentals, Tent Rentals, Mini Golf Rentals and even catering!