Hunt Valley Bumper Car Rentals
The Best Bumper Car Rentals in Hunt Valley
Hunt Valley Bumper Cars are a popular item in Northern MD and Baltimore County area. Remember the feel of playing on bumper cars at the theme parks? Think now of how cool your event is with the bumper car rental at your location there in Hunt Valley or the surrounding area.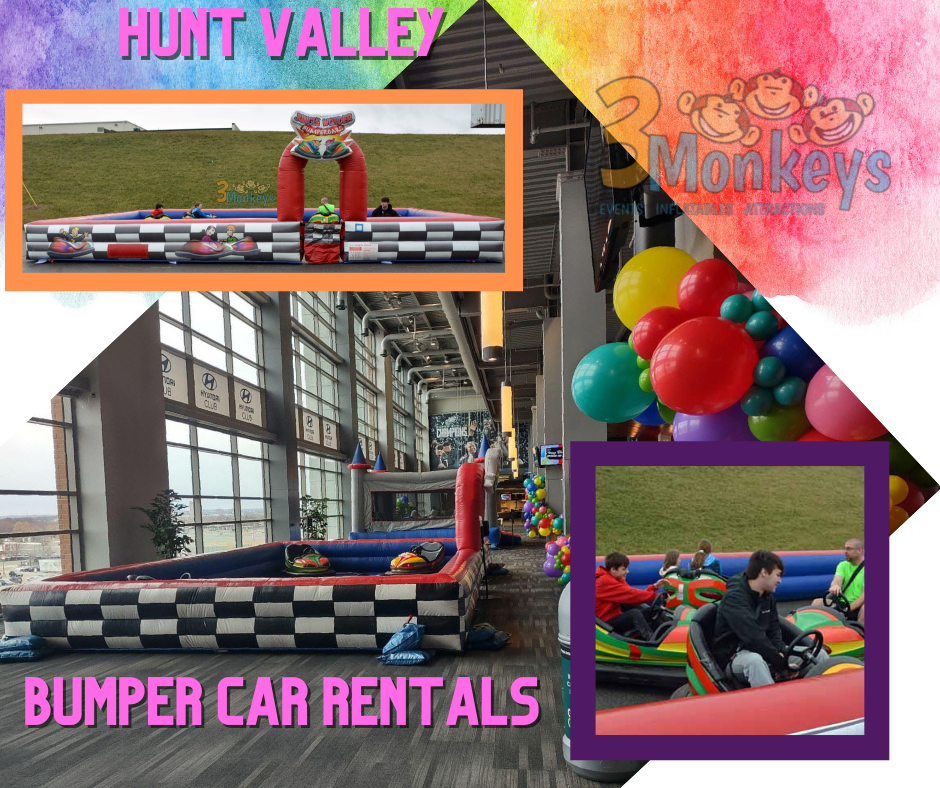 Hunt Valley Bumper Car Rental
Bumper Cars for rent in Hunt Valley are so much fun for up to 4 players at a time. Navigate your way around the inflatable track in your individual bumper car and find that friend you want to bump and laugh with as you get to them before they get to you. Don't get bumped as you bump and move away quickly so you don't get hit with another person! The bumper cars are great for adult bumper car parties, events, or even kids and teen events!
Book
the
Bumper Cars
Portable Axe Throwing Rentals in Hunt Valley
Ax Throwing Rentals are popular in Hunt Valley and pair great with our bumper car rentals to make huge event rental attractions. We can do small or big event rentals!
Check out Portable Ax Throwing HERE
We deliver party rental equipment in the Hunt Valley area
Hunt Valley Tent Rentals
Hunt Valley Mini Golf Rentals
Hunt Valley Catering Rentals
Hunt
Valley
, Maryland is located conveniently in
the
east of Maryland's what is known as Horse Country with a historic community with deep roots in horse breeding and racing. 3 Monkeys Inflatables is proud to offer Inflatable & Event Rental services including big rental items like our Bounce Houses, Mechanical Bull Rentals, Obstacle Course Rentals, Mobile Axe Throwing, Water Slide Rentals, Bumper Cars, Rock Wall Rentals, Tent Rentals, Mini Golf Rentals and even catering!
Copyright © . 3 Monkeys Inflatables LLC. All rights reserved. Red Lion PA (717) 650-7657