Best Rock Wall Rentals Hunt Valley
Safest Climbing Rock Walls Rentals Hunt Valley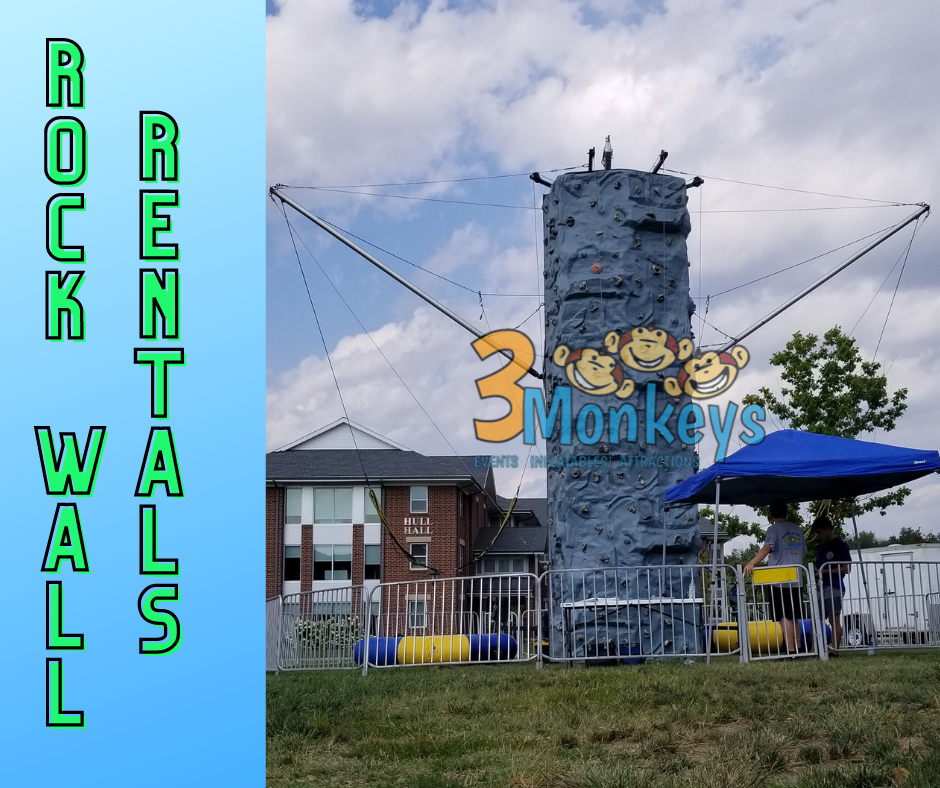 Hunt Valley Rock Walls for Rent
Are you looking to make your party epic with a rock wall rental in the Lancaster County area? 3 Monkeys Inflatables provides the best-rated Inflatable bull rentals in Lancaster and the Central PA area. Harrisburg Rock Wall Rentals are great for your participants that enjoy climbing rock walls and competitions. The competitiveness of the climbing rock wall in Harrisburg adds so much to your party or corporate event rental that will draw a huge crowd.
Book the Rock Wall Rentals Hunt Valley
Why rent our Rock Wall in Hunt Valley?

After pondering the fact that the rock wall rental setup in Hunt Valley will draw big crowds and be seen from miles away keep in mind that it also is fun for just about any age from kids through adults. Active adults and gym climbers will jump at a chance to climb the wall to test their ability. Did we mention we even have different levels of expertise on certain areas of our wall? Test your ability and see if you can do the easy climb and then why not test that ability even further and see if you can make the climb to the top on the hardest level! With our 4 person rock wall with an attendant to ensure everyone is using the safety harness correctly as they will buckle you in and out of them, in addition, to be there to give tips on where to climb and how to get down (super easy with our auto-belay system) Additionally you can always add another rock wall supervisor to have them work on 2 climbers at a time.


What type of party can you rent a rock wall rental for?

The sky is the limit on the types of events and parties you can attract and feature the Rock Climbing Wall Rental in Hunt Valley. The Rockwall is perfect not only for your typical backyard party events like graduation and birthday parties, but also great to attract for your community event, football games, sports events, school functions, college parties, and of course large corporate events. The adaptability of the bull rental is wide open! We have offered Grand Opening events, Block Parties, Fundraisers, Fire Department Picnics, Bar and Bat Mitzvahs, and Church events.
We deliver party rental equipment in the Hunt Valley area
Hunt Valley Tent Rentals
Hunt Valley Mini Golf Rentals
Hunt Valley Catering Rentals
What is your Rock Wall delivery area?

We do deliver rock walls for rent to the Baltimore County Marlyand area including popular cities like Cockeysville, Towson, Baltimore, Owings Mills, Monktown, Parkville, Lutherville-Timonium, and many more. Depending on your exact location there is an additional rock wall delivery fee to your location.

If you are outside the delivery area - have no fear! 3 Monkeys Inflatables delivers Rock Walls all across Central PA and Northern MD. If you are in those areas we are more than happy to help you out and send you a quote via email on the costs to bring out the climbing wall rental along with any other party or event items you may need! Keep in mind that sometimes we go even further than our normal delivery area, especially for large corporate events and large community events. When in doubt give us a call to check it out!