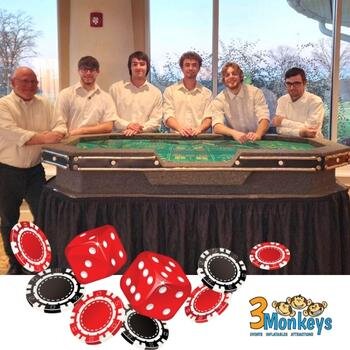 Please call to reserve this item.

Description
Casino Night Event Rental York Pennsylvania Area
3 Monkeys Inflatables is your Casino Night Event Rental Specialist in Harrisburg, Lancaster, Quakertown, Philadelphia, Baltimore, Hershey, Reading, and Hanover Area.
Create Buzz-worthy Parties
A Casino Party is a great way to bring a group of people together for an event and give them something to do besides just sit and eat. We have done casino parties at corporate holiday parties and summer picnics, college parties, and even family reunions.
Get Social
They are a great way to give your guest something very social to do which brings them together and provides a fun atmosphere to interact in. You can rent just the tables and equipment and host the event yourself, or you can hire us to provide the dealers as well and make a full-service event. Our dealers are trained on the games they will be dealing and they all wear black pants and white dress shirts to ensure we are giving you that authentic casino experience.
How does it work?
We use real poker chips, however, your guests buy the chips with pretend money. We have pretend money we can use and you can tell us how much you want each player to start with, or you can make customer money (often with the faces of "the bosses" on them). Players gamble with the real chips and then turn them in at the end of the night to see how much they ended with. At corporate parties, often the company provides prizes for the top 3 or 5 which gives the players something to play for. Because we are using pretend money, this is also a great way for new players to learn the games. Casino Nights offer so much to any event or party!
Need more information:
Email us at info@3monkeysinflatables.com if you are interested in quoting or booking your next casino party! You can also call us at 717-650-7657. We can provide you with a couple of different quotes that you can choose from. We offer both trained dealers for your casino night rentals or you can simply choose to rent the tables without dealers and have your own casino event party! We are physically located in York Pennsylvania but travel to lots of locations for rentals.
What Casino Games are Offered:
Poker, Blackjack, Roulette, and Craps

We need to know the following information:
What is the date:
Times:
Location:
Event type:
How many people in attendance?

Any other information or products you want to add to your casino night to make for a lasting memory!