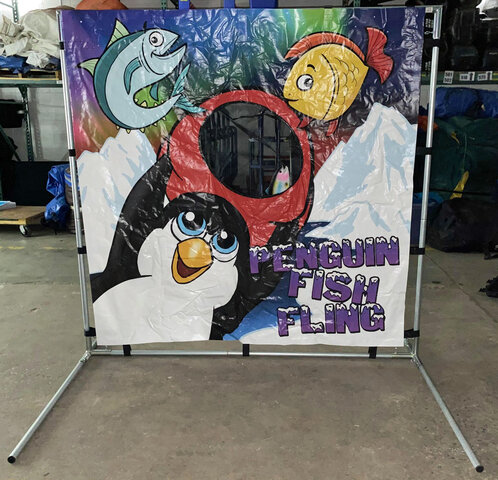 Description
Feed the Penguin Game Rental in Central, PA, and Northern, MD
3 Monkeys Inflatables is your Penguin Carnival Game Rental Specialist for Baltimore, Bel Air, York, Lancaster, Reading, Hershey, Manheim, Elizabethtown, and the Lititz Area.
The Feed the Penguin Game is a great Carnival Game to have at your event if you have fishing enthusiasts or penguin lovers on your guest list. Or those who may just like to have a little bit of silly fun! This game is quite easy to set up with its bright, colorful banner which attaches to the metal frame. It also comes with a launch pad and mallet. Featured on the banner are two friendly-looking fish with a sweet-looking penguin on the bottom left who appears to be holding a basket of some sort which is where participants will aim to launch their fish.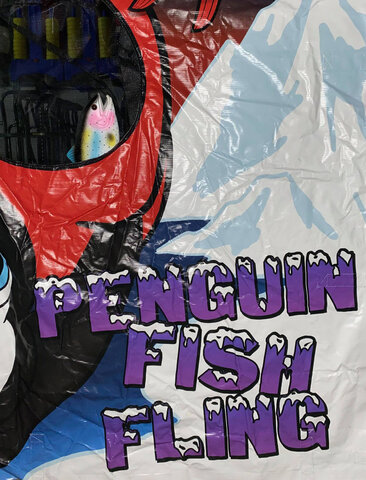 How is this game played?
The object of the Feed the Penguin Game is to launch as many fish as you can into the penguin's basket. One participant at a time will approach the launch pad and place a fish on the platform. He or she will then give it a whack with the mallet which will send it sailing through the air and hopefully into the hole with a net attached to it, on the banner, which is what serves as the penguin's basket. If you are having a carnival-type event where you are handing out prizes, you can award a prize to anyone who gets a pre-determined number of fish in the basket. Or you can be generous and give one to anyone who gives it a good try!
Do you have other items that would pair well with this rental?
Yes, we sure do! If you are having a winter or winter-themed party some of the other items you will want to be sure to check out are our Snowball Fight Game Rental, the Holiday Bounce House, the Holiday Combo Bounce House, the Christmas Wonderland Toddler Inflatable, and the Holiday Express Trackless Train. Oh! You will also want to look at our Little Snowies who can deliver a little bit of snow to your event to make it extra special.
Do you deliver?
3 Monkeys Inflatables does deliver to your event location. However, there is often a travel fee and order minimums associated with certain cities and travel fees. Once you proceed through the checkout process and choose your city from the drop-down menu, you will then see the travel fee added that corresponds with your city. If your city is not listed on the drop-down menu, please call the office at 717.650.7657 or email us at info@3monkeysinflatables.com so that we can tell you what your travel fee is and get your city added to our system. 3 Monkeys is based our of York County PA but offers delivery to Central PA, and Northern, MD Areas.