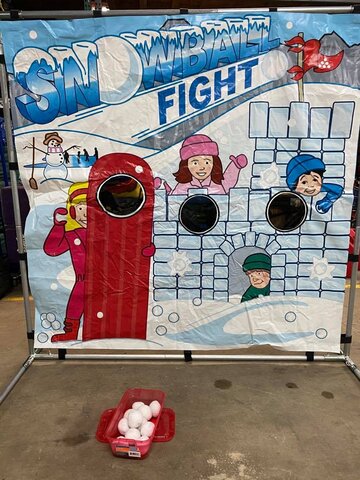 Description
Snowball Fight Frame Game Rental
The Snowball Fight Frame Game Rental is an adorable easy to set up frame game rental that features a super cute banner of kids playing behind their snowball fort and sled, but they are getting ready to have a snowball fight and are aiming right at you! You better get them! Will you be able to land the snowballs in the cut-out spots? How good is your aim?
Carnival Game Rentals
Carnival Game Rentals are the perfect add-on for just about any type of party or event. We are able to create a carnival-theme event for your backyard party, community event, grand openings, special celebrations, and just about any type of event rental. The canvas frame games are super durable, and have beautiful colors that jump out and encourage you to play! The best part is these games are designed to be an easy and fun play game rental that will be fun for inexperienced and experienced participants. They also are great if you have pre-existing injuries or participants with disabilities as someone in a wheelchair or disability is able to participate in some of these frame games. This is also great for those kids who maybe don't like to run through an obstacle course or bounce house rental and are a quieter child looking for something less physical to play at your event.
How to book your Carnival Game Rental?
It's easy to book with 3 Monkeys Inflatables with our 24/7, 365-day booking software that works in real-time sharing only what's available at all times on our website. Simply log onto the website and choose the items you want to rent and add them to our cart. When you are ready and your cart is full, you can simply click check out and our software will ask you for details on yourself and your event location and check you out with a simple 25% deposit. If you need help along the way, or just prefer to talk with us by chat online (we have a box in the right corner to chat with us), text us on the text feature on your mobile app, or email us there or by using info@3monkeysinflatables.com. You can also give us a call at 717-650-7657. We would love to help you put together a package, or to explain a product in more detail, or possibly just talk to you about your party and what your vision is and see how we can make that happen for you!
Do you have other Holiday or Snow theme items?
We sure do! We have the following Holiday and Snow theme items that would make a pretty sweet package for your Holiday Events, or Holiday Birthday to make it decked out in specialness!
Holiday Combo Bounce House
Thanks for visiting our website!
We have so much to offer, to you as our customer and are so glad to have the opportunity to provide rentals for you. We are a family company and woman owned. We are excited to have you consider us for your backyard party, community event, or corporate event. Let us know if we can answer any questions for you or just help you decide on a few different items.