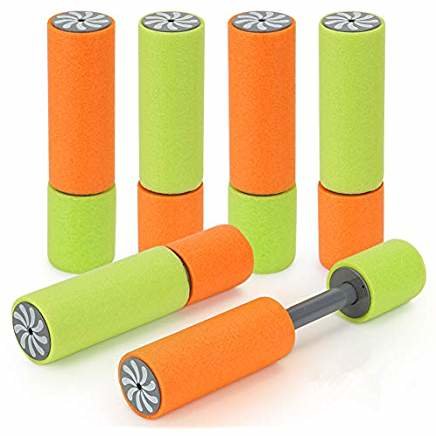 Description
ADD a Foam Cannon Squirter to your Dunk Tank
Dunk Tank Water Squirter to draw the audience and be able to get participants more involved wanting to "get revenge" and DUNK the Dunk Tanker
Think of the excitement to your event by adding a Foam Cannon Squirter. Please Note: The Squirter is only 1 piece (1 item) and not all 6 featured in the picture. Thank you. The squirter adds so much more to your Dunk Tank Rental allowing for the Dunkee to participate in egging on the guests or just having a fun time engaging guests into wanting to buy tickets or take a turn dunking them.
Looking for more fun?
3 Monkeys Inflatables is always looking for interesting ways to add more fun to our rentals. We found that these foam cannon squirters help the dunked to get some needed revenge and also draw more guests over to them to try to dunk them with them squirting other guests and begging them to get revenge by dunking them. This adds so much fun to our dunk tank rentals. Choose from our awesome dunk tank styles like our Shark Dunk Tank, USA Dunk Tank, or Red Dunk Tank.
Safety is important
3 Monkeys Inflatables is always looking at our equipment on safety precautions and that is why we chose these foam cannon squirters versus other cannon squirters. There is so much that goes into making a choice to add an add-on. First, we didn't want to offer something resembling a gun so we chose the squirter to keep it friendly for everyone as well as we wanted something that had foam and was soft so that we didn't have parts that were plastic or material that could cut someone if it breaks or something someone could get hit with and hurt themselves. Since we envisioned they were falling into a dunk tank with the foam squirter it was important that it was something soft that would pose no further risk to the dunker.
Add to your Cart
This is a simple addition to your cart along with the Dunk Tank rental and any other fun activities you might want to add. Don't forget we have other water fun rental items like our water slides for rent, water combos, water obstacles, and of course our Tents, Table & chair rentals.