Mechanicsburg Mobile Axe Throwing
Rent Mobile Axe Throwing Mechanicsburg Pennsylvania
Mechanicsburg axe throwing is a very popular, trending activity right now. Why go somewhere when you can have the axe throwing come to your party venue for you and your guests to enjoy? You can rent mobile axe throwing as 2-lanes or 4-lanes and both the 2 and 4 lane come with the kid zone axe throwing area so that no one is left out. The kid zone has velcro axes that are safe and fun for children of all ages. The axe throwing lanes are regulation size and are enclosed by chain link fencing for safety purposes. Only axe throwers are allowed in the fenced in area, when throwing. Other participants and spectators must remain outside the chain link fencing at all times.

Axe throwing is a great activity for birthday parties, large celebrations, graduation parties, milestone birthday celebrations, college events, corporate picnics, bachelor parties, community day events, festivals, fairs, and more. We deliver portable axe throwing rentals to all of Central Pa including the city of Mechanicsburg, Harrisburg, Carlisle, Grantville, Hanover, Dover, York, Lancaster, Reading, and other cities nearby.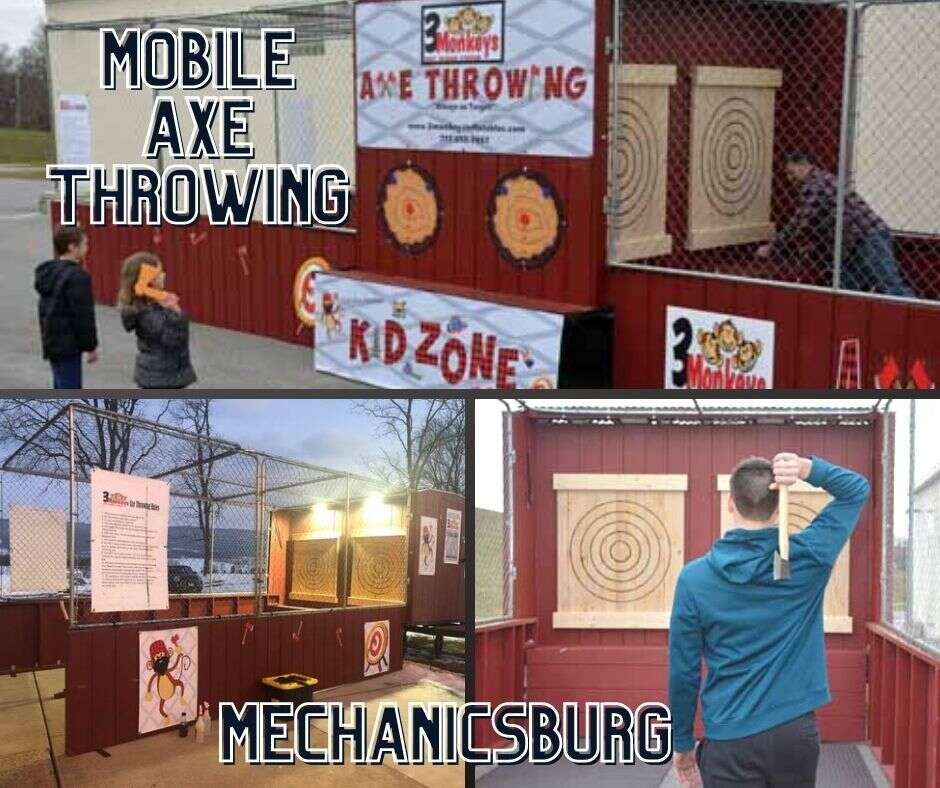 Ax Throw Rentals in Mechanicsburg
If you are looking for axe throwing near Mechanicsburg then look no further than 3 Monkeys Inflatables who offers mobile axe throwing trailers delivered right to the door of your party venue! You can rent this as 2- or 4- lanes depending upon the amount of people you are having. And don't worry, if you don't know how to throw axes our axeperts will be on hand to help adjust your throw so that you can successfully land the ax on the board!
Book Axe Throwing
What other party rental items can I rent near Mechanicsburg?