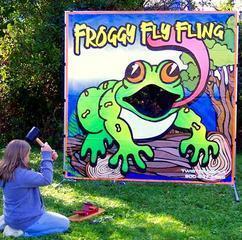 Description
Froggy Fly Fling Carnival Game Rental York Pennsylvania Area
3 Monkeys Inflatables is your Frog Carnival Game Rental Specialist in Harrisburg, Lancaster, Dallastown, Baltimore, and Hanover areas.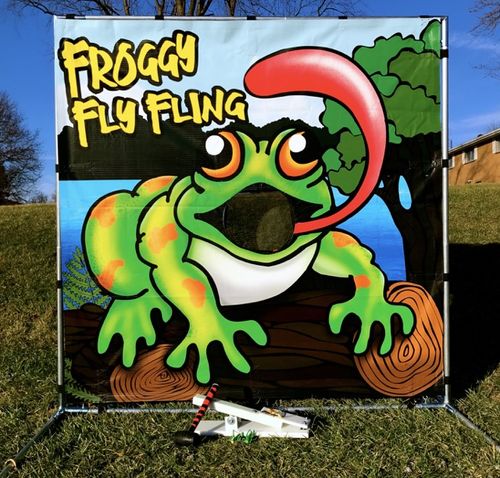 Fun & Interactive
Froggy Fly Fling lets the player test his or her skill by catapulting insects into Froggy's mouth. Kids love it! And you'll love it too, because this compact, low maintenance, the low-cost unit will pay for itself in a very short time and will really boost your profit potential. Like all of our games, Froggy Fly Fling can be set up in less than five minutes and can be used indoors or out. Perfect for birthday party game rentals.
3 Monkeys Froggy Fly Fling Game Rental in York, PA
If you find yourself planning a carnival, festival, fair, corporate event, birthday party, May Day, or any other fun event you may want to consider games. 3 Monkeys has a wide variety of carnival games to choose from that can really complete your event and make it extra fun and exciting! Featured here is our Froggy Fly Fling Game. This puts catapulting skill to the test as the participant tries to catapult the insects into Froggy's open mouth. Kids just love it! And you will too because this is a compact, low maintenance, low-cost unit that will pay for itself in a short time with ticket sales and really boost your profit potential. Like our other frame games, Froggy Fly Fling can be set up in less than five minutes and can be used either indoors or outdoors. This is a perfect birthday party and game rental!
Choose a company you can trust.
3 Monkeys has been operating since 2007 and we go above and beyond to make our customers happy. We know how stressful party and event planning can be, so we are here to take that stress off your shoulders. We have a tent, table, and chair rentals as well as grill and concession rentals. Add entertainment to your party by looking at our inflatable ride options. We have toddler inflatables that are geared for the younger kiddos at an event. We have bounce houses that are fun for everyone and of course, our obstacle courses and extreme interactives are quite a hit too. If you are looking to go above and beyond go check out our Bumper Cars, Rock Wall, and Electric Trackless Train. Call our office with any questions you have about any of our rental equipment at 717.650.7657.
When will you deliver my rental items for my event?
When you book your event online, we ask that you choose the start time of your event and the end time of your event. If you call and book with a reservation specialist, we are going to ask you the start time and the end time of your event and list it as such. Please keep in mind that this is NOT your delivery time or your pick-up time. Once we have all the orders in for your event date the delivery schedule will be made, and we will fit you in where we can in the schedule according to your location and start time. With this said, we may set up 2 or 3 hours prior to your event and we do ask that someone be there for the setup. You are also required to stay with the equipment until we can return to pick it back up, which again could be 2-3 hours after the event ends. Someone from the office will be in touch with you a day or so prior to your event to inform you of both your setup and pick-up times. If you need specific times, we can do our best to accommodate this for an additional fee. Please contact us with any further questions in regard to this matter. We deliver to Central Pennsylvania and Northern MD cities.