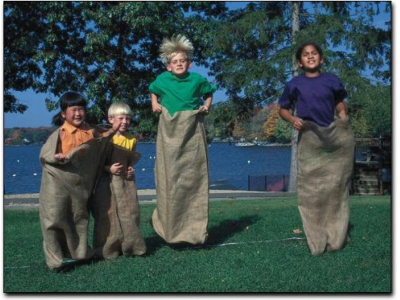 Description
Potato Sack Races Team Building Activity York Pennsylvania Area
Potato Sack Race Game Rental Specialist in Harrisburg, Lancaster, Hershey, Ephrata, Hanover, Gettysburg, Elizabethtown, Reading, Baltimore, and Frederick Area.
Team Building Activity
Who doesn't love potato sack races? Hop inside the potato sack and race down and back or set up a relay race! It's a great activity to engage students, camps, church outreach programs, company picnics & so much more! 5 Potato Sacks are included in the rental. If you need more feel free to add the quantity of 2 to your order and you will get 2 sets of 5 potato sacks for a total of 10 potato sack races.
How to Play Potato Sack Races
You can play a relay race where you use one burlap for each participant and the participants will put both legs into the sack and on go they will hop from the start line to the finish line in a race. If you have a team you would just line up the other teammates behind and the winner is the team who finishes in the fastest time. You can also play the three-legged race where you will have one burlap bag for each two-person team. The more teams racing, the more fun you will have. :) Participants will stand side by side and put one leg closest to each other in the burlap bag. Together on go they will race to the finish line. The first team to the finish lines wins.

Book your Party Outdoor Game Rentals now!
Burlap Potato races are so much fun for just about any type of event including family reunions which they are super popular at, as well as block parties, camps, day camps, church events, and team-building events. Have some good 'ole fun with your group and add Potato Sack Races to your list of items to rent. To book your burlap potato race game simply add it to the shopping cart and check out by adding your event details and contact information into our system. Complete the order with a 25% deposit. We will be in touch 2 days prior to the rental and confirm your delivery times and details if you need anything beforehand you are more than welcome to call our office at 717-650-7657 or email us at info@3monkeysinflatables.com. We are happy to answer any questions you might have or help you with any additions you want to place to your current order. We deliver in all of Central Pennsylvania and Northern Maryland in popular cities like Lancaster, York, Harrisburg, Mount Wolf, West York, Glen Rock, and Lewisberry.
Popular Items that are typically booked with Potato Races
If you click on the name of the above item you will be able to see the featured items within that category listed above. These are the common categories that rent with the Potato Races in our inventory. Feel free to add them to your cart or call our office for a quote sent to you via email with the items you wish to rent along with your date/times.